Generally, a workflow is used to follow-up in an automated way when a prospect/lead completes a desired action, such as completing a form. You can also enrol contacts based on other criteria such as CTA click or if they belong to a particular list. A workflow can comprise as many emails as you'd like and could include if/then branches to create a more tailored set of emails.
For contact based workflows, there are 3 different types to choose from…
Start from scratch - start with a blank workflow and add your own actions and delay - use if you want to enrol contacts based on criteria (most common)
Centre on a date - use if you want to revolve workflow around a particular date, such as an event/webinar etc.
Centre on a date property - use if you want to revolve workflow around a particular date that is in the contact's record, such as birthday/renewal date.
HubSpot Support Resources:
As HubSpot is always updating workflow and email functionality you should refer to the following HubSpot resources.:
There is also a planning template here to help prepare for the workflow. If you want to use this template PLEASE MAKE A COPY.
NOTE: All these steps should be discussed with the client, especially if the workflow is part of a wider campaign or part of managing prospects through a sales cycle.
Step 1 - Identify the goal of your nurturing campaign
These should be discussed with the client especially if the workflow is part of a wider campaign or part of managing prospects through a sales cycle. Common goals of workflows include:
Advancing through the buying cycle a Contact that has taken an action that indicates engagement (such as CTA click, email open, link click, form fill)
Engaging fully with a contact who has reached a certain number of interactions with your emails (i.e. marketing emails clicked > 6) and notifying that to client personnel.
Putting these goals into HubSpot will ensure that you're measuring how effective the nurturing campaign is.
To put the goal in… click…

And follow the steps.
Step 2 - Identify your audience to set up the enrolment criteria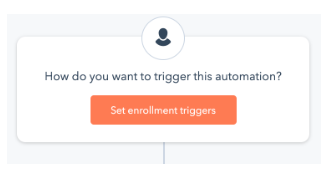 Here you add who will be enrolled into the workflow. Common examples include:
A predetermined active list of contacts
Contacts who've filled out x form on x landing page
Contact property criteria, e.g. First Name = Bob.
Step 3 - Write your emails
Keep your persona in the back of your mind at all times, as well as the goal of the workflow. When writing your nurturing workflow emails, collect related content and provide this in the emails.
Consider 'sending' the emails from subjects experts in the business, but make sure you get the client's permission before doing so. You could also ask them to set up 'spoof' email inboxes that the marketing team can monitor for any responses.
Remember to use personalisation tokens to improve engagement and give a more personalised feel. However, make sure that you have default values set-up for contacts with blank properties. It's good to check through your recipient list to make sure that your contacts have the property that you're wanting to personalise. Common examples include: first name, company name, etc.
Each email should have the desired action you want the reader to take. This could be clicking a link, downloading more content or replying to the email. Ensure that you include a 'next step' for each reader.
For the last email in the workflow, construct a 'signing off' email. This is to let the contact know that this will be the last email in this chain. If suitable, offer the contact the opportunity to book a meeting or a consultation.
Draft the emails in a Google doc and send to the client for sign-off. Include subject line, preview text, body, from email, from name and email signature (if appropriate).
Step 4 - construct your emails in HubSpot
Once you've received sign-off from the client, you can build the emails in HubSpot.
Navigate to Marketing -> Email -> Create email. You'll be asked to choose whether you want to create either…
Drag & drop email - drag and drop email content in the editor
Classic editor - choose from pre-made templates.
Choose your template. For workflow emails 'sent from' other people, it's best to use a plain text template.
You'll be asked to name your email. Please follow the client's naming convention (here's a blank template if you don't have one already).
Across the email editor… there are 5 tabs.
4a - EDIT
Here, you populate your email. Add all of your content that has been signed off by the client here.
To use personalisation tokens, select the icon below once you're in the content editor.

And select the property that you'd like to personalise.
4b - SETTINGS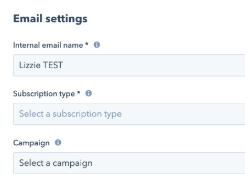 You'll already have the internal email name. Your subscription types should have already been defined. You'll need to select the correct one that correlates to this type of email.

You should also associate your email to a campaign to measure the campaign's overall performance.
4c - RECIPIENTS
Select 'Save for automation' here as you're sending via a workflow.
4d - REVIEW
Check that everything is in order and that nothing has been forgotten. You can then publish your email.
You'll then need to repeat this process for the other emails in your automation. Note, that you can clone emails and edit that way if you have specific formatting.
Step 5 - Add the emails to your workflow
Once all emails have been built… you can add them to your workflow. To add an email, select 'Add action' and then choose your email. You'll also need to add a delay to your workflow, which you can do by selecting 'Add action', then choose delay. We tend to recommend at least 2 days between emails, although this isn't always the case.
Step 6 - Review the settings area
In the settings area, there are 2 tabs.
General. The general tab lets you choose the days/times in which your workflow runs, usually, it's best practice to only run in business hours Monday - Friday. You can also associate your workflow with a campaign here too.


Unenrolment/suppression. Use this tab to set up rules for removing contacts from the workflow. You can choose to remove contacts from other workflows once they enter this workflow, as well as choose to remove a contact if they no longer reach the enrolment criteria. You can also use the suppression list section to remove contacts if they belong to a list. For example, if you want to remove contacts who've spoken to sales, you can set up an active list that includes these contacts and use as the suppression list.
Step 7 - Turn the workflow on
You turn the workflow on in the top right-hand corner.
Step 8 - Continue to monitor and report
The Performance section gives stats as to how the workflow is performing. The History section shows those who've been enrolled and where they are now in the workflow - the history section also shows any errors that may have occurred.