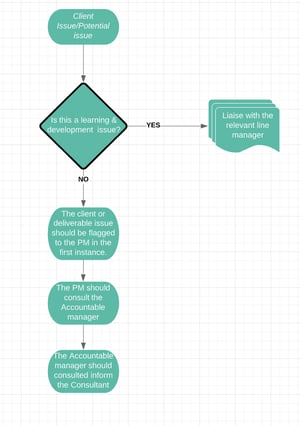 Step 1
When you become aware of an issue/potential issue, you are immediately responsible for escalating to the relevant individual.
In the first instance, you must decide whether the issue is a learning & development issue or a deliverable/client issue.
If the former, continue to step 2a, if the latter, continue to Step 2b.
Step 2a
If it's a learning & development issue, it must be shared with the relevant Line Manager. This is the end of this process.
Step 2b
If a deliverable or client issue, it must be shared with the respective Project Manager. Continue to Step 3.
Step 3
The Project Manager should explore options to resolve or reduce the severity of the issue and consult with the Accountable Manager.
Step 4
Depending on the severity the Accountable Manager may feel that it is necessary to inform the Client's Consultant.
Step 5
Take the necessary steps to reduce or resolve the issue as soon as possible.