There are two parts to a technical SEO audit:
How to use SEM Rush's site audit tool to set up a technical review
How to use Google Search Console to review a site's technical SEO
Using SEM Rush
Step 1 - Setting up a new project in SEM Rush
When you are on the SEM Rush dashboard, on the left-hand side navigate to "projects".
Once you are in here you will see all of the existing projects and the tools that they are using.
To set up a new project click on "Add New Project". This will then present a screen pop up for you to enter the domain of the website you want to review and a project name that will be used for SEM Rush only.
Step 2 - Setting up a site audit (technical review)
Once you have your new project set up you will be on a page with lots of tools with a "Set up" button. Click on the site audit button.
From here you will need to choose the crawling parameters.
Step 3 - Choosing crawling parameters
1. Domain and limit of pages
Firstly, you need to know how many pages the website that you want to review has. This data can be taken from Google Search Console.
Select an amount that can crawl the entire site. For example, for a website with 12,000 pages, you should select 15,000.
Select crawl website unless you have a specific reason to crawl the sitemap. This is best as the sitemap may not contain all pages on a website so some could get missed if the bot is only crawling a sitemap.
2. Crawler settings
Use the standard settings here.
User-agent - SEMRushBot-Desktop
Crawl-delay - Minimum delay between pages (allows optimum crawling)
3. Allow/disallow
Unless there is a reason to ignore some pages, leave this blank.
4. Remove URL parameters
Again, unless you want to exclude specifics sets of pages such as archives "slug.com/page-1/" then leave this blank.
5.
Bypass website restrictions
This should be left blank unless there is a reason to ignore website rules. Generally, people will exclude pages in robots.txt for a good reason so this should be left.
6. Schedule
Click on start site audit to get your review.
Step 4 - Analysing the results
When the audit is complete you should see a page like this: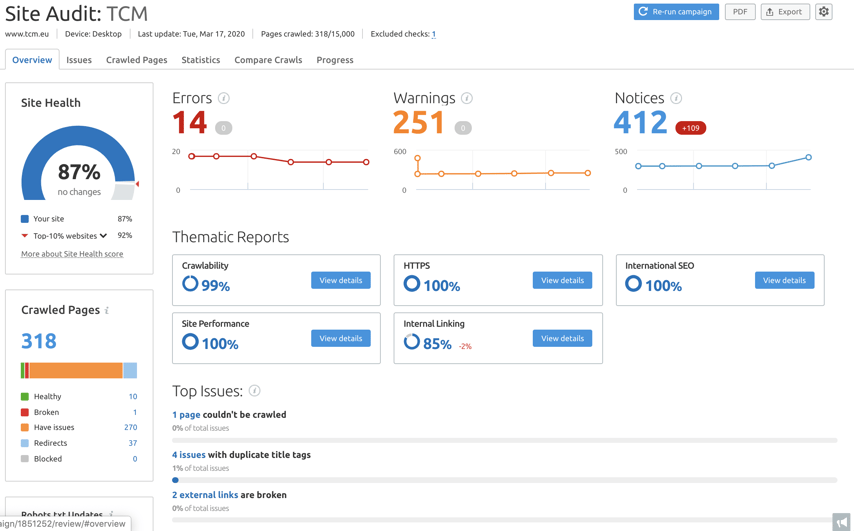 As a top-level overview:
Errors are having the largest negative impact on their site and need to be sorted ASAP
Warnings often come in large numbers and are having a negative impact but not as much as errors
Notices are advisories that aren't always having a negative impact on search results.
You should go through each issue with the teams SEO expert who can advise on how to fix these.
Using Google Search Console to find indexing errors
Step 1: Getting Started With Search Console
First things first: If you haven't already, you'll want to make sure you verify ownership of your website in Google Search Console. Be sure to verify all versions of your domain. This includes:
http://yourdomain.com
https://yourdomain.com
http://www.yourdomain.com
https://www.yourdomain.com
And any other non-www subdomains including blog.yourdomain.com, info.yourdomain.com, etc.
Google treats each of these variations as a separate website, so if you do not verify each version there's a good chance you'll miss out on some important information.
Step 2: Navigating the Index Coverage Report
Once you've verified your website, navigate to the property you would like to start with.
I recommend focusing on the primary version of your website first. That is, the version you see when you try visiting your website in your browser. Ultimately, though, you'll want to review all versions.
Once you select the property you will see a dashboard showing your trended performance in search results, index coverage, and enhancements. Click OPEN REPORT in the upper right-hand corner of the Index coverage chart.
This is where you can do a dive-deep into all of the technical issues that are potentially preventing your website from ranking higher in search results. There are four types of issues: Error, Valid with warnings, Valid, and Excluded.
Step 3: Analysing the report
Once you are in the index coverage report pages you should see a screen similar to the one below: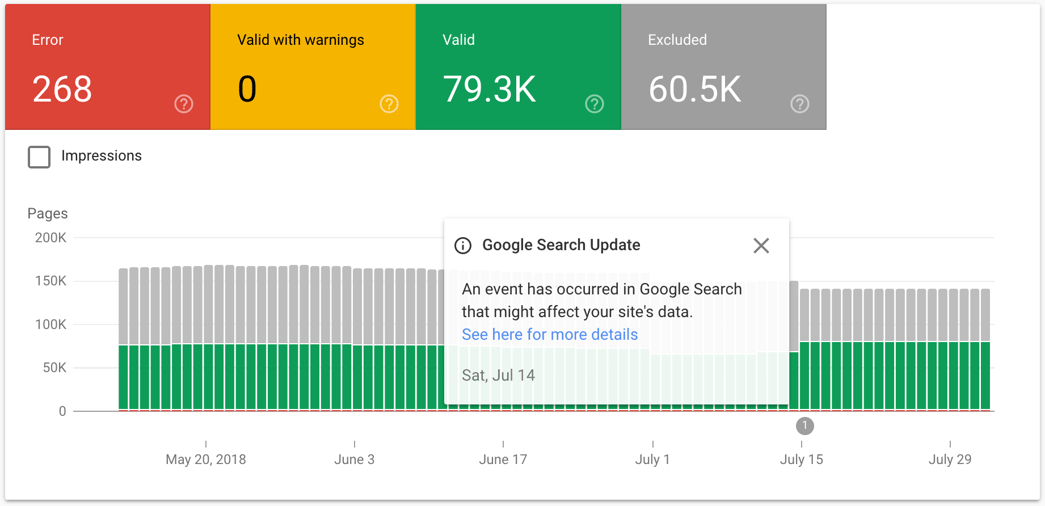 You should review any errors or warnings with your SEO expert who can advise on how to fix these.