Use ticket enquiries to create a content strategy that provides objective value to your customers.
The better informed your content strategy, the more it will resonate with — and engage — your readers. Typical approaches to content strategy include gathering keyword research and holding workshops with colleagues and customers to understand the kinds of questions they're asking and how you can provide value to them through your content.
This approach will show you how to leverage HubSpot Service Hub's ticketing functionality to make data-driven decisions on what content to create inspired by the specific questions your customers are asking now, not generic questions the industry has asked in the past.
Step 1: Navigate to the shared inbox
The shared inbox is where Service Hub keeps all your tickets in one place.
In your HubSpot account, navigate to 'Service' in the menu bar and select 'Tickets' from the drop-down menu. This will take you to your company's shared inbox.
Step 2: Review tickets received
The default view shows your company's open tickets. How you review your tickets will depend on your organisation and the content strategy you're creating.
You might review the most recent tickets received or search for tickets received from customers you know to be in a certain industry.
You might search by ticket description to surface tickets associated with a specific challenge or business type.
You might prioritise recurrent queries or queries with the highest volume, showing evergreen challenges your customers are facing or those challenges with the most customer interest.
You might search for 'High Priority' tickets or filter according to a different view using the 'Add view' button in the menu directly above the open tickets. Reviewing closed tickets, for example, will highlight how your business answered the customers' queries, which can directly inform the advice you give in your corresponding content.
Step 3: Integrate findings into your content calendar
Every business will approach content calendar creation differently. However your company's process looks, integrate the findings from your shared inbox audit into your existing process.
Content calendars following the topic cluster principle should ensure ticketing-based content is focused around a core pillar page. Calendars with goals around organic traffic and SEO growth will benefit from supplementary keyword research to best optimise your content. If you are using the ticketing queries to create a knowledge base specifically for your customers, aim to keep your content short and concise for impact and accessibility.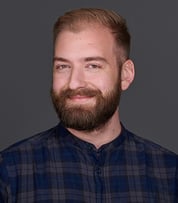 Author: Dr. Thomas Brown
Principal Copywriter