Our Meet the Team slider and pages were created by using HubDb tables, a simple and effortless way to populate your website with content.
HubDB tables are a revolutionary tool in HubSpot, saving both time and stress when it comes to creating multiple pages in the same format.

We had the idea to create a team slider with in-depth pages attached, for our About Us and Our Team pages. There are multiple benefits when it comes to using the tables to create pages on your website.
Tables are easy to create and populate with content, and all the formatting for the live pages is pre-set, which means you're not wasting time on each page worrying about font/spacing/sections. As you can see below, the table starts off as a completely blank canvas, you can edit and tailor it to suit the type of pages you want to create.
Each column can have a different type of format, whether it be rich text, image, or video. As you can see below when adding columns you can pick the format, once you have created all the columns you want then your table is ready to be populated.
When it comes to updating, anyone from the team can do it - we ask our team to update their page every 6 months. As all the content is formatted in the table it makes it easy for all employees throughout a business to edit, once published it will automatically populate the website page created.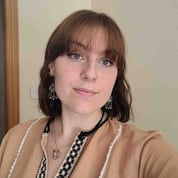 Author: Mia-Jean Lee
Digital Marketing Executive