Use HubSpot's SEO tool to find the best keywords for your content.
Often, HubSpot's SEO tool is used retrospectively. Once your pillar page is live and your cluster content has been published, you go into the tool and create a topic cluster to understand how particular subjects, themes, or topics are performing on your site.
When it is used for SEO purposes, it's generally to optimise previously published content that isn't performing well or could be performing better.
But the SEO tool can also be used proactively as part of the keyword research stage, well before you commit pen to paper.
Doing so can help you to choose the right keywords from the start. It can help you create an effective cluster of content. And it can save you a lot of time spent optimising, later on.
Step 1: Carry out your typical keyword research process
If you haven't already, carry out your keyword research as normal. Many organisations have their own processes. Follow yours to the point where you have a variety of potential keywords to inform your content plan.
Step 2: Visit the SEO tool
In HubSpot, go to Marketing > Website > SEO. This will take you to the SEO tool overview page.
Step 3: Create a topic
Directly underneath the title, you will see a list of three options. Click 'Topics' then 'Add topic'. The latter is an orange button to the right-hand side of the page.
Step 4: Test and compare primary keywords for your pillar page
Using the 'Add' bar, type in the keyword ideas you had lined up for your pillar page. Each time you click 'Add', the keyword will appear in a list below alongside its monthly search volume and difficulty.
When all your potential pillar page keywords have been added, review the list for an appropriate keyword that sits in that sweet spot between high volume and low difficulty.
Select this keyword and scroll to the bottom to press 'Create topic'.
Step 5: Create topic cluster
You will now have the very beginnings of a spider diagram, in which your chosen keyword for your pillar page sits at the centre. Because you haven't create the page itself yet, you will not be able to associate the keyword with a link to the pillar page — but you can continue to test keyword strength/suitability for the cluster content itself by clicking 'Add subtopic keyword', another orange button, this time in the top right-hand corner of the page.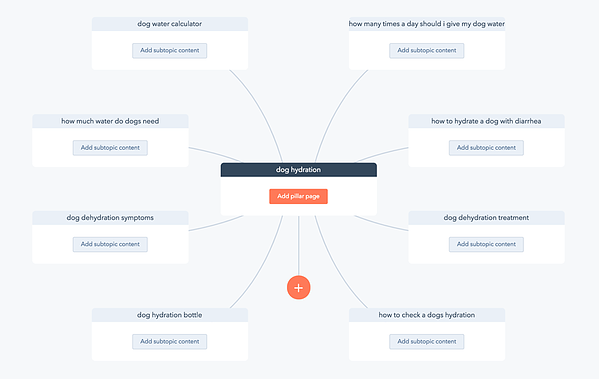 Image source: HubSpot Marketing Blog
Step 6: Test and compare primary keywords for your cluster content
Enter the different keywords produced by your research. The tool will tell you whether it recognises any volume associated with them, and it will also be clear to you at a glance how well the keyword in question relates to the primary keyword you have selected for the overall topic (your pillar page).
Rinsing and repeating this process for the different keywords you have documented will quickly surface which of those keywords are best to pursue and which not to use (or to use as secondary/semantic keywords when drafting the content itself).
The end result is a tightly knit cluster of content targeting keywords that are clearly subtopics of your pillar page's overarching keyword. It will be very clear to Google that these keywords relate to one another, that this is an authoritative cluster of content, and that you/your website is exploring the topic at breadth as well as in depth.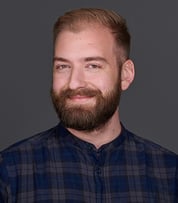 Author: Dr. Thomas Brown
Principal Copywriter