Remind past visitors of your services to encourage them through the buyers journey
It's best practise to send a follow-up email (FUE) with a piece of content or related content to people who convert on your website after they fill out a form and submit their information.
However, what would happen if they were to leave your website for an extended length of time and don't return? You have done the hard work of getting those contacts to your website and converting, don't let them disappear!
Fortunately, there's a solution. Send them an automated follow up email to remind them of the goods or services you offer.
Step 1 - The email
Create an automated email by going to marketing > email > create new. From here you can start to craft your message. Some great examples of the type of message you can send are:
"Abandoned cart" style - You recently were looking into our marketing services, is this still of interest?
"Discount" style - Hey, don't forget if you book onto our bootcamp in the next 24 hours you can get 40% off!
"Extra information" - We hope our blog on [TOPIC] was helpful! If you're still researching [TOPIC] then why not download this guide?
Top tip: Don't forget to use an engaging subject line to encourage them to open! E.g "Did you forget about something?" "40% off if you continue with your purchase"
Step 2 - The workflow
Go to workflows and create a new one from scratch. For the trigger, select contact properties and then select "Time last seen". You can then set it to an appropriate timeframe for your business, in this example we want to remind people who visited us 10 days ago.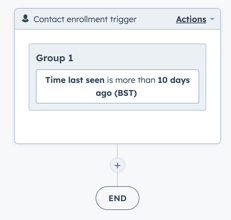 Add action by clicking the plus icon and selecting 'send external email'. From here you want to select the automated email that you built in step 1. You can either leave it as one email or add in some extra steps like:
Delay for 24 hours and then assign a task to the contact owner to call them
Delay for 3 days and then send another email to encourage them with a discount
Delay for 4 days and if they didn't open the email then resend it
The possibilities are endless! Once you've finished adding more actions, simply hit publish and let HubSpot take care of the automation. It might look a little something like the below.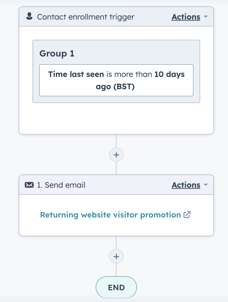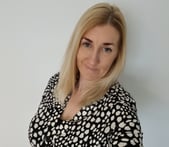 Author: Mel Baker
Inbound Marketer