Open application
If you're an experienced consultant or marketer that knows HubSpot inside and out, or you just love the look of our culture and want to see if there is currently a place for you, get in touch.
You'll be free to work your way
Work flexible hours at home and at the office (for all the life moments that don't fall on weekends). You'll get half a day each week to level up your skills and £700 a year to spend on your mental wellbeing. After five years, you'll get a month-long, paid sabbatical.
Of over 6,000 HubSpot partner companies, there are fewer than 40 with Elite partner status. You'd be joining one of them.
Salary
Dependent on role.
Want to get a real flavour for who we are?
Download our 'Culture Quest' handbook to learn more about all things BabelQuest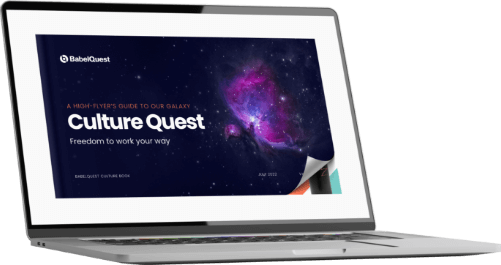 Apply today
Send in your open application