Boosting Leads for Pioneering Global Training Simulator Manufacturer
A leading global manufacturer for the development of hazardous material detector training simulators was looking for help getting the most out of its HubSpot Marketing and Sales Hub Pro subscriptions.
We partnered together to drive lead generation, boost its growth, and unlock the full potential of HubSpot.
Industry
Company Size
Location
The business challenge
The pioneering manufacturer understood that between Marketing Hub and Sales Hub, HubSpot had the potential to help it achieve its sales and marketing goals, but after some time on the platform it became apparent that those capabilities weren't being fully utilised.
To get more out of its investment and deliver the results it was looking for, the team recognised the value of engaging a HubSpot solutions partner with extensive platform experience and specialist expertise. At the Elite partner level, this led them to approach us.
Getting started with us
The company knew exactly what it needed: help unlocking the full potential of HubSpot to elevate its marketing and sales strategy. Looking at its sales function specifically, the company wanted help optimising its sales process. This direction gave clarity and focus to our initial meetings and workshops and set a strong foundation for the success to come.
An audit of each of its hubs revealed how the company could get better use out of them almost overnight. For the CRM, our audit covered not only the general health of the data and all of the missing points in the data, but also the company's ways of organising their CRM. For marketing, we looked at the health of their emails, workflows, file organisation, and social media channels. When we started the sales audit, we learned that they were only using a small amount of the tools they had available to them.
We then presented our findings, which included hundreds of records that had missing email addresses or weren't assigned to any lifecycle stages. We also found a low open rate on nurture emails and a large proportion of contacts who hadn't opened an email, visited the website, or been contacted by sales. Our content audit found that many of the blogs they've created in the past didn't have any summary or call to action. Some of our recommendations included cleaning up their email list, reorganising their records, and updating their content.
A marketing strategy that works for sales
In our marketing strategy, we focused on three key areas:
Creating SEO content to target niche keywords. While their search volume wasn't as high as other keywords in this industry, they provided better-quality traffic.
Improving the conversion rate across the whole website. This included the company's homepage, its product pages, and its blog posts.
Although the client already had some strong content assets, such as ebooks and case studies, they weren't properly distributed. To improve clicks and leads generation, we implemented a completely new social media strategy.
Our content marketing strategy included adding calls to action to the top twenty best-performing blogs. We also increased the number of calls to action within blogs from one image-based CTA to four CTAs and increased the number of pop-up forms on product pages and key blogs.
For social media, we focused on testing multiple posts that included differently sized images of ebooks and case studies to see which converted the best. We also repurposed their podcast into smaller video snippets to distribute across their social media channels. To personalise the company, we started posting predominantly on their personal profiles and engaging with their partners by tagging them in relevant posts.
On the sales side of the fence, Chris, Sales Services and CRM Implementation Consultant at BabelQuest, and Kaleb, BabelQuest's strategist on the account, built a lead-scoring model that allows sales team members to easily review and engage with the most qualified and active leads.
We also helped to restructure the pipeline in an effort to optimise the sales deal/close ratio. This included introducing lead and enquiry qualification through lead scoring to ensure only quality deals were in the pipeline.
We tracked how these new processes were performing through additional reporting on sales activity.
Unlocking lead generation
By leveraging more of HubSpot's tools and unlocking the platform's potential, the company quickly began to drive a visible uptick in marketing results and sales performance.
Over the course of the first year, leads were up by 46.7%, with leads from social media increasing by a staggering 740%. The number of opportunities also went up by 197%.
MQLs: Growth by 30%

Social media sessions: Growth by 52.92%

Quality Enquiries: Growth by 48%
The company has also seen better adoption of its Sales Hub. With the new ability to use integrated meeting links and reporting, alongside the dashboard, sales team productivity has increased.
Additionally, the close ratio has also improved due to the company having a more transparent view of which leads are most qualified.
Continuing the upward trajectory
While we've already seen what HubSpot can do for this company's marketing and sales goals, we aren't stopping there. The client has even more room to grow, and we're excited to be helping them on their journey.
"For me, it's a privilege to work with them as it's a super important industry, particularly given the current global climate" says Kaleb. "Also, it's an account where you can see the visible impacts of an effective strategy at play — meaning every change we made was based on deeper analysis and the bigger picture, which I believe was crucial to achieving consistent results."
After significant growth, especially in leads and opportunities, this pioneer in the simulator training industry has demonstrated the importance of using HubSpot's features to their full capabilities.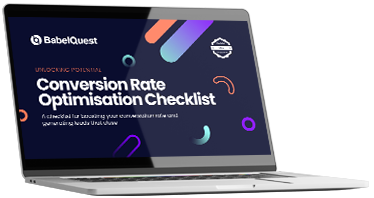 Want to generate more leads through your website?
Download our Conversion Rate Optimisation checklist and find out the 11 areas to address to optimise your website conversion rates.
Find out more about us!
With a strong product foundation and a good strategy, businesses in any industry can see similar growth through the platform. To learn more about how BabelQuest can help you unlock HubSpot's potential, reach out to us today.