Building a Flexible Website for an Innovative Medical Technology Startup
A navigable and compelling website is crucial for any business, but for startups in the tech industry, there's an additional need for flexibility within an ever-changing marketplace.
A Groundbreaking Startup Straight Out of Oxford
Ultromics has everything going for it: a strong university background, support from the top players in cardiology, and the greatest minds in the industry coming together to offer an innovative platform that supports precision heart failure detection from an echocardiogram using artificial intelligence.
Founded in 2017 by Dr Ross Upton and Professor Paul Leeson, Ultromics began providing technology that was born at the University of Oxford and built in partnership with the NHS. It has since raised over £20 million to help improve patient care and bring diagnostic quality and resource savings to hospitals.
But, like all startups, this medical AI tech company needed to find their footing in the marketplace. This meant striking a balance between representing their proposition and adapting it to new market conditions, all while establishing themselves as the primary source of knowledge in the AI for heart failure industry.
Getting the Word Out About Ultromics
Ultromics is on the cutting edge of cardiovascular technology. While on the surface, it may seem easy for a company with such a strong proposition and background to break into the marketplace, there are some key challenges to consider.
For one, this extremely technical company was looking for a website that would communicate its benefits to a wide variety of readers. They needed their website to reach patients, highly experienced medical practitioners, and management-level industry experts.
This meant balancing extremely medical language with concise messaging for patients, while also communicating the benefits for decision-makers focused on time management and budgeting.
On top of this, Ultromics needed a website that worked in both the US and domestic markets.
With all of this in mind, Ultromics knew that it needed help building its website around multiple messaging goals. In particular, it wanted to improve user navigation and display, while also updating the content on key pages to reflect its new position within the marketplace.
The BabelQuest team had just started partnering with Ultromics on a retainer basis, and the company knew that we had experience working with a number of startups spinning out of university and into a business.
Our experience with these types of startups means that we completely understand the environment and know the importance of flexibility. For startups, especially in tech, we have seen concepts and goals regularly evolve.
We knew immediately that Ultromics needed a website that could evolve with them. A CMS HubSpot site would not only answer their need, but also offer frontend and backend usability, improved UX and UI, and streamlined reporting all in one.
How BabelQuest Helped Create a CMS Website Fit for a Medical Game-Changer
As is standard with every project, we started our CMS project with a concise plan of action that would help Ultromics achieve improved navigation and messaging.
These phases included:
Website Planning. Ultromics had identified that the user journey was confusing, but they weren't sure how to proceed. We at BQ knew exactly what they needed and created a clear website plan bespoke to them.
Keyword Planning. As Ultromics is a new company establishing itself in a niche that already has content, we knew the importance of optimising each page for search. Through our research, we sourced keywords that would boost the website's ranking. (And later on, during our GDD project, we optimised these keywords even more).
Homepage Design and Wireframe. This was a key element for Ultromics. Their original content wasn't easy to find, so we created a new design and wireframe to support the updated content we would provide.
Module creation. We created forty-two 'theme modules' specifically for HubsSpot that would contain the content in a clear and functional way.
Content Updates. The medical experts at Ultromics are just that: experts. They're used to writing long-form, research-heavy content that doesn't easily convert on websites. We agreed to create new web copy oriented to each persona, all within the above-mentioned SEO guidelines. We would also go on to transfer their existing blogs from the old site to the new design.
Content organisation. We organised the content in a more useful and reader-friendly way. This new navigation was a strong start which we improved upon as Ultromics evolved during our GDD partnership later on.
We also wanted to make AI for echocardiograms easier for readers to visualise. With that in mind, we identified the best type of imagery for the website and even organised a photoshoot to achieve just the right look.
Our module creation phase was one of the most significant aspects of our build. We created forty-two modules in HubSpot for the initial launch, but they would also cover any new content in a new format. These modules would help direct visitors to the most important or interesting information and better organise the site.
Some of the most useful modules included:
A blog sidebar for promoting other posts

A content media carousel for listing things like partners or certifications

Four different CTA modules to provide better variety across the site

An event listing module to promote webinars

A job listing module for the careers section and HR

Testimonials module for client and partner comments

Two team modules to represent people within the client organisation
Another important consideration was Ultromics' unique angle on diagnosing heart failure. Their AI platform has the capability to revolutionise the cardiovascular diagnostic landscape, and as with any new technology, some potential users might be apprehensive.
To address this, we created content that was sensitive to the continued value and importance of echocardiography in daily heart failure diagnostics, balanced with Ultromics' added level of precision through their AI platform. We also brought on our American copywriter, who had extensive experience writing for medical and tech companies in both the US and the UK.
Throughout our website project, we continually supported Ultromics as they built up their brand. We worked flexibly with them as their goals as a startup evolved to fit their market.

A New Website with Trackable Improvement
The new Ultromics website build went live in January of 2022. At the end of the year, we reported significantly improved stats for 2022 against their old website in 2021.
Users (including new users), page sessions, pages/session, and average session duration were all up, with only a slight increase in bounce rate and a decrease in the number of sessions per user. One of the biggest increases was page views, which was up by over 30%.
Main takeaways from the report:
Users: Up 18.59%
New Users: Up 18.13%
This kind of growth is indicative of a strong website build paired with the power of an innovative product. Ultromics was so thrilled with the results that they signed on for a GDD project with us to continue boosting their site performance in the most flexible way possible.
At BabelQuest, we understand the importance of this kind of flexibility, especially within an innovative tech startup environment like Ultromics. We're excited to continue helping Ultromics evolve as it finds its way in this unique and life-changing marketplace.
Want to know more about how BabelQuest can help you reach your own goals for your website? Reach out to us today, and we'll discuss how we can build a powerful and flexible site for your organisation.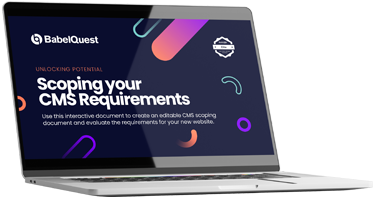 CMS Scoping Template
You'll be able to fill in the interactive template with your details and send it to us, or a development partner of your choice.