From Legacy Systems to Scalable Solutions: The Path to Platform Success with HubSpot
Background
When globally recognised brands depend on your platform to launch the digital marketing for major trade shows and exhibitions, there's no room for technology that offers anything less than a robust framework capable of running seamlessly behind every customer's event.
For many brands, our customer is that events partner of choice, connecting communities around the world by facilitating in-person events, online experiences, and meeting programmes that bring people together, drive conversation, and transform industries as we know them.
They previously leveraged Marketo's email capabilities to enable its customers to drive registrations and spark engagement. But in 2022, changes to their business structure meant Marketo's cost and complexity ruled it out as a viable solution. With its renewal approaching, the team turned to HubSpot for a scalable marketing automation platform that would meet the needs of the customers depending on its solution to promote their unmissable events.
Navigating a complex migration through a legal landscape
On its own, HubSpot Marketing Hub provided all the email capabilities the business needed to replace from Marketo, but the scalability of the full CRM suite and the functionality unlocked by having access to every hub suited their wider business growth plans, so it went all in on an Enterprise plan that would enable them to grow every part of their business at once.
This added new layers of complexity to the implementation. They had a highly customised and complex Microsoft (MS) Dynamics environment and advanced use of MS Flow with which we would need to connect to build a robust and flexible integration with HubSpot CRM Suite.
"Our customer's IT team contained experts in managing the custom deployment from its end, but the team needed the support of our technical HubSpot consultancy to successfully deliver the migration from Marketo alongside the integration between HubSpot and MS Dynamics." Chris Grant, CRM Implementation Consultant, BabelQuest
With multiple business units to consult and the heavy emphasis on IT, the success of the project hinged on careful coordination from all parties involved, not to mention the extensive legal aspects that had to be considered due to the nature of their business; specifically, operating events for other brands at scale in different global jurisdictions. The legal framework we had to follow with HubSpot to access its data was therefore stringent, requiring a great deal of additional pre-sales consulting to navigate the legal landscape.
Knowledge transfer for the full CRM suite
The implementation plan we put forward was tailored around the customer's specific requirements, taking into account the varying needs of the different business units involved and the flexibility required by those teams to adapt the implementation as it progressed.
But it wasn't enough for us to implement the solution; the team needed to be able to activate all the tools themselves so that they could go on to provide plans for all in-house users, from IT systems administration people and the data analytics teams to the marketing team, operations, and finance. We led with a consultative approach, in effect teaching them everything their team needed to know to unlock the full value of HubSpot business-wide.
Training played a pivotal role in this. Alongside the implementation, our Expert Practices consultant and HubSpot accredited trainer worked with their team over a series of training sessions, delivering courses tailored to their business needs, to the point where the team could go away confident in its ability to create those plans for the wider business.
"Legal's influence extended across the solutions phase. We continued to work closely with the customer's legal team throughout the planning and implementation phase to ensure the implementation plan and our consultancy complied with its multi-regional requirements." Chris Grant, CRM Implementation Consultant, BabelQuest
A platform from which communities can grow
Over the course of three months, we worked with HubSpot to help the customer successfully navigate the migration process and integrate the full CRM suite to meet its growth plans.
The implementation required careful coordination, extensive legal considerations, and knowledge transfer to ensure team members could fully activate and utilise the tools themselves, but its success clearly showcases the value of a consultative approach and the importance of training from an accredited expert with a genuine passion for the platform.
As the events business continues to connect communities and transform industries through its customers' unmissable events, this story highlights the impact of HubSpot and, for those businesses willing to embrace change and move away from their legacy systems, the importance of strategic partnerships when it comes to unlocking HubSpot's full potential for your business.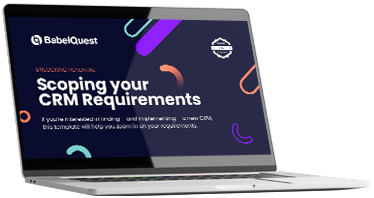 Download the CRM Scoping Template
Identify the business requirements that matter when scoping your new CRM, spot potential roadblocks and challenges in implementing a new CRM before they happen, pinpoint the issues with your current CRM so you can make sure your new one is fit-for-purpose
To learn more about our implementation projects and how migrating to HubSpot could impact your organisation, get in touch today.