Digital Marketing Strategist
The primary purpose of this customer support role is to be a helping hand to our clients, who are growing their business using the HubSpot software.
You will also be responsible for guiding our clients through their HubSpot software setup, tool training and initial campaign planning.
You will need to have a passion for helping people, the flexibility to help with a variety of projects, be a strong communicator, be creative at problem solving and be curious to learn a thorough knowledge of how HubSpot works.
No two days will be the same, but you might find yourself involved in:
Engaging clients through regular strategic and technical support calls to drive product adoption and usage
Ensuring all customers complete the required technical setup efficiently and in a timely manner
Training and educating clients on how to effectively utilise HubSpot tools
Improving and scaling our HubSpot software set-up and support processes
Developing a deep knowledge of the HubSpot software
Partnering with clients to effectively resolve issues/troubleshoot through phone, video calls and email
Providing support and guidance to marketers, salespeople and service professionals across our HubSpot client base
Communicating thoughtful, customised solutions that help clients move forward and grow their business
Collaborating cross-functionally within BabelQuest to more deeply engage clients with our services, improve their overall customer experience and identify opportunities
Ensuring that all internal processes are followed, developed and internal systems kept up to date
Being the main point of contact for up to 30 clients
This job might be for you if:
You thrive in a busy environment and are comfortable getting your head down and focusing on what needs to be done. You can also balance project management, people management, creativity and analytics when implementing digital marketing activity, tactics and campaigns.
Who you are:
Can manage simultaneous onboarding and support projects for multiple clients
Can deliver product training sessions via phone and video software
Can build marketing campaigns, establish a customer feedback loop, set up CRMs and/or organise sales processes
Can show composure, resilience and flexibility as client needs evolve and customer volume changes
Find creative problem solving fulfilling and challenging
Thrive in a dynamic and collaborative environment and be comfortable with ambiguity
Adapt quickly to changing priorities and client needs
Outstanding communicator, articulate and fluid conversationalist
You'll be free to work your way
Work flexible hours at home and at the office (for all the life moments that don't fall on weekends). You'll get half a day each week to level up your skills and £700 a year to spend on your mental wellbeing. After five years, you'll get a month-long, paid sabbatical.
Of over 6,000 HubSpot partner companies, there are fewer than 40 with Elite partner status. You'd be joining one of them.
Want to get a real flavour for who we are?
Download our 'Culture Quest' handbook to learn more about all things BabelQuest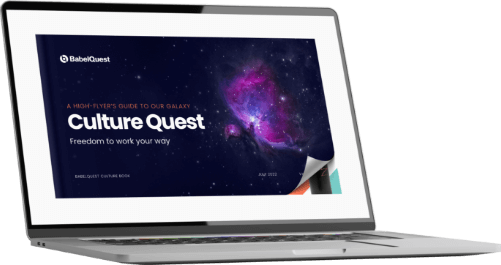 Apply today
Send in your application for HubSpot Onboarding & Support Specialist