How integrations can transform business operations and provide a 360-degree view of your customer data .
Short on time? Download the guide instead
A PRACTICAL GUIDE TO HUBSPOT INTEGRATIONS covers...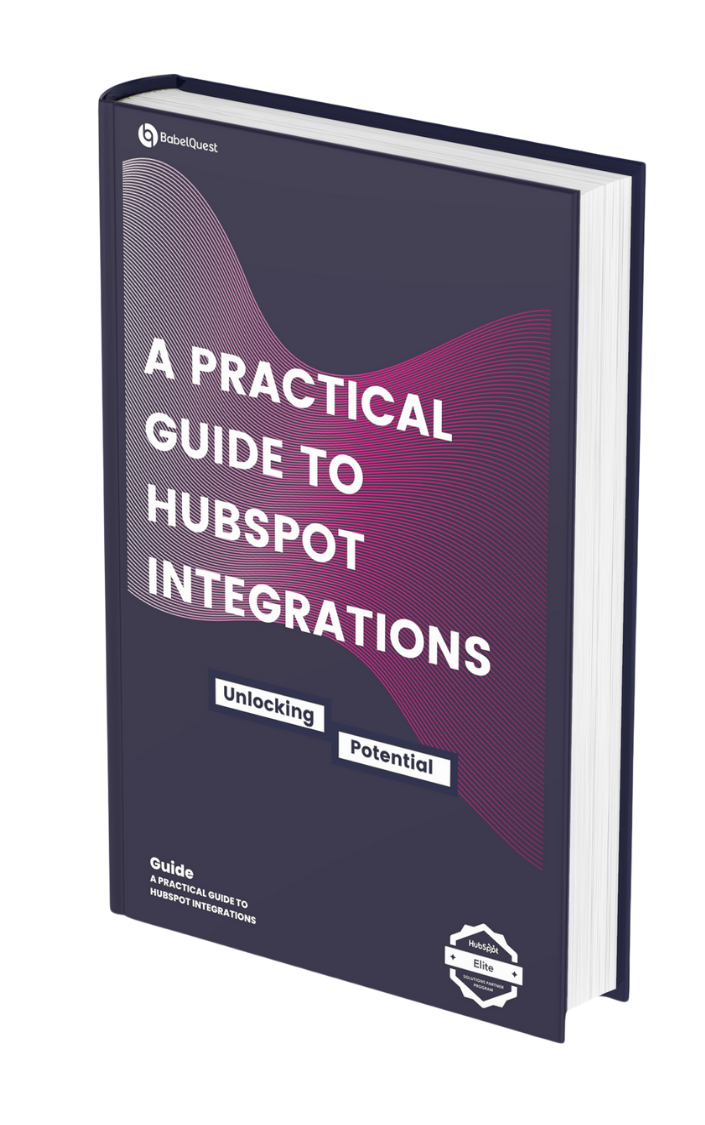 Management of integrations across HubSpot
Technical questions to ask prior to implementation
Building a business case for new integrations and getting buy in
Exploring the possibilities with HubSpot integrations
1. What is an integration?
Integrations are connections between systems and applications that work together as a whole to share information and data.
"Integrations share data from one system to the next to provide you with more features and options while using your software." HubSpot
Integrations are built on APIs (application programming interface) and allow for the flow of information between apps, connecting your software together so everything can be used in unison.
Read more: What Are Integrations and Why Are They Important?
2. Why are integrations important?
Using connections to third-party apps, integrations boost the functionality of your current system and provide features that allow you to automate and complete a wide range of tasks as well as enhance your business functions as a whole. Not only does this help with productivity, but thanks to the advanced capabilities of integrations, you can put more focus on driving leads and revenue.
Integrations don't simply meet the needs of one team or department, they serve several functions and can be valuable across many categories including customer success, analytics, internal communication, content management and many more.
Explore how integrations can fulfil your business needs with our latest guide to HubSpot integrations.
3. What are the challenges with integrations?
Part of the challenge with integrations is not knowing how to manage them, which often leads to bad habits when monitoring how many you have, how they connect with your business processes, and keeping track of their subscription fees.
So exactly where do businesses go wrong with integrations? When you don't pay attention to your current connected integrations, some of the biggest issues arise when:
Syncing dirty data (Sound familiar? Find out

how to clean your CRM data

in 7 steps)
Using orphaned and duplicate subscriptions
Hanging on to old and outdated integrations that no longer provide visibility across all teams.
When it comes to using integrations, you need to be flexible and rethink business processes in order to accommodate new and innovative technology that can empower the business.
By overcoming the challenges and monitoring all your integrations, you can ensure each one is using accurate, correct, complete and relevant data. With your integrations all speaking to each other, it guarantees that the data will be used correctly across all systems.
4. What is the difference between custom and out-of-the-box integrations?
Based on the needs of your business, there are two types of integrations to choose from: either custom or out-of-the-box.
Out-of-the-box: If you're lucky, an out-of-the-box integration will do exactly what you need. These are user-friendly, easy to install, and can be deployed almost instantly. They don't require any configuration and typically fulfil most of your business needs.
Custom: If you find yourself in a situation where your business has more complex requirements, a tailor-made solution is a better fit as they can be fully customised to have all the features you need.
These integrations require some engineering and coding, and therefore may take longer to develop, which is why choosing the right partner is the best way to help you approach custom development. At BabelQuest, we can help map and tailor your integration to your business needs. Drop us a line!
Why are people tied to their custom CRM? Find out the top 5 reasons here
5. What is the difference between iPaaS and HubSpot integrations?
iPaaS (or Integration Platform as a Service) is a cloud-based solution that integrates various applications, systems, and technologies together. It shares information across these integrations and syncs/updates data between them to streamline and automate business processes.
Similar to integrations, you need to set aside some time to make sure everything is connected and running correctly. Monitoring maintenance is essential to make sure the technology is speaking to each other and that you're getting the most value from the various integrations or integration platform.
"Integrations offer a direct connection, whereas iPaaS does not."
iPaaS connects all your applications and systems, no matter if they're in the cloud or on-premise. Often an iPaaS solution is needed when your software's marketplace (e.g. HubSpot) doesn't have the specific type of integration or connection that fits the needs of your business.
Read more: A Guide to HubSpot Integrations
6. How do you manage integrations?
When it comes to managing integrations, visibility, collaboration, and flexibility are critical. You need to keep a view of all people, apps, and connections in your organisation. How are everything and everyone connected? Integrations need to be monitored to ensure they are synced correctly to your database and that they are serving a purpose for the business.
Use a SaaS management system. One of the ways you can manage your integrations is by using a SaaS management system to gain automated visibility over your business applications, usage and subscription spend. From IT and finance to operations and HR, visibility is key as you provide everyone with the data and information they need to prevent any bottlenecks.
Create a spreadsheet. If you're a smaller business with fewer complex requirements, creating a simple spreadsheet outlining the details of each integration is also a great way to manage and track your subscriptions.
Do you have visibility over your company data? Find out why your technology needs to talk
7. How do you get end-user adoption?
Getting end-user adoption is critical for ensuring teams across the business incorporate it into their daily work processes. Choosing an integration that aligns with your business strategy, communicating with key stakeholders, putting together a pilot group as well as implementing timelines, training and setting expectations, are all critical components to any adoption plan.
The adoption process involves making sure the integration you choose aligns carefully with your strategy. What are the benefits of this new integration? Part of getting the end-user to adopt an integration is showing them the possibilities of what the integration can offer.
Figure out how to communicate the value it will bring to the table and how it will enhance the way your team does their job. It should fit a purpose for the business.
What problem does it solve?
Does it address any pain points for the members on your team?
Need help with onboarding and user adoption for your new CRM? Read 'The SMEs Guide to Choosing, Migrating and Rolling out a New CRM'
8. What resources do you need to support integrations?
As you roll out a new integration, you need to make sure you have the right resources in place for the implementation to go off without a hitch. This includes having the budget to incorporate new technology into business operations, the time to train teams on using the integration and understanding its value, as well as ensuring the right people are appointed to take charge of monitoring the performance of the integration and making sure it's maintained and up-to-date.
What else should you consider?
Do you have the means to put together a pilot group to identify how the new integration will impact daily routines and processes?
How much time will teams have to set aside for the learning process?
How will you offer training opportunities? Will it be Q&A workshops or group sessions?
Will that particular integration requires intensive training or is it fairly intuitive?
Discover the resources you need to recognise and collect meaningful data from systems across your business
9. How can integrations transform business operations?
Whether you're a startup, a mid-size business, or a large corporation, integrations can serve many purposes. Having your technology talk to each other not only improves data visibility and accessibility, but it helps you connect the dots across your tools to track, monitor and manage data end-to-end.
From marketing and sales to service and operations, integrations can transform a variety of business processes and operations.
For instance, sales integrations can help your business development reps to improve sales productivity and communication as well as build meaningful relationships with their prospects.
Other integrations for areas such as employee advocacy and social media allow you to harness social following and use it to shine a spotlight on your brand and the social messaging your team works hard on every day.
Integrations are a way to bring both social sharing and employee advocacy together to further increase organic traffic and leads.
Use these 5 integrations to instantly facilitate employee advocacy
10. What integrations does HubSpot offer?
HubSpot recognises the importance of joined-up systems that talk with one another. In order to put those systems first and provide additional value to its users, HubSpot is continually expanding the already expansive list of apps and web services it integrates with, providing its valued customers with as seamless an experience as possible.
With currently over 300 integrations at your disposal ranging from lead generation and customer success to advertising and webinar creation, the possibilities are endless when it comes to streamlining your business processes and transforming your day-to-day operations with HubSpot.
Find out how to use HubSpot's Vidyard integration to adopt video across your entire sales process
Download your free copy of our integrations guide
We hope this page has helped you understand everything you need to know about integrations and how they can transform business operations and enhance your overall business performance.
For more in-depth information on the topics discussed above, download 'A Practical Guide to HubSpot Integrations' and see how to manage and implement integrations, avoid the common pitfalls, build a business case, gain end-user adoption and explore the many valuable possibilities in HubSpot's App Marketplace.
This is one of those free resources. In fact, it's a compilation of several intended to guide you step-by-step along the process of generating leads that close.
Use the book as an inbound marketing strategy template to evaluate missing elements in your current activities


Discover ideas for improving ROI by generating leads that close


Get a fresh perspective on the relationship between marketing and lead generation