Case Study
CEG Uses HubSpot to Gain Visibility Over Complex Data Records and Multiple Business Units
CEG Digital, a division of Cambridge Education Group, develops, markets, and delivers online courses on behalf of multiple universities across the UK.
Prior to reaching out to BabelQuest, they had already identified HubSpot as the CRM for their marketing, sales and customer service teams. As they continued to scale their business and add more universities to their Enterprise portal, it became increasingly difficult to prove ROI and attribution of spend and performance across the separate organisations, which encompassed hundreds of users, over 80,000 contacts, and more than 5,400 deals.
Given these challenges with assessing how each individual institution was performing, CEG Digital needed to ensure their platform structure could support their data, processes and assets moving forward, and they needed a solution before the September intake of students.
Industry
Company Size
Location
80000
contacts migrated into separate portals for each business unit
5400
Deals migrated to enable a new way of working for Sales
48
lead generation campaigns re-built including emails and complex workflows
The business challenge
On the surface, using one HubSpot Enterprise portal meant the marketing and sales teams could follow a standard process across the platform and their multiple brands. However, since the portal wasn't being managed consistently, the data and subsequently the analysis could not be trusted to represent a single version of the truth.
Meanwhile, their HubSpot instance needed to be able to support standardisation in their use of call-to-actions (CTAs), email signatures, branding, naming classification, landing pages and forms, as well as the consolidation of different field variations and lists.
"HubSpot can be a complex system if you aren't sure how to use it, and if your requirements are also complex, it can quickly become a headache you don't need."

Gem Rugg-Gunn
HubSpot Platform Consultant, BabelQuest
The business challenge
A Diamond HubSpot Solutions Partner at the time (we have now reached Elite HubSpot Solutions Partner level), BabelQuest had exclusive access to the beta content partitioning functionality, and had in fact worked closely with the product team on its development.
Could this functionality provide a solution to CEG's complex challenges, or would the project's time constraints and the fact the feature was still in beta make it too high-risk?
Scoping the project
In order to assess the right solution for CEG, it was essential to understand their needs as a business. We worked with multiple decision-makers across the management team, marketing, sales and operations to establish what the right solution was for CEG digital, including whether to use the beta partitioning functionality or to split each university into separate portals.
A team comprised of our Head of Client Services, Sales Consultant, and HubSpot CRM Consultant went ahead and assessed their challenges, which they used to create an informed plan for the initial discovery phase and a roadmap for the following delivery phases.
We took into account:
What integrations were already built?

What impact and work would be involved with changing the integrations to multiple Pro portals?

What other integrations were going to need to be built?

Do they have any quiet periods where the migration would have the least impact on their business?

Who could export the data from existing platforms?

Were they planning on using the HubSpot CMS?

What other platforms are they using across marketing, sales, and services that need to be integrated or considered?

What is the timeframe?

What are the key milestones for the project?
Once we had a clear understanding of their current business landscape and time constraints, our recommendation was to split each individual university into separate HubSpot portals and segment the data.
CEG chose to work with BabelQuest as we provided them with a goal-oriented plan that clearly addressed their challenges. Not only were we able to meet their budget, but all stakeholders bought into our proposed plan and we could work to their project timescales.
Starting with strategy
In order to help CEG Digital scope out the required works, we needed to run a series of workshops to address the CRM requirements, HubSpot configuration, and the partnership approach. It was essential to do a full review of the data sources to understand how the existing technologies would interact with HubSpot CRM (e.g. Zoho books, XML feeds etc). An audit of their current HubSpot configuration, as well as an in-depth assessment for how it could be organised, was necessary to understand how their configuration could meet their needs as a business.
It was important to establish a collaborative way of working to identify the escalation points, the key stakeholders and decision-makers, the vision for a successful project, and to ensure everyone was aligned with the plan.
The goal was to secure buy-in across multiple internal stakeholders as well as the numerous agencies and technology partners. We looked at the clear scope of work involved in custom property mapping as well as global and local organisational requirements. We needed to see how the data would impact forms, landing pages, workflows, emails and CTAs, templates, dashboards and reporting, lists, default properties, sales timelines and lifecycle mapping.
The two-phase approach
Phase 1: Asset migration and build
Before the new portals were switched on for use, we began the task of migrating hundreds of marketing and sales assets into their relevant portals, as well as standardising process builds and fields across the entire landscape. A standard blueprint was used across all of the portals to establish brand consistency and ensure the data remained structured.
The specific activities to achieve portal standardisation included:
Reviewing, consolidating, and mapping contact properties as well as creating a default list to be used consistently in the Enterprise portal and within each Pro portal
Creating a standardised HubSpot portal set-up (onboarding process for each brand). This included default timezones, email domains, privacy and cookie policies and user permissions
Tracking codes and subdomains
Creating global and local templates for landing pages and thank you pages
Re-creating workflows and ensuring contacts were not going to be re-entered
The migration activities of sales and marketing assets included:
Un-publishing blog posts in the Enterprise portal and re-creating the blogs after their migration
Migrating and configuring CTAs
Migrating emails
Re-creating forms and providing new embedded code to the relevant IT teams to upload into the websites
Migrating and re-creating landing pages and re-directs
Re-creating sales processes, deal pipelines, required fields, and sales templates
The activities listed above included migrating 48 separate lead generation campaigns, with their associated emails, lists, landing pages, workflows, and forms. This was particularly important as due to the continued growth of their business, the CEG sales team setup had evolved. Rather than having all of the salespeople working on multiple university accounts at once, they were now assigning separate teams for each individual university.
Migrating marketing and sales assets and having clear lead generation campaigns for each university meant that this change in the sales team's way of working could be properly facilitated. They had enhanced reporting across the business as well as a positive change in the sales team's level of efficiency, giving team managers clear visibility across activities and results.
"As we grew as an inbound marketing-led team, I wanted to ensure we could easily and independently report and analyse on our brands, as well as see and connect all aspects of our marketing efforts. Prior to migration, it was hard to get granular data and a full 360-degree view."
Suzanne Bull
Head of Content
Phase 2: Data Migration
There was a two-week window where the migration would have the least amount of impact on the business but would still meet the key milestone of completing and testing the project before the new university calendar year started in September.
Having created new HubSpot portals for Southampton and Queen Mary's, CEG needed to move relevant data such as contact records, landing pages, emails, and workflows from Falmouth's portal without losing information that was still needed. We carefully developed a plan and timeline to launch and publish the migrated assets. This was important to ensure new leads went into the right portals before CEG's reps had switched.
Once the assets had been rebuilt and the data framework was planned, we moved all the data in one day and switched everything on simultaneously — including domains, forms, landing pages, and tracking codes. With a team of 30 sales and marketing people, it was critical that the business had minimal downtime. We helped CEG to streamline the process through our meticulous planning in the lead up to the move.
"Moving to separate portals was a big decision as there was a risk to the operational performance of the business. Gem at BabelQuest made a complicated issue very clear and helped us in feeling confident we were making the right decision. The roll-out of the new system happened on a Friday afternoon and everyone was back to work with no issues on Monday morning."
Paul Smith
Director of Student Recruitment at CEG Digital
Moving forward
In total, over 80,000 contacts and more than 5,400 deals were migrated into their relevant portals. This ultimately meant we achieved our original aims of enabling trusted reporting across portals, accurate ROI measurements for each university, developing an efficient work process, and building a scalable framework.
Following the successful completion of this project, CEG signed a 15-month HubSpot consultancy agreement with BabelQuest, during which time we worked as a central point of support to help with embedding HubSpot further into their business. We helped with the platform build itself as well as providing ongoing advice and strategy. We then recommended subsequent phases of the project to enhance the core functionality of the HubSpot platform as well as the optimisation of the standard processes and its use across marketing, sales and service teams.
The phases included:
Phase 3: HubSpot CMS roll-out across the multiple organisations
Phase 4: Customer services roll-out
Discovery workshop and report with the customer services team

Full data sources review and plan

Full integration review and plan

Training

Strategy and process alignment

Initial build (Services Hub build and set-up)

Process mapping and build
Phase 5 Sales Enablement
Coaching

Campaign designs

Implement video (re-engage prospects)

Call recording
Overall, our methodical approach and expertise helped CEG to configure HubSpot to solve their pain points and take them to the next level to support future growth and make stronger, more data-driven marketing decisions.
What the client says
"Now that all our data is in HubSpot, our next task is to make sure that there is data consistency in the way we report our activities and how we can monitor our campaigns to further optimise them. We have moved from isolated systems that were reported separately not making it easy to analyse results. Working with Gem, from BabelQuest, is making this complex task easier to accomplish as we dissect the route we need to take with a practical and efficient approach."
Silvana Tafur
Director of Demand Generation, CEG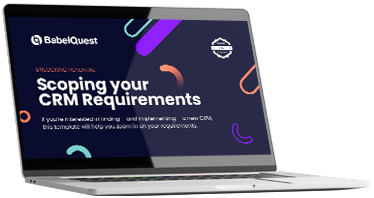 Want to use HubSpot as your CRM?
Download our CRM scoping template to capture all the requirements you'll need to consider.