How We Helped VFE Generate a £1m+ Net New Pipeline in 3 Months Using the HubSpot CRM Suite
Vacuum Furnace Engineering (VFE) provides a range of equipment, sales, servicing and upgrade options to the global heat treatment industry. To meet its ambitious growth plans, it recognised the need for a central hub that gave everyone in the business a view of everything, from sales activity and marketing performance to contact data. A single source of truth, consolidating data management and bringing traditionally disparate business units together. A platform from which the whole business could better connect with its customers.
Here's how we implemented the right combination of HubSpot solutions, in the right way, to help our client achieve its goals and generate a pipeline in excess of £1m in three months.
Industry
Company Size
Location
The business challenge
Like many businesses, VFE's technology estate was a medley of software: its marketing team used Mailchimp to manage their email campaigns. Their blog, Wordpress. They used the tools native to their social media platforms of choice to publish and report on activity.
Some of the salespeople used their existing software. Others preferred to keep contact lists in spreadsheets. As a result, lots of the data the company relied on was unclean, out of date, or missing altogether. The lack of consistency — between the people using the systems and between the different platforms themselves — made it difficult to prove where contacts were coming from, how Marketing was impacting Sales, and how to best grow the business.
VFE's senior leadership recognised that HubSpot could solve these challenges — if set up correctly. To maximise the value of their investment, minimise time to value, and get it right the first time, they chose us to help them configure their hubs and unlock their full potential.
Helping VFE to unlock the full potential of HubSpot
HubSpot CRM
We began with the platform at the heart of their business. As a service-first company that recognised the importance of connecting with its customers, VFE's CRM was vital to its future success. The HubSpot CRM would give VFE what its salespeople needed: a system they could buy into; one which would make their working lives easier; in other words, a reason to stop using siloed spreadsheets and private contact lists. They needed to want it.
We took all the contact data from the different lists, records, and spreadsheets and brought it together in one place. Under our advice, VFE cleaned it, standardising formatting and removing duplicates. We then enriched it by creating new properties and custom objects to improve its useability.
One new property we created was for the personas we had helped VFE to define. This would improve VFE's marketing segmentation, enabling them to create more targeted emails. It would also benefit reporting further down the line by revealing which personas were driving the most revenue, supporting forecasting as well as future marketing strategy.
And Gem, one of our HubSpot platform consultants, created custom objects for the different product types VFE wanted to take to market so we could further segment prospects based on their interests, revealing new opportunities for upselling/cross-selling and marketing.
Marketing Hub
The greater level of segmentation made possible by VFE's new CRM was just the tip of the marketing iceberg. Using Marketing Hub, we were able to centralise all of VFE's different marketing requirements under one roof, creating a single source of marketing truth.
Marketing Hub's email capabilities replaced the need for Mailchimp
Every social media platform could be managed through HubSpot's social media tool
The blog came off Wordpress and into HubSpot
Overnight, VFE found they could use Marketing Hub's campaign tool to track every aspect of their marketing activities. There was no need to trawl through different platforms to get data or results. Speaking of which, because everything was now in HubSpot, it was easier than ever to track marketing's performance and how much ROI the product launches generated by influencing sales and bringing in new business using its native integration with Sales Hub and the advanced forecasting functionality that unlocks.
We created pop-up forms targeted on specific pages depending on the topic to promote relevant downloads and drive lead generation while enriching each contact's timeline.
The workflows we set up sent nurture emails that began to move prospects from download through to purchase. Some of the emails in these nurture sequences came from VFE's salespeople. And because we used Marketing Hub's social media tool to post regular thought leadership to platforms such as LinkedIn on behalf of VFE's sales leaders to build their credibility and reputation, when these nurture emails arrived in prospects' inboxes, the recipients recognised the senders, improving the open and click-through rates.
Sales Hub
On the subject of sales, VFE's adoption of Sales Hub alongside Marketing Hub and the CRM has transformed the way its people interact with, and sell to, its customers.
Before, the sales director had limited visibility over what individual salespeople were doing day to day. Now, they have a full view of what's happening across the team at any given moment, helping them to answer questions such as:
who were they talking to?
how were they spending their time?
what could they be doing differently?
The integration with the CRM means all emails and calls are logged on the relevant contact record. When someone from the sales team emails a prospect, they can refer to the persona property with which they've been labelled and send the most relevant assets that will genuinely help the prospect while nurturing them further along the sales cycle.
All the deals in progress can be viewed in one place by anyone with access to the HubSpot platform. This visibility means that Sales can better forecast what's coming, but it also expands this visibility to the board and anyone else requiring a pipeline forecast. Marketing, for example, can see which campaigns, segments, or products are driving the most sales and adapt their strategies or tactics accordingly to improve marketing ROI. By setting up these dashboards, we've helped VFE to track its revenue and plan for the future.
We're now in the process of setting up lead scoring, leveraging the native integration between Marketing Hub, Sales Hub and the CRM to help the team see at a glance which leads are hot and which are not as they come in. Longer term, a specific contact's lead score will change based on their behaviours, activity, and even their industry or location. As well as helping the salespeople to prioritise their activity, this level of integration between Sales Hub and the CRM will improve compliance (in rare cases, certain locations are not serviceable).
Generating a £1m+ pipeline through its multi-hub use
Between July-September 2022, VFE recorded £1,133,667 in net new deals generated from its marketing.
For the same period, deals influenced by VFE's marketing activities totalled £5,137,386.50.
These kinds of results speak for themselves, the product of marketing and sales strategies that leverage HubSpot's advanced technology functionality across multiple hubs, powering VFE's business as tirelessly and efficiently as any non-stop production or 24/7 operation.
Of equal value is the way in which these changes have optimised VFE's business. Marketing can see the value it delivers every day. Sales is empowered to have meaningful conversations with new prospects. To nurture. To connect across the buyer's journey. Senior leadership can make decisions quickly and confidently, helping the business to adapt, all the while truly delivering on its core mission to keep its customers' operations running.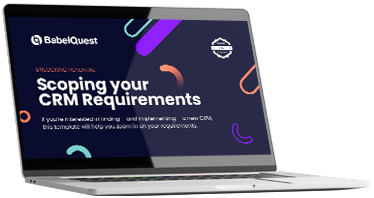 Considering HubSpot CRM?
Download our CRM scoping template to define your requirements and build an effective foundation for your new CRM.