HubSpot Platform Consultant
You'll help clients solve real business problems. As a trusted advisor, you'll design, implement and manage intricate HubSpot solutions. You'll uncover what makes different companies tick and become part of their success story.

You'll know every HubSpot switch and lever. Ask questions that matter. Decipher data, map out processes and, taking ownership of your builds, see the difference your ideas make.

You'll work as a specialist for one of only a handful of global Elite HubSpot partners.
This job's for you if you:
Enjoy helping clients. If you like to build digital solutions and challenge yourself. And explain what you're doing in clear, simple ways to those who rely on your expertise.
You'll share what you learn. You'll write blogs, record videos, speak at events, support in-house teams and work closely with HubSpot on new features. You'll be surrounded by people who share your passions.
You'll be free to work your way
Work flexible hours at home and at the office (for all the life moments that don't fall on weekends). You'll get half a day each week to level up your skills and £700 a year to spend on your mental wellbeing. After five years, you'll get a month-long, paid sabbatical.
Of over 6,000 HubSpot partner companies, there are fewer than 40 with Elite partner status. You'd be joining one of them.
This role might be of special interest to:
Anyone with technical and consulting experience. You'll enjoy juggling projects and building strong relationships with clients. You'll work independently to scope, design, create and maintain the solutions you recommend.
Want to get a real flavour for who we are?
Download our 'Culture Quest' handbook to learn more about all things BabelQuest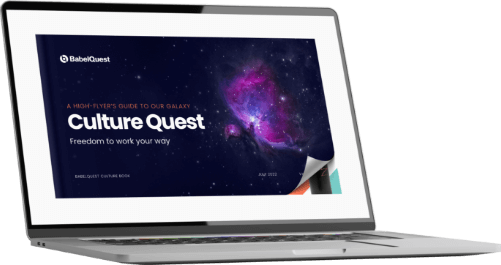 Apply today
Send in your application for HubSpot Platform Consultant