A Whole New World: Creating a Regional Website for Global Manufacturer, Mitsubishi Logisnext Europe
Introducing Mitsubishi Logisnext Europe
The organisation Mitsubishi Logisnext Europe (MLE) is a consolidation of organisations and brands across Europe. MLE encompasses Mitsubishi (the parent), Logisnext (all material handling businesses), and the territory (Europe). It is a world-leading material handling solutions provider that designs, manufactures, distributes and services high-quality material handling products. From Europe and the Middle East to Africa and CIS, MLE delivers modern-day solutions via subsidiaries in nine countries and through its extensive network of expert, independent dealers.
As with any global company operating in today's digital environment, having a first-class website that embodies valuable content, has a polished design, and fine-tuned UX (user experience) is imperative.
Industry
Company Size
Location
The business challenge
MLE is a leading player in the material handling industry across Europe. Following a major rebranding project that included the creation of nine multilingual websites for their Mitsubishi Forklift Trucks brand, MLE felt it was time to turn their attention to their central corporate website. This move aimed to instigate alignment across the MLE network of businesses and ensure their services were fully promoted and their contact data could be collated into one centralised location.
The biggest challenges for MLE's new website?
Communication. The MLE is a complex network of sales, service and manufacturing operations that needed to be outlined clearly to potential customers.
Data. Data used to reside in multiple websites across Europe, but now Logisnext has one centralised HubSpot portal to collect contact details of those people contacting their Corporate functions, and the supply units.
How this came about and why MLE chose HubSpot
Whilst most customers deal with MLE's local business units and independent dealers, and can get information on products and services from their websites, there are a number of services for large pan-European clients that are provided centrally.
As a result, MLE needed a website that pointed customers and prospects to the right place. This new website needed to explore and explain the services that MLE provides centrally. As well as this, it needed to represent MLE's manufacturing units, which included marketing their capabilities and recruiting valuable team members.
MLE decided to use HubSpot so that its website was in line with the LBUs, ensuring consistency across multiple platforms. However, this was to be no ordinary website project, as the new MLE website needed to represent both its central services for clients as well as three manufacturing operations across Europe in Finland, Sweden, and Spain.
Once the decision was made to create a new website for MLE on the HubSpot platform, we ventured into the process of developing a unique design and creating valuable content for MLE.
How BabelQuest designed, wrote, and created 269+ fresh pages for MLE's new website
From start to finish, we took a hands-on approach to this extensive project. MLE needed a complete overhaul of their website, including full website design, content creation from scratch, team alignment and data centralisation.
We began with a consultation phase before any creation or implementation took place. During this phase, we discussed both the big picture and intricate details of what the new website should cover as well as the organisation of the new site so that it reflected both sales and service functions as well as manufacturing operations.
We carried out both design and content workshops, discussing, advising, and then presenting an array of design concepts for MLE. As multiple stakeholders were part of the project, this process stretched over a few weeks to ensure no details were missed.
The content creation process
The research, development, and creation of content for this website project was sizable. It entailed conducting a multitude of interviews spanning different countries with teams across the organisation, individuals who had real, expert skills and experience in logistics, material handling and automation.
Almost all of those interviewed were novices in the world of marketing and hadn't experienced content creation in this form before. This provided more of a challenge when it came to ensuring each page of content on the website fitted together – from copy regarding sustainability and company philosophy to specific solutions and offerings – and flowed seamlessly.
The complexity of working across multiple teams in this way cannot be understated. Further to interviewing key team members and departments, MLE provided us with extensive resources regarding essential elements of the business, such as the supply chain, distribution network, specific solutions, support, and more.
Once we had conducted extensive research, we began to write the website content before it was proofread by the individual teams and then by the key website stakeholders. Aside from creating content for the corporate website, we conducted further research and interviews to create three multilingual variations of the website – Finnish, Swedish and Spanish – in the same portal. This involved the page being translated and loaded for key supported languages.
The role of recruitment within the project
Recruitment was a central objective in the writing and building of the new MLE website. After creating two pages – careers and a place to work – which centred around hiring and illustrating company values, we embarked upon helping the various HR teams that look after central roles and manufacturing site roles.
After this, we developed a process within HubSpot to publish job opportunities, and process and respond to candidates creating a stable recruitment pipeline in HubSpot deals for which MLE could actively manage recruitment. Applicants are now able to look into careers at MLE by applying through forms on the website.
The results
We and the client achieved great results from this vast CMS project. Now boasting 269+ web pages, the MLE website has a completely different theme with a fresh design and enriched usability.
As mentioned previously, Mitsubishi Logisnext Europe was garnering data from a variety of different sources, which led to the creation of complex data silos. It now has one central location for data, which is collected in MLE's central HubSpot CRM making it easily accessible to those who need it. The organisation has many different points of contact across Europe for the distinct parts of the operation. As a result, we have created numerous complex workflows to route the enquiries to the correct countries and departments.
As well as centralising their data, we helped to foster alignment across the company's assorted production, distribution and service operations. At BabelQuest, we understand the importance of data and how achieving clean data can wildly streamline your operations and boost your output.
Are you interested in building a website that grows your business? We use a growth-driven design approach to create a valuable website that optimises your performance and builds your brand. Get in touch here to tell us what you need. Alternatively, click here if you already have a website but feel it's not at peak performance (and want to fix that).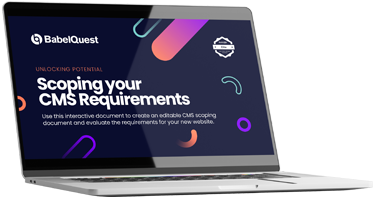 CMS Scoping Template
Visit four key areas; key decision considerations of your current website project, an overview of your current website, your new website requirements and wish list, and the technical details of your project.