From Software to Strategy: Inbound Solutions for Industrial Manufacturing
By Gemma Rogers |December 21 2020
How an industrial engineering manufacturer supercharged its marketing through strategy, software, content and social media.
Vacuum Furnace Engineering (VFE) provides a range of equipment, sales, servicing and upgrade options to the heat treatment industry. This market leader's expertise includes vacuum furnaces, ovens and autoclaves, supplied to the aerospace, power generation, motorsport and pharmaceutical industries, as well as the general engineering and heat treatment sectors.
The business challenge
To meet its ambitious growth plans, VFE sought to diversify from its reliance on the aerospace industry across a range of target sectors. It approached BabelQuest for help unlocking the full potential of the HubSpot platform and adopting an inbound strategy.
As with every client, we began with a strategy phase made up of several core workshops. This would enable us to get 'under the hood' of VFE and achieve absolute clarity about its goals and needs, as well as ask difficult questions about what wasn't going well and why.
How workshops homed in on VFE's strategy needs
Over the course of four key workshops — Positioning & Messaging, Buyer Personas, Content, and Inbound Strategy — we gained a detailed understanding of VFE's value proposition and messaging, its target prospect/customer 'types', content insights and broad strategic requirements. This provided us with all the data and the learnings we needed to create an inbound plan, which we could work from together in 90-day quarters.
Central to the inbound approach and its place in the wider commercial strategy is sales and marketing alignment. CRM and digital strategies are a big part of that goal.
Adopting the full HubSpot Growth Stack enabled VFE to achieve alignment across his teams. In turn, they also benefited from HubSpot's 'ecosystem' of linked platforms and integrations.
Drawing on our advanced implementation experience we onboarded HubSpot and imported complex data sets across multiple hubs. We also provided Sales Hub training, set up pipelines and created a custom dashboard to give David Byrne (CEO) full visibility over sales.
Fuelling this pipeline was a series of coordinated marketing campaigns designed to launch new products, raise brand awareness and generate quality leads for the sales team to close.
Marketing strategies that led VFE to success
We implemented the following strategies to help VFE achieve its business goals:
Product campaigns — planning and managing eight product launch campaigns, including website pages, product downloads, blog posts, social media and email marketing.
Improvements to VFE's existing website — to build authority and ensure VFE could be found by buyers looking for its products and solutions.
Content strategy — building brand awareness and authority in VFE's market, with a focus on its new product launches. This included introducing a blog for the first time, allowing VFE's target audience to hear from its team on key topics and 'put a face to the name'.
Social strategy — enhancing VFE's social media presence to increase brand awareness.
A very successful strategy has seen us posting regularly on behalf of the leadership team.

"VFE had a requirement to launch eight products in five months. Once the foundations were built in HubSpot, we implemented a fortnightly launch cycle for new products. This enabled us to build a rhythm, generate interest and nurture leads. Our plan included a robust content strategy, so not only have we created product information and new web pages but we also blog on a consistent basis, and create content offers and nurture workflows — all within HubSpot."

Gemma Rogers, Inbound Marketing Strategist, BabelQuest
The results
VFE's adoption of the inbound methodology proved timely. With the global pandemic challenging businesses around the world to work differently, inbound provided a solid foundation from which VFE could embrace digital. By October 2020, we had made significant gains towards our goals, only two months after activity began.
Web traffic doubled within a month and has stayed consistently high. In addition, there has been a significant leap in social media followers and engagement.
VFE is now getting into conversations with prospects far earlier. They are also able to vet prospects effectively to identify better qualified leads.
In monetary terms, our strategies generated a £900K sales pipeline, of which £190K is net-new business closed. This was an 87% improvement on VFE's previous year.
One of the great advantages for our client was starting fresh with HubSpot. This meant we were able to get things on the right track from the very start. As a result, some of the challenges that can happen at a later stage will be avoided, e.g. ineffective implementation or management of HubSpot portals and data.
What's more, VFE's leadership team has shown complete commitment to the process. The manufacturing sector isn't renowned for its adoption of the latest marketing innovations, but VFE's embracing of an entirely new approach has unlocked new strategic dimensions to how it markets and positions its products.
But don't just take it from us, here's what David Byrne, CEO of VFE, has to say.
Since David recorded this video, the first phase of the automotive deal he referenced has now closed, bringing in an initial £20,000 of closed business and a net-new pipeline of £250,000 for Q1.
HubSpot Advanced Implementation and beyond
Drawing on the skills of our Expert Practices team, we have recently begun work to map their existing install base to current customers within their CRM using custom objects. The introduction of custom objects to HubSpot's functionality means that VFE can now seamlessly add this new dimension to their data set and get granular data on how to better supply, service and maintain equipment, and will further enable VFE's operations.
Moving into 2021, we have plans to build a new website and complete the HubSpot Growth stack implementation by onboarding Service Hub, as well as continuing to support VFE's wider growth strategy by launching several new product introduction (NPI) campaigns.
Looking to boost your organisation's growth potential through HubSpot and inbound marketing? Get in touch to find out how we could help.
About the Author
Gemma is one of BabelQuest's Inbound Marketing Strategists. She brings over 20 years of B2B sales and marketing experience from both the client and agency sides of the table.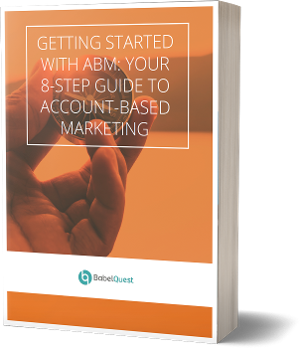 Get Started with ABM
Download Your 8-Step Guide to Account-Based Marketing