Unlocking the potential of HubSpot with a HubSpot Health Check
Founded in 2001, our client is a leading global provider of web experience management software. It specialises in content management systems (CMS), forms, and case management, working with a variety of partners to deliver digital services and strategic digital branding.
Industry
Company Size
Location
The business challenge
As with many organisations, our client's HubSpot portal used to be fit for purpose, but the growth of the business had outpaced the way its portal was being managed. This came to a head when the client experienced a changeover across its sales, marketing, and account management teams. The lack of continuity from before to after the changeover shone a light on its need for more robust data management processes and general business alignment.
At both the contact and company level, data was being handled differently depending on who was in the portal at the time.
Its properties were also inconsistent, with duplicates and other errors leading to inaccurate marketing. Existing customers were falling into lead generation lists and vice versa, impacting the kind of communications they received and their experience.
Sales and Marketing had fallen out of alignment, with each team qualifying leads according to different criteria and neither working to the same lifecycle stages.
Speaking of leads, the team felt there had to be a more effective way of converting new prospects using HubSpot's automation features. But they weren't sure where to start or how to unlock them for the best results. The team was very interested in using HubSpot to better follow up with its leads and generally get more value out of the way it used HubSpot forms.
In fact, the company recognised that it could be getting more value out of the tools across its portal — from the prospecting tool to HubSpot Analytics and the dashboards therein — if its team only had a little steer in terms of learning their way around them effectively in the first place.
Upgrading portal experience with a single audit
To help bring the client's HubSpot portal back in line with the business's needs and unlock its value once more, we conducted a HubSpot Health Check, our one-off diagnostic service that uncovers how a portal is being used. The findings of this audit go on to form a clear, actionable report, which we go through with the client on a follow-up call together.
Every audit is different but we always start in the same place - examining our clients' portal setup. Where information was missing, for example, with its Google Analytics integration and re-subscription email setup, we explained clearly and in simple terms how its team could fix it.
We delved into the client's email health using benchmarks specific to its industry to gauge performance and provide recommendations that would lead to better marketing results.
We also examined the traffic its website was receiving. Using the same approach of comparing industry benchmarks, we measured the volume of traffic as well as its quality based on qualitative feedback from the marketing team. We then carried out similar examinations in HubSpot's social media tools to understand and provide feedback on ways that the client could improve engagement and lead generation across its marketing channels.
Our recommendations were built on the expert knowledge of our platform consultants and accompanied by real-life examples to ensure the client was clear on the ways in which it could level up its portal usage. As well as providing advice that could be used to influence longer-term strategies, we recommended quick wins to help the team achieve its goals.
"Using BabelQuest's Health Check took a big job off our busy sales and marketing teams' hands. The report enables us to quickly identify areas/processes that need improving within the system to help not only the platform work better but our teams, too. I didn't expect recommendations to be included in the health check but these are invaluable and save us a huge amount of time, helping us to quickly take action on areas that need improvement." Global Head of Marketing at the client
Interested in your own HubSpot Health Check? Discover everything you need to know about how you can unlock the potential of your portal.
Unlocking the potential of the client's portal
As a leading provider of digital and CMS software, our client knows the value of a well-optimised platform. It also understands that to unlock the full potential of flexible software such as HubSpot, the right solutions partner can make all the difference. Over the course of its health check, we validated both these beliefs, delivering a set of data-driven recommendations that the client could use both short-term to elevate its systems and support the long-term processes it needed to ensure consistency within teams and continuity in the face of future changeovers.
When you're talking about a platform with so many moving parts, sweeping improvements are rarely the product of one or two changes but a process of continuous optimisation, the flicking of many switches, sometimes over lengthy periods of time, to unlock the desired results. And sometimes it is as quick and simple as that — knowing which switches to flick. In either case, the quality of a clear, easy-to-follow handover document can't be overstated.
"From a data management perspective to the recommendations we included for sales and marketing alignment, the client found our report to be even 'better than anticipated' in terms of the format and content." Bridget Reid, Principal Inbound Marketer, BabelQuest
The client went so far as to note that offering the report in PDF format made it easily shareable with the vice president of sales, the CEO, and throughout the company as a whole.
The broad range of areas covered by the report suited the client's current needs for a complete audit of how the portal was being utilised and performing. Going forward, the insights uncovered are also the perfect springboard for future deep dives into specific portal areas.
For the client, the next steps involve sharing the full details of the report with the marketing team, from where its marketers can begin to make more of the improvements that will, in time, unlock the full potential of its HubSpot platform and help the business to grow.
Whether you're not seeing the ROI you expected from HubSpot, you're struggling to convert website visitors, your sales tools aren't being utilised, or your sales and marketing teams aren't in alignment, you too can unlock the potential of HubSpot with our HubSpot Health Check. To request your health check, click the image below and get in touch today.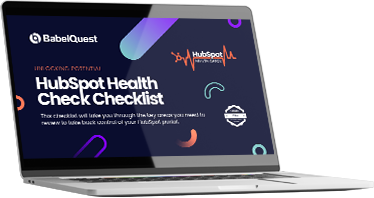 Download HubSpot Health Check Checklist
Use this 45-point checklist to create a plan to take back control of your HubSpot portal.