Achieving Growth-Driven Design with a Pioneer in AI for Diagnosing Heart Failure
The power of the internet has long been established for businesses across the globe, but keeping websites relevant, up-to-date, and engaging can pose significant challenges.
With growth-driven design (GDD), we've helped businesses create and maintain websites that attract, delight, and engage their customers with seamless evolution and continuous improvement.
How BabelQuest is Helping Ultromics Position Themselves as the Leader in HFpEF
Ultromics agreed on a 12-month GDD contract with BabelQuest, split into the above-mentioned quarterly cycles which would each focus on key themes for improvement.
The GDD team for this project consists of: Vaughn, BabelQuest's CMS consultant, Steve, the creative director, Malina, the inbound marketer, Sarah, the copywriter, Laura, the project lead, and Justyna, the frontend website developer.
Ultromics immediately reaped the benefits of choosing GDD; near the start of the contract, they changed their business focus from a sales-driven model to a more concentrated focus on creating awareness about their platform.
The GDD approach allowed them to easily reflect this shift in direction through their website, especially since each of the quarters could be seamlessly reworked to fit any changes in their plan.
Below are the details of the two completed quarters and the focus for the third:
Quarter One: The goal of the first GDD quarter was to increase the flow of visitors through the website. This would then increase conversions and improve the traffic flow between pages on the website. To do this, we focused on internal linking and creating strong calls to action (CTAs), as this would set a strong foundation for further growth in the future. This included designing, building, and distributing in-page CTAs. We updated their top 30 performing blogs with these links and CTAs. We also created a featured articles panel to highlight key blogs we wanted visitors to explore. Additionally, we implemented four new chatflows that would guide leads through the sales funnel that most closely reflected their needs.
Quarter Two: Our goal was to position as the leading platform for HFpEF. Since HFpEF was still growing as an interest area, we knew we needed to "own" the space before it became more flooded with content. This meant focusing our quarter on keywords.
We demonstrated to Ultromics that a powerful SEO strategy would include pillar pages, internal links, backlinks, and keywords combined to produce influential content clusters.
With that in mind, we recommended splitting this quarter into the following focus areas:
50% on new content, including new pages and blogs to increase engagement
30% on SEO optimisation, which would focus on user experience, conversions, and improving website performance
20% on developing the new brand positioning and extending its reach
For content deliverables, we split the quarter into:
Keyword research on HFpEF and competitors
Creating and publishing a pillar page to centralise and structure content
Writing and publishing four blog posts answering HFpEF questions
These would all lead back to the pillar page and create a strong content cluster with links to other blogs and pages
Quarter Three: With the current homepage still reflecting their previous sales-driven focus, this quarter is looking at redesigning and building a new homepage in line with creating brand awareness by educating about HFpEF.
Throughout the GDD project, we have been communicating with Ultromics through emails, weekly sprint meetings, and quarterly reporting and strategy workshops.
"I've really enjoyed working with the Ultromics team on GDD," says Laura, the project lead. "Their products are very unique and we have a great relationship. The strategy workshops are my favourite part due to the creativity that flows throughout. It's also rewarding to see the successes at the end of each quarter."
Sharing our Exciting Phase One and Two Results with Ultromics
We're still in the middle of our GDD project with Ultromics, but we've already seen some significant improvements from our Phase One (Quarter One) internal linking theme. Analysis for this phase focused on four key measurements:
Fall-off rates
Bounce rates
Landing page conversions
Growth from the new chatflows
To get the fall-off rates measure, we used the behaviour flows tool in Google Analytics. Home page dropoff went down from 81% at implementation, to 50.2% at the time of analysis three months later –– a 39% reduction. Since the bulk of their traffic goes through the home page, the reduction of almost 40% in drop-off rate now means 300 visitors per month are going to additional pages, rather than leaving the site.
We analysed the bounce rate through the page views data in Google analytics. From the start of the quarter through to the time of analysis at the end, the bounce rate reduced by 30%, from 87% to 61%. We found that bounce rate reduction across all pages remained strong, which means that the new page content and website build is engaging and attracting visitors.
Landing page conversions were also up, with submission rates from June of the previous year at 7% shooting to 19% in March. This was an increase of 261% in submission rates. Additionally, landing page bounce rates decreased from 88% in June to 73% in March.
The new chatflows increased sales growth over the first two months by 37%. This indicates that the chatflows have significantly improved lead experience and helped guide them to the end of the funnel more successfully.
Key Findings:
Home Page dropoff: down 39%
Bounce Rates: down 30%
Landing Page submission rates: up 261%
Landing Page bounce rate: down 17%
New Chatflow sales: growth by 27%
These results indicate that our proposed strategy and phase one internal linking theme was successful. We kept traffic engaged and on the site by adding internal links to the top-performing blog posts and strengthening our CTA approach. Keeping readers on the site for a longer period also helped to lead them to one of the four new phase one chatflows. These combined approaches significantly improved website performance overall.
Our results for phase two were similarly impressive, with four of our target keywords hitting the number one spot for organic search within eight weeks of starting the project, with a total of fifteen keywords ranking in the top ten. Ranking this high will boost exposure to Ultromics and position them as the leading source of knowledge for AI for heart failure.
Ultromics was so pleased with the results from phases one and two that they left BabelQuest a five-star review: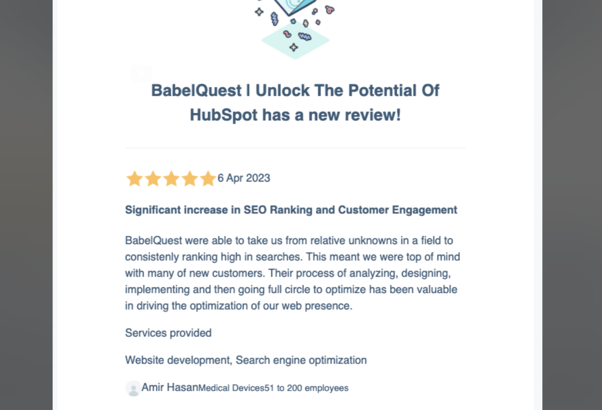 But we aren't stopping here. Results are pending for the next quarters, and we're excited to see how we can continue to improve the Ultromics website and help them increase their knowledge leadership in their industry.
Want to know how growth-driven design can deliver the results your website needs? Reach out to us today, and we'll discuss how we can create a powerful GDD strategy for your organisation.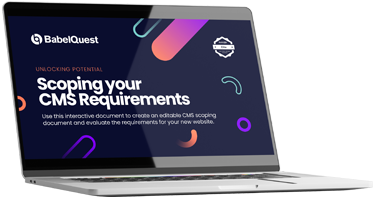 CMS Scoping Template
Visit four key areas; key decision considerations of your current website project, an overview of your current website, your new website requirements and wish list, and the technical details of your project.
Want to build a website that grows your business?
Using the growth-driven design approach, you'll get a website that's easy to use. Your team will update it without needing any technical skills. And you'll be able to optimise how your site performs, as you build your brand.