Read time: 6 minutes [+ VIDEO]
UPDATE (August 2017): This work has just been awarded a HubSpot 2017 Impact Award for Sales Enablement! Read on to see exactly what we did, and the results it achieved.
Contents
Video
The Dealer App's challenge
Addressing the challenge
Something different
Reaping the rewards
What next?
Ed Alun-Jones and Henry Hayes are the dynamic duo behind The Dealer. We met them as part of the FAB Accelerator programme in Oxford as they were completing their pilot scheme in Oxford.
BabelQuest implemented the HubSpot Growth Stack and delivered Sales Enablement services to help The Dealer App turn their pilot success into a rapidly scaling business.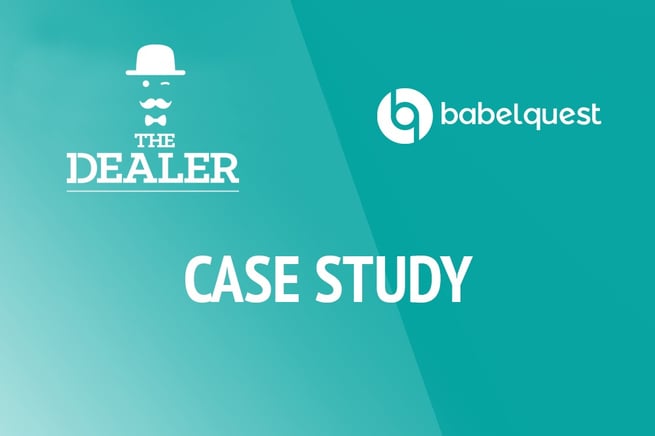 The Dealer App: Deals Doing Good:
"Save money every time you go out to eat or drink in your city. Return some of these savings back to charities fighting homelessness."
The Dealer solves a problem for restaurants by turning empty seats into revenue. It then gets these discounts to do good by asking its users to return some of their savings back to charities fighting homelessness in the local community.
The Dealer App's challenge
As The Dealer App are a start-up business with typically limited resources, spending time, energy and money on a CRM as well as training to use it wasn't on the agenda. The two founders were full of energy and enthusiasm, but all the demands on their time were beginning to cause major bottlenecks to their growth.
At the same time, their offer was really taking off, and they needed to start keeping track of opportunities and sales. From an amazing start in their first city of Oxford, they knew that they could scale their business very quickly, if they could repeat that success in more cities before the start of the academic calendar in September 2017. But that meant getting out in front of more people, signing up more venues, as well as scaling up the app's user base.
The challenge they faced was 'How do we scale up? How do we recruit and motivate a sales team that could follow the successful formula from the pilot, and get them efficient and productive enough to generate results fast, on a limited budget and with little time?'
Addressing the challenge
BabelQuest work as mentors for the Fab Accelerator, Oxford's newest startup accelerator, where new businesses are trained, supported and matched with investors. We met Ed and Henry there, and spotted that they had a sales process that was working well, and that would fit really well with the inbound sales approach.
Their main challenge within the sales process was getting hold of the venue owners at the right time. These are busy restaurateurs and bar owners (scoring more than 3.5/5 on TripAdvisor or they don't get in!), and they don't work office hours! We showed them how to uncover a prospect's best time to talk, with HubSpot Sales PRO, and how to gain recognition and get value quickly in the first connect call.
We took all the same tools and processes that we have developed with our own business and our well established clients, and turned them into easy-to-use chunks that high-growth start-ups could deploy instantly.
Something different
Delivering an excellent and robust inbound strategy is usually front-loaded with a lot of research and planning, content production, technical setup and project management. That just doesn't fit with start-ups, as these guys needed results now, not in 6 months. Thinking outside of the box, we figured out that the heavy lifting of inbound strategy and long-range marketing planning could come later.
If we focussed our attention on helping The Dealer App to deliver value to their customers quickly without going into too much depth, we could help them build a predictable and scalable revenue stream that would get them to their next milestone, without too much time or money being spent.
BabelQuest helped The Dealer App work out how to turn their sales activity into a defined process that could be measured without any additional workload. It also needed to be really easy to train someone new to do.
We set up and configured their HubSpot CRM and Sales PRO, built the deal stages, lead views, and set up the email integration. Then we trained them on how to use the tools, how to use them to identify and connect with a new prospect, and then how to set up and train a new salesperson.
We reviewed their sales process, and helped them to optimise it to take advantage of HubSpot CRM and Sales PRO's capabilities. This included using the meetings, templates and sequences tools, and the notifications to identify when these extremely busy and hard-to-catch prospects were most likely to be open to taking a call.
Reaping the rewards
We started working with The Dealer App when they were in their initial pilot, and had just won their 42nd venue and 2,000th user in Oxford. Quickly, we helped them replicate that success in Cambridge, and then they relocated to be in easier access to the Universities with the much larger student populations in Manchester and Liverpool.
They are now serving over 230 venue clients, and are set to scale up to more than 500 during the next quarter's campaigns. Their App user base has to date grown to over 7000 active users, and is on course to hit 20,000 next quarter. That's a 250% increase in users between March and August!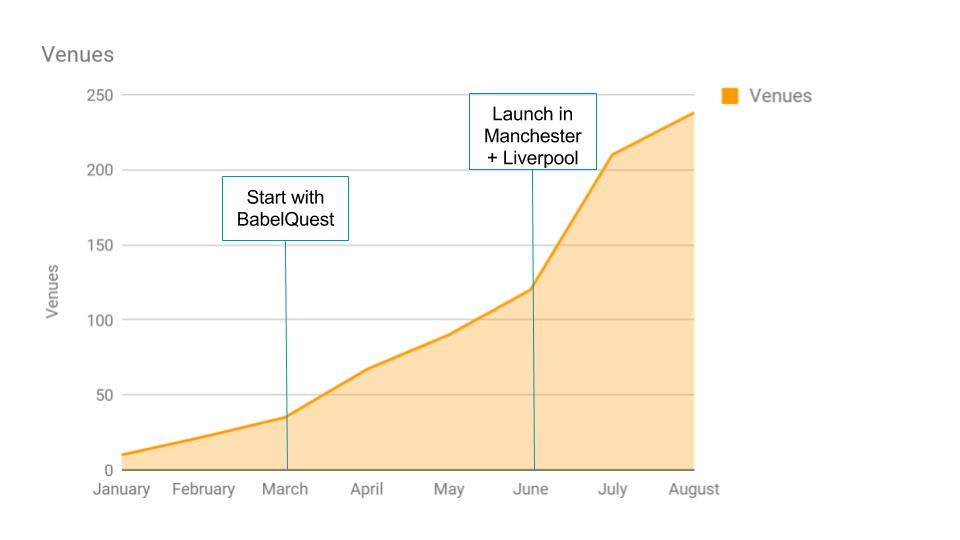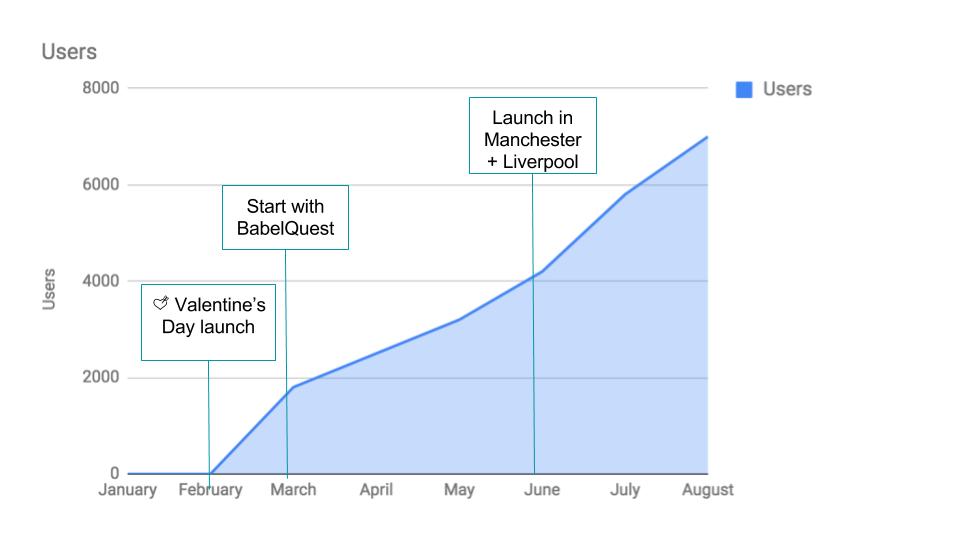 This rapid growth in sales and reach has been enabled by the services provided by BabelQuest to get new sales people onboard and selling to a defined process in a short space of time. The Dealer App have taken on 7 sales consultants in under 3 months and they are all successfully hitting quota.
"Where would we be without BabelQuest?! The BabelQuest team have done an excellent job of showing us how to scale our sales effort with the HubSpot Growth Stack. Onboarding a new sales hire has taken me just two hours on the tools and systems, and a couple of days of training in the field. So far, all our new 'Wheeler Dealer's' closed their first sale within 4 days of starting! We're really looking forward to continuing scaling up The Dealer App with BabelQuest and HubSpot."
Henry Hayes, Co-Founder and Sales Director, The Dealer App
We've created sophisticated reporting using the HubSpot Reports Add-on, and created deal pipelines for each new campaign city. This not only creates excitement for the team but a healthy, competitive edge to each of The Dealer App's 'Wheeler Dealer's', and motivates them to beat their previous best performance.
The next step for us is to work on scaling individual sales performance as well as scaling the sales team. We'll be bringing in the excellent resources from the HubSpot Academy, as well as automating the marketing and onboarding of new clients to drive success. The Dealer App are now implementing HubSpot Marketing PRO and migrating their website to the HubSpot COS.
The impact we made for The Dealer App was to create predictable and scalable growth of the amount of venues they could sign up in a short space of time. Getting momentum in a new city meant creating an impact for the restaurant venues, and so driving up app user numbers because more venues are promoting offers with the app. Being able to get new sales people active and signing lots of new venues quickly enables The Dealer App to create a big impact when they launch in a new city.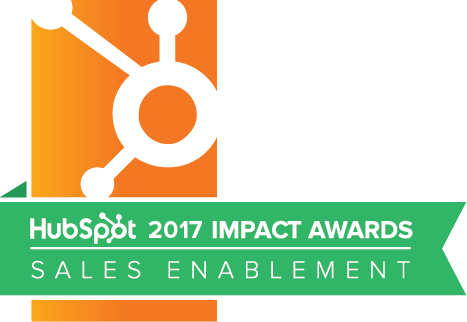 What next?
The scene is set for the start of September term in Liverpool, Manchester, Cambridge, Oxford and now Swansea. Each city now has a core of top venues recruited, and the user launch kicks off at the fresher fairs at 10 universities across their 5 cities, with a total exposure to over 211,000 new students.
Following this success, BabelQuest have now helped The FAB Accelerator to become a HubSpot for Startups partner, and has already got another 4 startups beginning their scaling-up journey on the HubSpot Growth Stack.
As HubSpot have lowered the barrier to entry for high-growth businesses with the Growth Stack, BabelQuest have also lowered the barrier to entry by supporting high-growth-potential startups with a low-to-no cost scalable service model for the Growth Playbook.
About the Author
Eric Murphy
Inbound Marketing & Sales Strategist