CASE STUDY
Revitalising Lead Scoring, Conversion Opportunities and Brand Recognition in the Science Sector
%
average MQL to SQL conversion rate
average new form submissions per month
client background
Our client provides the research community with the cutting-edge technology it needs to study cells and combat diseases at a molecular level.
Before approaching BabelQuest, the firm had been applying more traditional outbound methods for reaching new prospects and building its database. The team was using paid social activity and Google Ads to drive traffic to its website but it wasn't seeing the desired level of results in conversion opportunities and lead capturing.
The company had originally implemented HubSpot in January 2019 and consulted with BabelQuest nearly two months later to help with the development of an inbound plan. The client's then Head of Marketing knew from past experience working with BabelQuest that we would be the right partner to help get the most value from the platform.
INDUSTRY
Science, Academic
Our client recognised that its main targets were to boost the number of new contacts it was generating and provide sales with more qualified leads. But standing between it and these goals were several much larger, more established brands. Unique in that they are developed by scientists for scientists, the company's specialist products offer the research community a range of sophisticated technology solutions unmatched by its competitors, but these manufacturers make up for this with their existing buyer relationships and widespread industry reputation.
The overarching challenge was clear: to generate leads that close for this business, we needed to cut through the noise by improving their brand recognition, driving a greater market share and helping them to build an active, engaged database made up of the right kind of contacts.
This business is a relatively young and growing company. The team's frustration was knowing how technologically advanced they were in their market but that they weren't seeing the same level of recognition compared to the other brands.

Vaughn Armstrong, Head of Marketing Services, BabelQuest
We began by organising a series of workshops to better understand their positioning, messaging, and existing approach to content creation. Over the course of these workshops, we asked a variety of questions designed to uncover the core of their offering and how they were sharing this messaging with their target buyers:
What is the relevance of your product to your target market?
What is the value of your product in the eyes of your target buyer?
What does your offering promise or deliver that your competitors' offers don't?
How do you reflect this value across your marketing?
How do you communicate this value through your content?
Working closely with the company's Digital Product Manager, Head of Marketing and key representatives from across the business development team, we defined a proposition that really communicated the value offered by our client's advanced technology solutions. The content workshop gave our Head of Content, Dr Thomas Brown, clear visibility over how the team at this firm was producing content now — and how we could iterate this process to reflect their new value proposition and campaign goals.
As scientists first and foremost, the company's team recognised the importance of understanding what was happening now in order to inform the approach we took going forward. Our inbound marketing team took a close look at the website from a technical and analytical perspective, identifying immediate opportunities for SEO and conversion optimisation and helping us to prioritise our tactics when we came to launching campaign activity.
helping the client to build a community
Off the back of the content workshop, Thomas delivered a 90-day content calendar for the in-house marketers at this science sector business to roll out. With a roster of PhDs and scientists on the team, the company was well-positioned to write authoritatively about its subject matter, yet internal challenges around production, sign-off, and overarching strategy meant the team's content process had previously experienced friction. To address this, we developed the calendar around their challenges and capabilities, providing a practical framework they could work from to improve the consistency of their publishing schedule.
The redefined value proposition and messaging supported this so that the content our client created was on-brand and spoke to the same values, regardless of who had written it. The calendar itself consolidated a variety of subject titles, keyword recommendations, and briefs as explored in the workshop, giving the company everything it needed to create weekly articles and longer-form downloadable content that fuelled its demand and lead generation.
To support the effectiveness of the new content strategy, our inbound marketing team built a HubSpot blog template optimised for engagement and advised the business around on-page SEO best practices. Ever inquisitive and open-minded to experimentation, the team stood in good stead to improve the reach and visibility of its articles and pillar pages as a result — key for improving brand awareness and getting more of the right traffic to the website.
creating compelling new conversion opportunities
With the firm's content requirements set up, Dan Stillgoe, the dedicated inbound marketer on the account, scheduled weekly calls with the client's team to review the effectiveness of the website and prioritise opportunities for conversion optimisation. This included exploring the creation and delivery of quality webinars to bring in more contacts and stand out as thought leaders in their industry. We ensured they were integrating their webinar results with the GoToWebinar HubSpot integration so they could better monitor registration numbers and views to capture more leads.
The conversion optimisation process then involved reviewing call-to-actions (CTAs) on the key conversion pages, many of which were located exclusively at the bottom of the pages, and evaluating the use of pop-up forms across the website. After consulting heatmaps and looking at user movement and behaviour across their website, we advised placing additional CTAs higher up on the page to increase conversions as well as improving the distribution, field requirements, and messaging of pop-up forms across the website.
Part of the process was going through their website to identify the best places for conversion opportunities. In this case, we used heat mapping tools to identify optimal areas to input CTAs and pop-up forms.

Dan Stillgoe, Inbound Consultant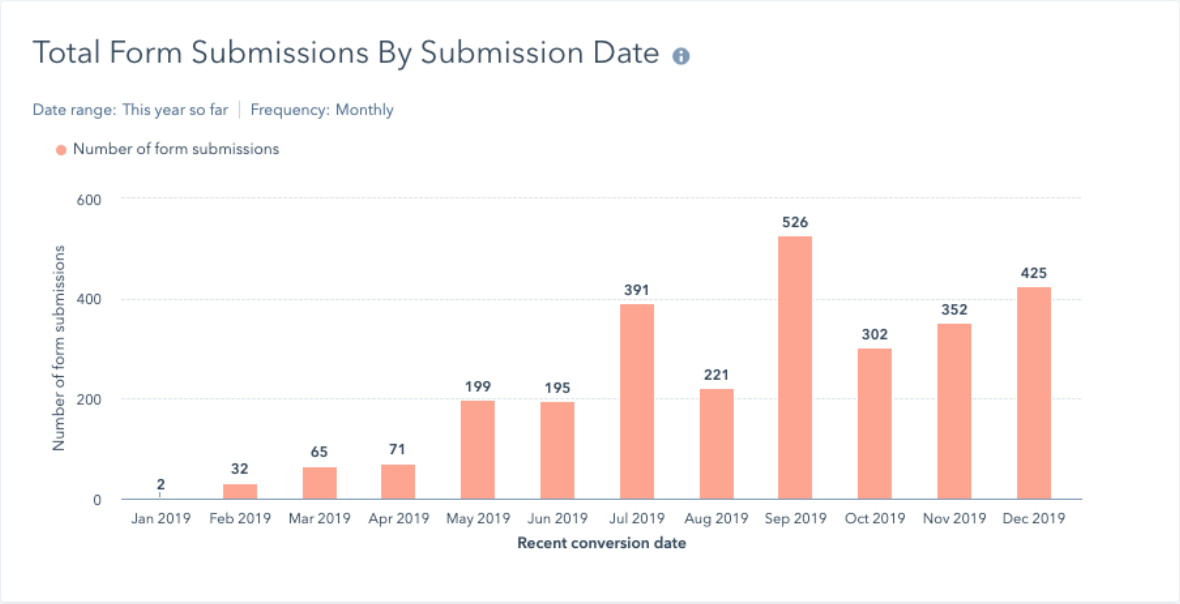 defining clear lead qualification criteria
Originally, the website forms only required the individual's first name, last name, and email. But with a steady stream of new contacts now coming in, the sales team was faced with a greater task prioritising and qualifying the leads that were most valuable to the business.
To address this challenge, we defined a lead scoring table based on three different aspects: company name, job title, and website activity. If the job title and company name were relevant to our client, such as someone working in a research facility or university, and if they downloaded more than one resource or guide, this would result in an increased lead score.
We also added progressive fields to website forms to capture more information about a contact whenever they reconverted. This meant the first and last name fields would be replaced with options such as job title, organisation name, and phone number whenever the visitor filled out a form.
These processes greatly improved the sales team's ability to identify the qualified leads targeted to the business while enabling us to develop more effective nurture sequences for keeping visitors engaged after they have downloaded a piece of content.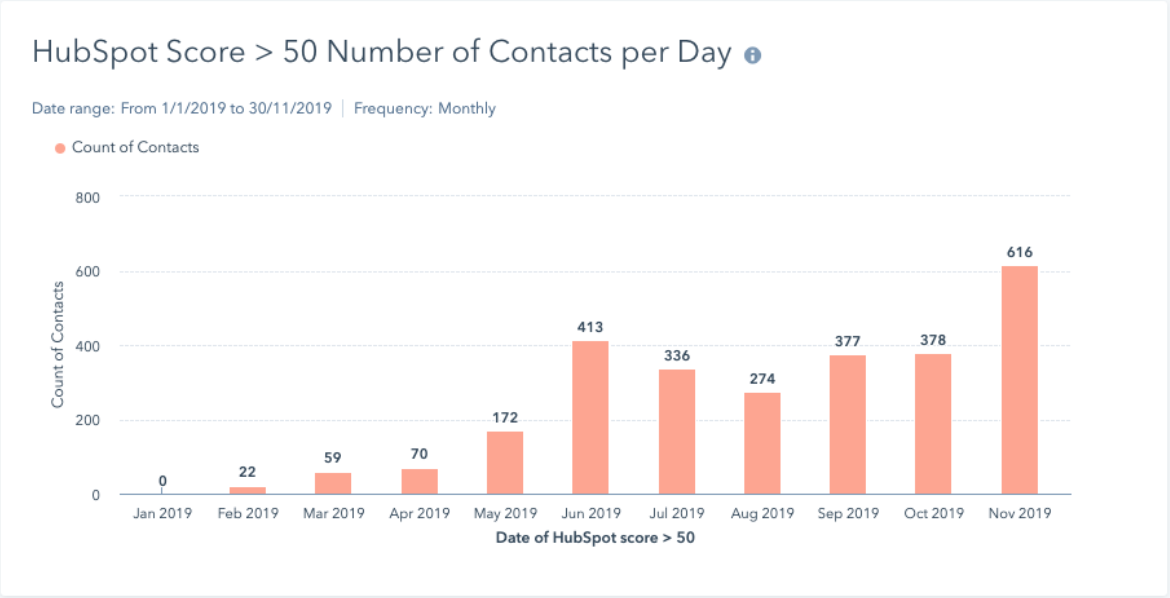 Not only has the business seen a significant lift in new contacts, but the campaign has helped build a growing community of researchers and scientists around their brand.
Top-performing articles have reached over 400 views, while total blog views rose from zero to 1,250 between January and July of 2019. As seen below, a continuous increase in organic traffic across the site further evidences the success of the ongoing technical and on-page SEO activity delivered consistently across the course of the campaign.

Engagement across the site reinforces this conclusion, with submission rates on their landing pages averaging almost 30% (and not a single landing page dropping below 25%). From January to September 2019, the top-performing pop-up forms saw over 8,000 views, with some high-performing forms recording 1,700 to 2,500 views from July to September.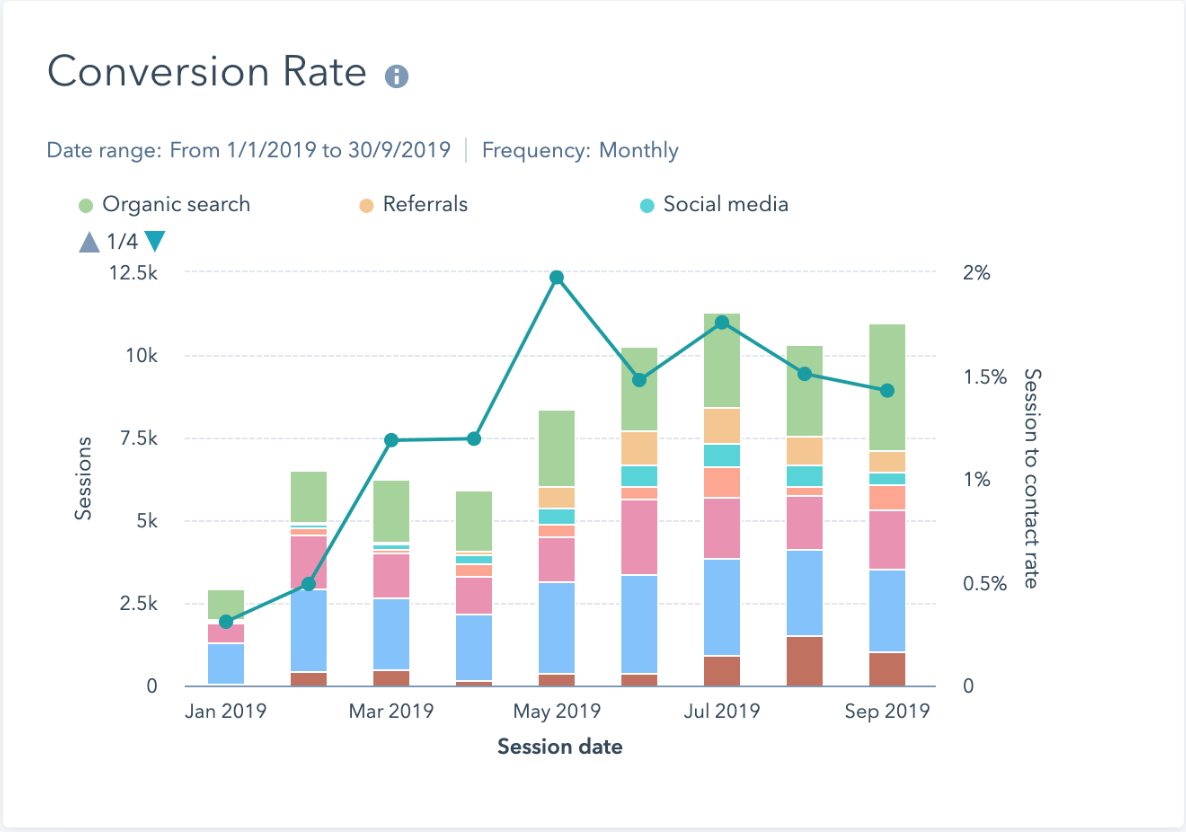 The conversion optimisation and lead qualification activity has transformed the company's pipeline. From the implementation of HubSpot in January to the end of September, the business has recorded 1,648 new form submissions and 72,904 sessions, 705 of which were reconversions. From July to September, there were 1,090 new form submissions and 32,662 sessions. During this time, the average monthly SQL rate was 13%, with SQLs being defined as those with a lead score over 50.
Reconversions play a significant role in this company's sales cycle. With the average buyer lifecycle sitting between nine months to three years, it was important for this business to be able to build a profile of its prospects. The more that a contact reconverts on the site, the better the company can qualify them and the further they are able to progress along the sales pipeline towards closing.
We were able to help get the most from conversions by:
Increasing the number of conversion opportunities on the website, which resulted in more reconversions
Setting up progressive fields in forms to build the profiles of contacts who are reconverting
Setting up lead scoring based on the information in the progressive fields (an increased score was given based on specific values)
Providing the sales team with contacts who are more likely to close
Key to its success has been the firm's appreciation for repeatable, scalable processes — methodologies not unlike those that many of the team from scientific backgrounds already respect. Adherence to these processes has set the company up with a strong foundation for continuous improvement, month on month, leading to positive business results.
The quality of what they do and what they produce is of high value, which is reflected in their conversion rates.

Vaughn Armstrong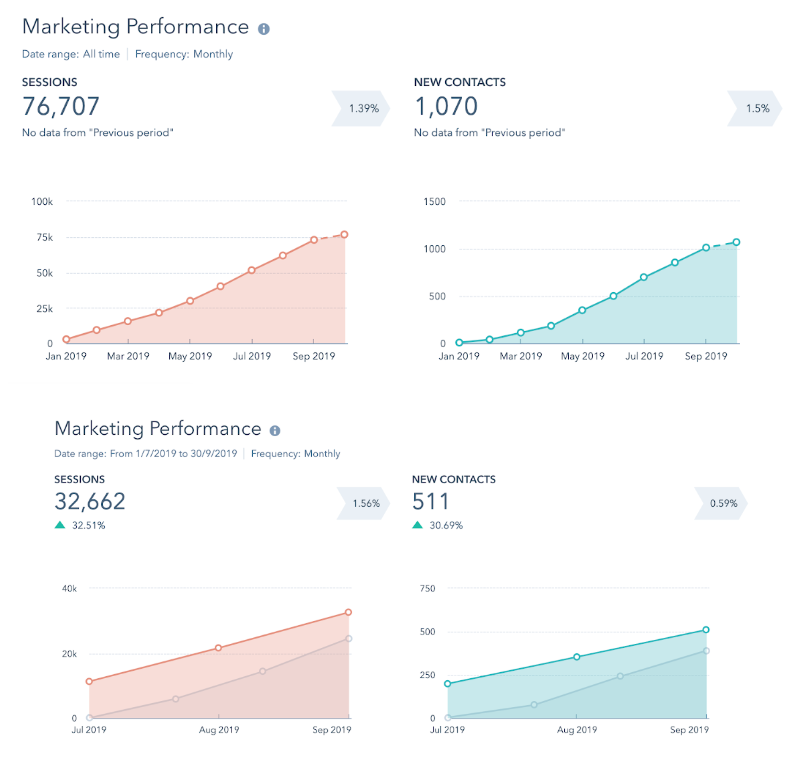 With a growing community of engaged contacts recorded in its database, the firm is continuing to work with BabelQuest in a consultancy-based model to build on the success of its lead nurturing. This includes following the path of getting the right contacts in front of sales, nurturing them, and encouraging the contacts to download more content.
Once someone has converted on a download, they will receive a series of emails promoting different content so the contacts are prompted to fill out progressive fields. Rather than sending the same nurturing sequence to every person who reconverts, this will drive personalised communications and stronger relationships between the business and its prospects.
Over time, this will give the firm more valuable information on its contacts, enabling greater accuracy around lead scoring and better qualified leads for the sales team to work with.
This business is great to work with because of their in-built scientific and iterative approach. They know how to test, adapt, and ask the right questions. They are always receptive and grateful for feedback. They listen and value our opinion.

Vaughn Armstrong, Head of Marketing Services, BabelQuest