Case Study
Revamping Lead Generation at Connect Through Inbound Marketing
Following the merger between London-based Connect Managed Services and G3 Comms in July this year, Connect was born — a vendor-agnostic communications partner that helps multi-site organisations across the world to solve their communications challenges by delivering simple solutions to complex problems.
Drawing on over 30 years of experience, Connect delivers digital transformation by refining the people, process, and technology for Unified Communications, Contact Centres, and Network Services environments. Its unique vendor-agnostic capability with leading technology partners such as Amazon Web Services, Microsoft and Genesys mean they are able to build completely bespoke solutions for their customers.
Connect first approached BabelQuest in September 2018 when its new Head of Marketing Tony Dolan came onboard with the mission to maximise the value they were getting from HubSpot, improve their inbound marketing results, and generate more qualified leads.
Industry
Company Size
Location
increase site-wide organic traffic
The business challenge
Connect had been on HubSpot since 2014 but Tony recognised they could be using the platform to generate more value for the whole business. Given HubSpot's powerful marketing functionality, Tony was keen to set ambitious traffic and lead generation goals in order to fuel Connect's growth and brand recognition at a critical stage of its life cycle.
At the same time, he saw an opportunity to reinforce Connect's already strong reputation as a leading player in the unified communications and contact centre space.
To achieve this, Tony determined that Connect needed a new inbound strategy, one that increased marketing and sales enablement and generated leads that went on to close.
Uncovering strategic solutions
Our first step was to understand Connect's key objectives. This meant measuring the site's conversion rates, reviewing the blog's reach and engagement, auditing the existing HubSpot setup, and drilling into the state of MQLs, SQLs and opportunities. We wanted to understand what really happened to Connect's contacts on their journey to becoming a qualified lead.
Inbound Strategy Planning was integral to this, enabling us to explore a variety of different approaches with the input of representatives across Connect's business. This not only gave us an accurate picture of what Tony's objectives meant to the sales team and other departments, but it provided a communication channel that fostered collaboration, better revealed the customer journey, and built key relationships with stakeholders across the company.
This buy-in would later prove integral when leveraging the insights of Connect's experts for the content we created and depending on key stakeholders to help promote that content.
Joining the dots between Connect's objectives, its core positioning, and the target persona, we conceived a series of 90-day inbound campaigns, each focused around a specific theme that aligned with one of Conn3ct's core services or offerings. A piece of premium content (long-form guides for example) acted as the cornerstone of each quarter, supported by email workflows, coordinated social distribution, related articles published weekly, and technical HubSpot optimisation to promote awareness and conversion.
"One of the main things we did with Connect was putting in place 90-day plans. This quarterly structure gave us a clear focus and real insight into what was or wasn't working. From the articles we published to the workflows we set up, each campaign sat around the premium content. It was about setting up those strategic inbound foundations."

Gem Rugg-Gunn
HubSpot Platform Consultant, BabelQuest
Laying the foundations for inbound success
Connect understands better than most the importance of consistency when it comes to delivering an experience. One year down the line, our use of the HubSpot platform to help Connect achieve predictable, repeatable, sustainable results has delivered exactly that.
A consistent approach has meant the wider business can depend on marketing for the assets it needs to hit its own department goals, whether that's sharing articles from the blog across the sales process to nurture a prospect, building stronger relationships with existing customers through relevant case studies, or commissioning brochures and other ad-hoc, often time-sensitive requests at short notice to meet the needs of the growing business.
Crucially, we have been able to demonstrate consistent growth to the blog, with engagement to suggest the topics on which we're writing are genuinely providing value to Connect's readers. At the time of writing, site-wide organic traffic is up 21% YoY with July 2019 being their best month ever, while blog views have increased by more than tenfold over the same period. We expect this trend to continue into Q4, with blog views already in a position to more than double on those tracked across Q3.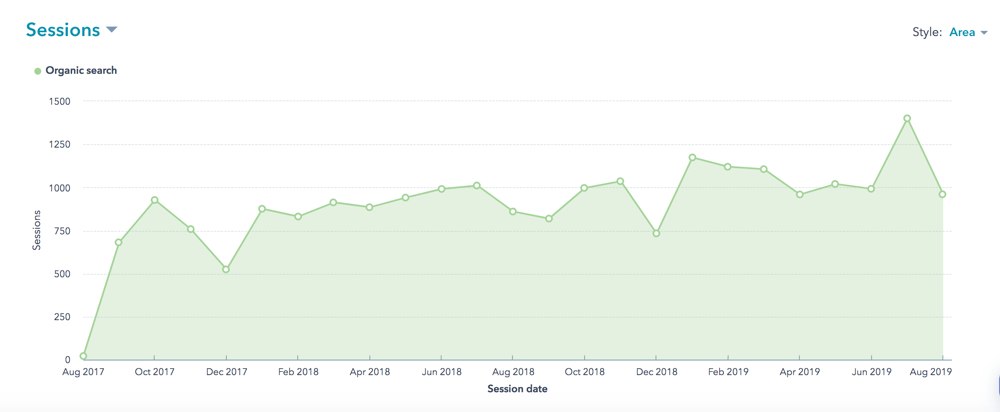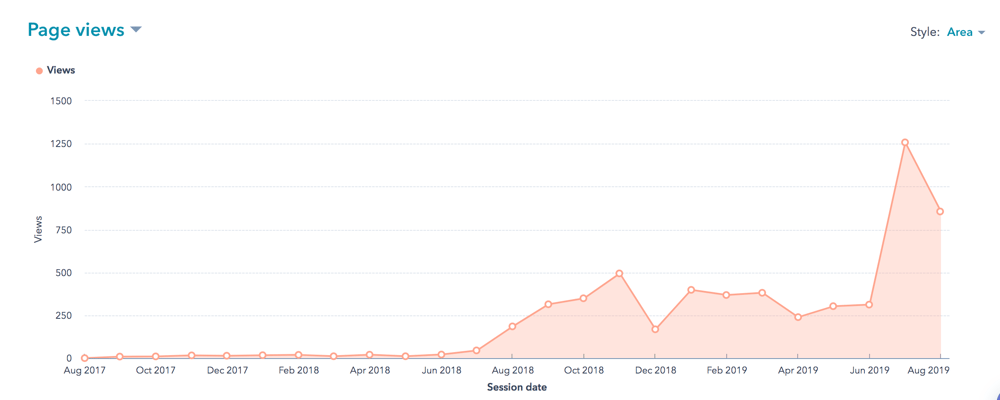 Even with Connect's lengthy sales cycle, we can look beyond marketing and brand awareness to see the impacts that the activity has had on the pipeline.
After optimising HubSpot and working closely in partnership with Tony and his team, we have helped Connect to get clear visibility over the flow from contact to MQL to SQL to opportunity. Tony and his team can literally see which articles and other web pages a prospect has engaged with, what guide or offer they converted on, and how best to speak with that contact to provide the help they need. Crucially, so can the rest of the business. Live notifications alert the wider business when a lead is generated or engages with an email. As a result, by August 2019 the MQL to SQL rate went from untracked to circa 20%.
"It's about setting up the foundations then making incremental improvements so you start seeing bigger results over time."

Gem Rugg-Gunn
HubSpot Platform Consultant, BabelQuest
Future growth plans
Moving forward, we're looking to build on the strength and consistency of the existing inbound framework, implementing incremental learnings from year one that compound to deliver greater growth and drive new business. In Q1, we intend to revisit a theme from a previous quarter, taking less of a product approach and instead leveraging Connect's thought leaders to speak more to the issues and challenges the target buyers experience in that area.
And with the merger between Connect Managed and G3 now official, they will soon be rolling out a new website, which should help Connect see even greater results in website engagement, conversions, and lead generation.
"BabelQuest have quickly become an invaluable partner for Connect. Their understanding of HubSpot and strategic mindset has given us fantastic support to reach our goal of implementing an inbound strategy that delivers tangible value for the business. We set ourselves ambitious targets and deadlines to reach our goals as quickly as possible, which has resulted in achieving a great deal in a very short space of time. I couldn't have done it without BabelQuest."
Tony Dolan
Head of Marketing, Connect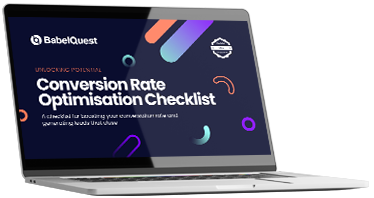 Got traffic, need more conversions?
Download our Conversion Rate Optimisation Checklist to get some quick tips for turning your visitors into leads.