Case Study
Demonstrating the Value of Social Media to Drive Lead Generation and Promote Brand Awareness with Logicalis
Known globally as a leading provider of IT solutions and managed services, Logicalis is home to an international network of specialist hubs, industry experts and strategic partnerships with over 6,500 employees and 10,000 customers around the world.

With a strong focus on digital transformation, Logicalis is committed to using its technological expertise and industry insights to address customer priorities including business growth, operational efficiency, innovation, data governance and much more.
Logicalis first approached BabelQuest in the summer of 2019 after its PR agency, Champion Communications, recommended our services to aid in the setup and implementation of a social media campaign. This campaign revolved around Logicalis' annual CIO (Chief Information Officer) study. Now in its seventh year, the study which is based on the research of over 800 CIOs globally, serves as a barometer and provides insight into the challenges and opportunities that CIOs face around the world.
Industry
Company Size
Location
200
contacts generated via social media in two months
increase in website sessions from social media
increase in LinkedIn shares
The business challenge
The ultimate goal was for the social media strategy to be consistent across the entire Logicalis group while agile enough to meet the requirements of all stakeholders in the regions and business functions. In the first few months of working together, we developed a social media strategy around this objective and helped the Logicalis team to implement and configure HubSpot. During this time, Logicalis was also going through a rebranding process repositioning themselves as the 'Architects of Change'.
The big question was how could we implement this new brand consistently across 26 regions while also launching a major global study?
Once the CIO study was completed, we were ready to launch part one of the campaign in January 2020, with part two following in February. To help Logicalis track the success of their CIO study and get as much value as possible back from it, we positioned it as a download with a landing page and gated it behind a form. This type of content was a new approach for Logicalis.
"If you're going to invest time and money into creating a big piece of content, you need to look at how you'll prove whether it's adding value and demonstrating ROI. Collecting and analysing that data is the best path to growth."
Janice Hewitt
Inbound Strategist, BabelQuest
While tracking the performance of the study was important, promoting it and transforming Logicalis' approach to using social media was the core objective. To really make an impact, we needed C-suite buy-in to help deliver and reinforce the new brand message. We needed a proof of concept to build trust within the organisation. We also needed a number of executives to connect their LinkedIn accounts to HubSpot and allow us to post on their behalf.
We started with some internal marketing to improve buy-in across the business and uptake with the C-suite. We then crafted targeted emails using video support for internal distribution.
In this video, we communicated how executive-level social engagement and thought leadership on social media (LinkedIn in particular) can have a big impact on the business across all audiences, as global executives positively influence authenticity, approachability and transparency. And most importantly, this impact can be measured.
In addition to our internal emails and video, we had two internal advocates - the CMO, Renata Randi and Group Marketing Manager, Panos Anagnostopoulos. Our combined efforts got six executives on board, enabling us to promote the CIO study and deploy brand awareness posts via the Group Company LinkedIn page as well as via personal profiles.
Seeing the results
The results of this united front across the corporate social accounts and top-level personal profiles were immediately clear. During the first two parts of the campaign in January and February 2020, social media became the highest performing contact conversion channel. As of early March, the campaign had generated 200 new contacts, as well as 285 influenced contacts.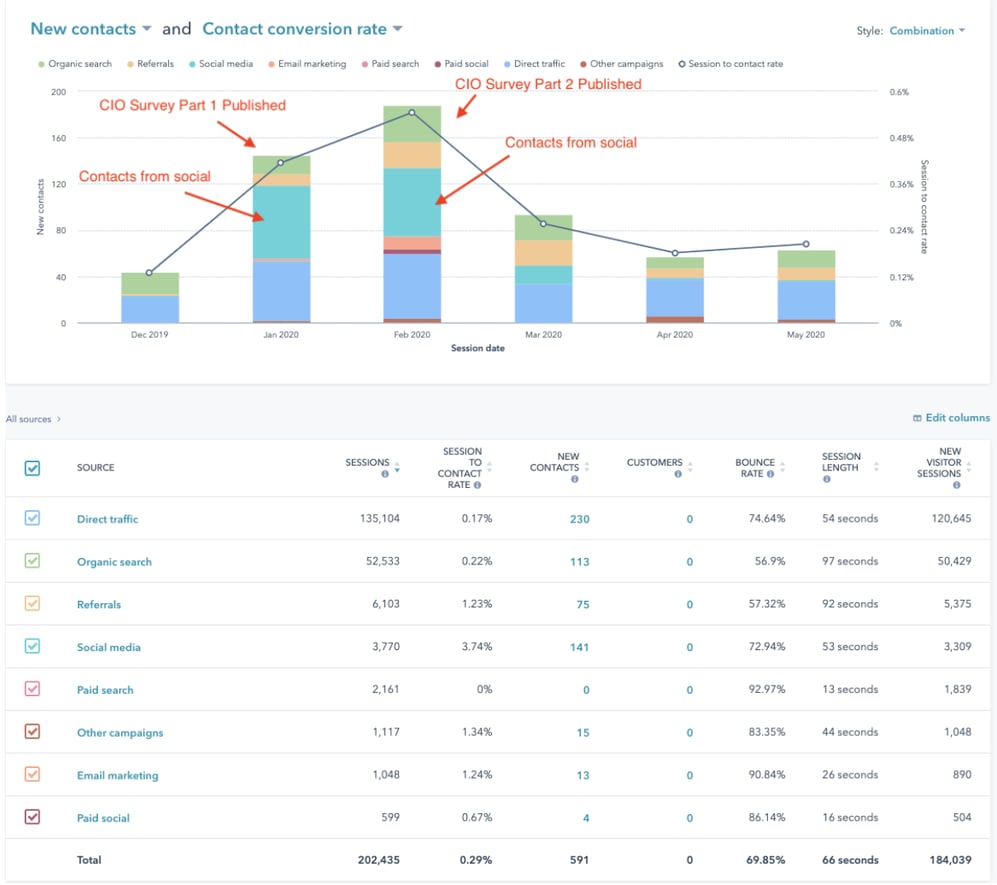 We also saw an increase in website visits coming from social media. Before launching the CIO Study campaign, sessions from social were only sitting at 268 in December. These jumped significantly to 826 in January and 937 in February.
With these results, we proved that social media is a lead-generating channel and that the use of personal profiles was beneficial to extending the reach of social posts. We also showcased to Logicalis the value of their investment in a global CIO study.
Another part of the mission was to embed the 'Architects of Change' message through brand awareness posts. We tracked this by measuring month on month growth of their audience, shares, interactions and impressions. In the past six months, we have helped to grow the company page audience by 11.25%, shares by 1128.57%, interactions by 2237.4% while impressions are up by 365% compared with the previous six-month period.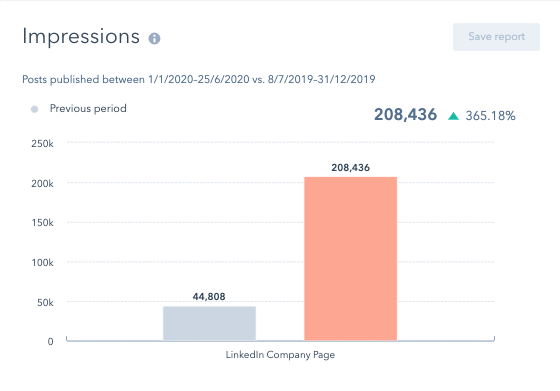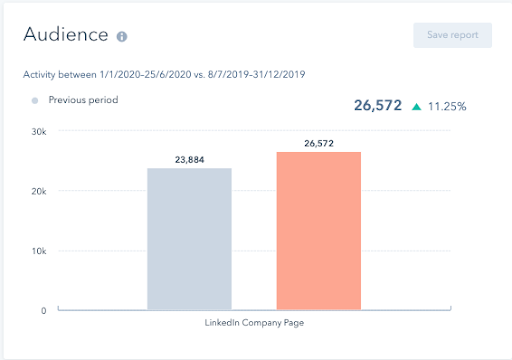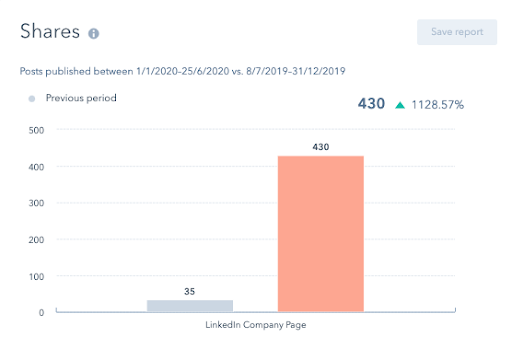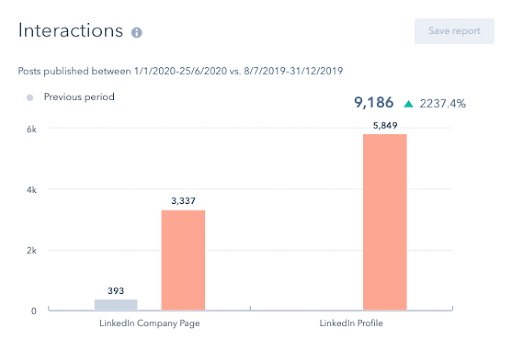 We also tracked the total LinkedIn engagement rate (number of interactions divided by the number of followers). This metric reached its peak in February at 13.78% and continued at a steady average of 8.5% through April and May (the average benchmark currently sits at 2%). Linking the personal profiles of global executives to HubSpot played a big part in keeping the total engagement rate high as this has a significant impact on engagement, clicks and visits to the site, ultimately helping to extend their reach. In fact, the majority of the top posts with the most interactions and clicks continue to come from the team's personal profiles.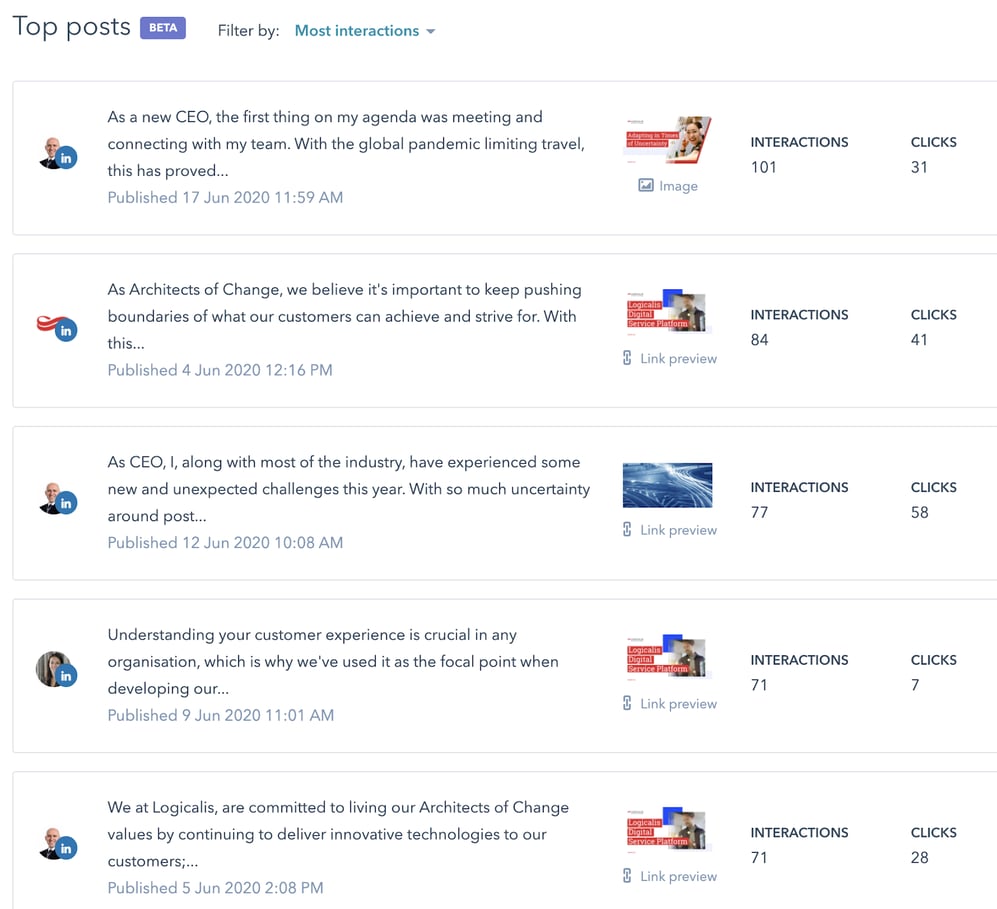 Shifting focus
While the campaign proved to be a success in January and February, the rapid spread of COVID-19 in March changed the world. To help Logicalis as best we could through this challenging and unprecedented global landscape, we decided to adapt campaign tactics.
In response to the climate, we turned our focus to an adaptability campaign that specifically targeted brand awareness and visual consistency across social media, rather than selling to audiences, directing people to the website or promoting any downloadable content.
The 'Architects of Change' messaging shifted toward being more human, empowering, supportive, and mindful of the rapidly changing global environment. The goal was to find ways to communicate sensitively during this challenging time for Logicalis' customers and employees. In particular, it spoke to — and empathised with — remote workers and their circumstances while using a personable but solutions-orientated approach.
We took steps to ensure the visual imagery used for the adaptability campaign and other social media outreach purposes was consistent with the Logicalis brand definitions and messaging. When using imagery, we made sure to focus on:
Utilising stock materials that demonstrate the diverse range of Logicalis' outreach – from employees to clients to partners
Using imagery that would also represent diverse challenges of many individuals and teams, such as caring for children, sharing spaces, technical complications etc.
Ensuring the visuals relate to a wide audience
Ensuring the imagery is positive and relevant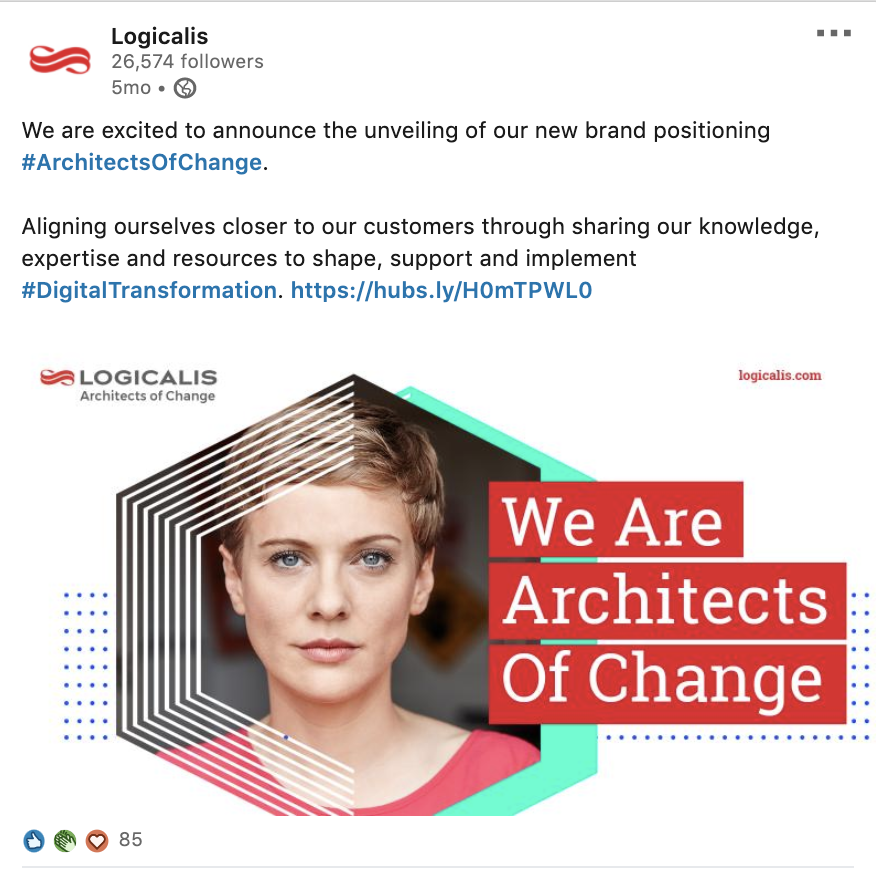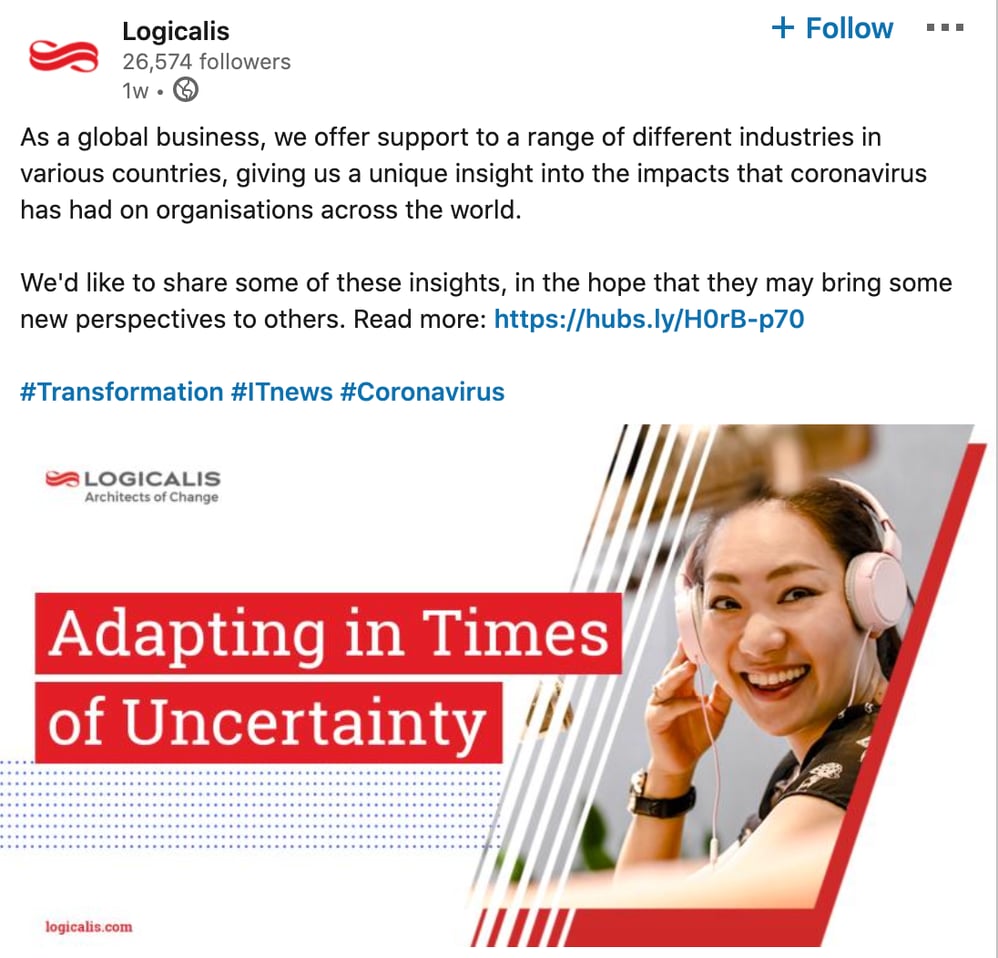 Despite our quick change in campaign tactics starting in March, social engagement is continuing to increase over time. Overall, the number of LinkedIn followers jumped dramatically when our work together with Logicalis began. From May to November 2019, Logicalis was sitting at 23,596 followers, which then increased to 26,528 between December 2019 and June 2020. Additionally, during the same time periods, interactions went from 393 to 3,282. The following is the month-on-month breakdown of the number of followers that have continued to increase thanks to our brand awareness tactics in the adaptability campaign.
January: 24,257
February: 24,702
March: 25,247
April: 25,691
May: 26,111
Additional observations show that while impressions dropped from March through May, clicks have been steadily increasing despite how our activity pivoted and the significant change in the content being shared.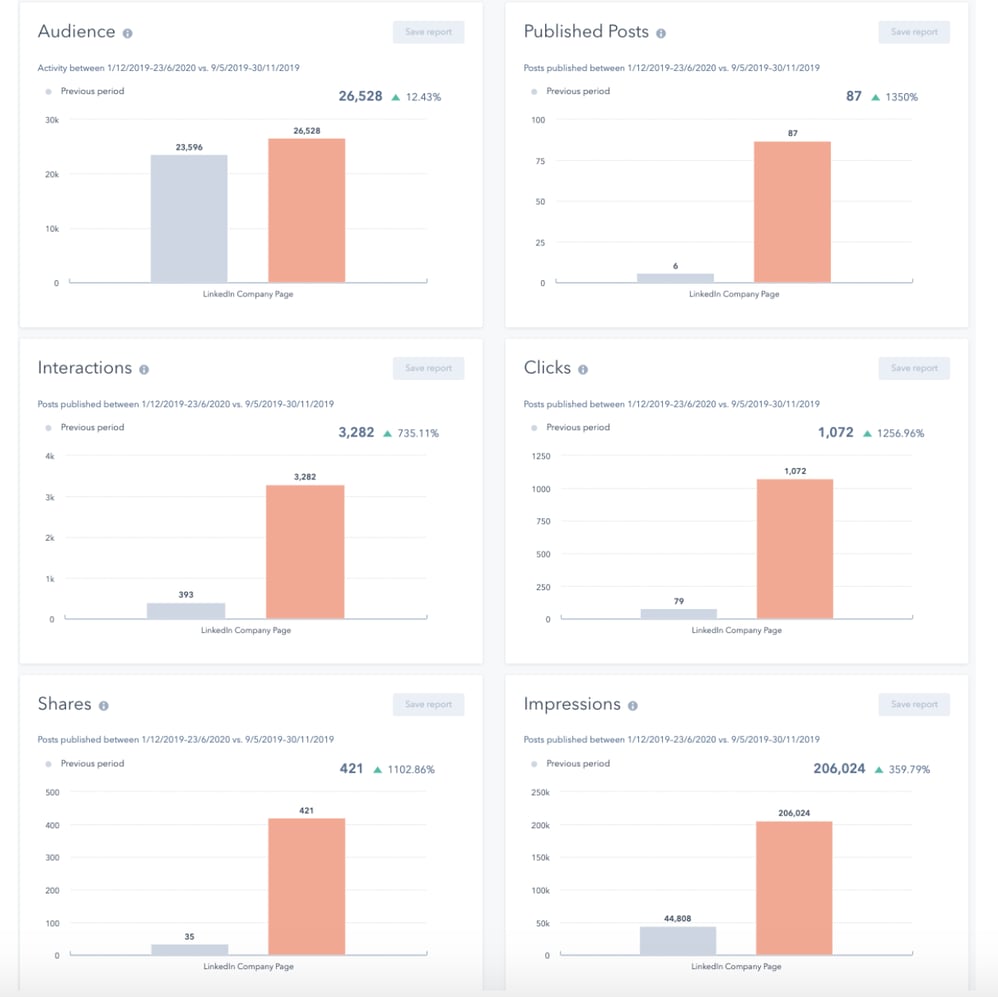 Crucially, by being able to track leads generated in the first steps of the campaign and prove the significant social engagement across March-May, the Logicalis team was able to demonstrate the value of its social media campaigns to the regions, paving the way for a broader HubSpot roll-out and similar marketing initiatives in the future.
Unlocking HubSpot Enterprise
Since we first began working with Logicalis, they have recently upgraded from HubSpot Marketing Pro to an Enterprise account, and we are currently helping them to define the rules and partitions to roll it out to a total of 26 regions.
By upgrading to enterprise, this will allow for more technology and tools for the whole team, cost savings for each region, templated campaign structures, multi-language capabilities, lead generation and distribution, and much more. As of May 2020, we have built and implemented HubSpot Enterprise in three regions and will continue our progress in the coming months.
"With the successful results from the CIO study and our joint efforts throughout the adaptability campaign, we've been able to prove the value of social media, HubSpot, and the inbound methodology for effective campaign tracking, promotion, and lead generation."
Janice Hewitt
Inbound Strategist, BabelQuest
What the client says
"Working with BabelQuest and implementing HubSpot has been instrumental in achieving our business objectives and transforming our approach to social media and lead generation. We're excited to see how we'll continue to develop our Digital Strategy together and adapt to today's ever-shifting environment and challenges."
Panos Anagnostopoulos
Group Marketing Manager, Logicalis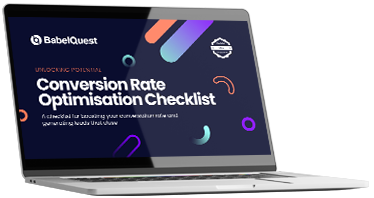 Got traffic, need conversions?
Download our Conversion Rate Optimisation Checklist for some quick tips to turn your visitors into leads.