We are thrilled to announce that BabelQuest has become an Elite HubSpot Solutions Partner, one of only 20 partners out of 5,852 globally to reach HubSpot's top tier.

It is hard to put into words how much this achievement means to us. We have reached some notable milestones over the last eight years, but as a HubSpot Solutions Partner dedicated to helping our clients unlock the potential of the HubSpot platform, this has to be the biggest.

We are now one of only four Elite partners based in the UK, giving us a new, stronger position from which to help businesses unlock the full value of their HubSpot investment.

To find out what sets an Elite partner apart, how we got here and what this means for BabelQuest and our clients going forwards, read on.


Elite tier: what does it mean?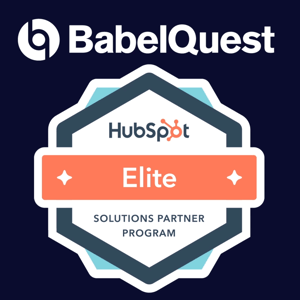 Every HubSpot Solutions Partner sits within a certain tier. These tiers provide a framework for prospective clients, helping them to broadly understand what level of services the partner provides, their experience with the HubSpot platform, and their proficiency when using it.
The Elite level currently represents the top 0.3% of all Solutions Partners worldwide, so a prospect can be confident that when they reach out to an Elite-tier partner, they will receive an exceptional level of service from experienced hands with a genuine passion for — and proven ability to generate results through — the number one CRM for scaling companies.
"Having worked with many partner programmes across the technology sector, it soon became apparent that getting to the top tier benefits everyone involved — the provider, the partner, and their joint clients. With this in mind, getting to HubSpot's Elite tier is a tremendous springboard for BabelQuest's future growth in the rapidly expanding HubSpot ecoSystem." Vaughn Armstrong, Director
How did we get here and what was the journey like?


Helping businesses to unlock the potential of HubSpot
HubSpot first caught our eye in 2013. As with many of our clients today, we were drawn by its integrated approach to managing sales and marketing. Having observed first-hand the benefits to be gained from sales and marketing alignment, we were excited to find a tool that enabled businesses to achieve it. We knew we had found a partner that shared our values.
Since then, we have championed HubSpot at every turn in order to help our clients reach and engage the people their businesses need to grow.
I couldn't be more proud of the work the team — past and present — has delivered over the long course of this journey and I'm so excited for us to reach and help more clients as an Elite HubSpot Solutions Partner going forwards.
Find out what our clients are saying about us on the HubSpot Solutions Directory.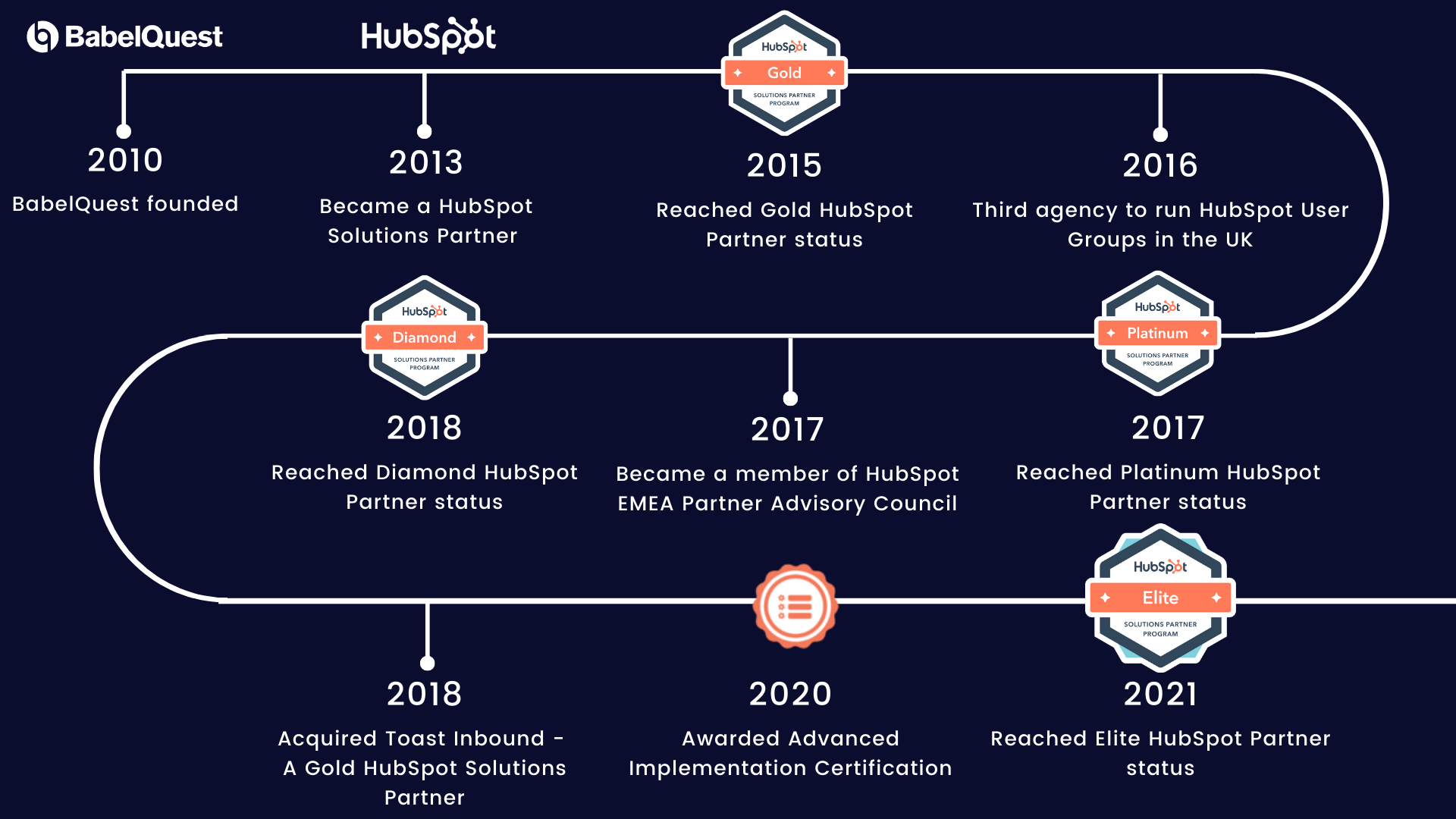 You might also be interested in:
A huge thank you
I want to say a huge thank you to everyone who has helped us to get here. It wouldn't have been possible without you. Thank you to all our clients for putting your trust in us. Thanks to HubSpot's wonderful support team — you are truly Elite, too. Thank you to all our team who have put the work in to get to where we are. Thank you to all our families and friends who support us every day, especially through the global challenges of the last year.

And thanks to HubSpot for a market-leading product that we love to use, love to sell and love to support. Thank you!
"I want to say a seriously big thank you to all of our clients for believing in us and trusting us to deliver, to HubSpot for building the best partner ecosystem and providing us with awesome people to work with, and to our team here at BabelQuest for their constant pursuit of making things better — you all deserve to wear the Elite badge! Now wear it with pride as we go and help more businesses to get on board with HubSpot as it becomes the #1 CRM for scaling companies." Eric Murphy, Co-founder, Director and Head of Revenue
To find out more about how we could help you to unlock the full potential of the HubSpot platform, click the image below and get in touch.
About BabelQuest
As a globally recognised HubSpot Solutions Partner, we partner with B2B organisations to unlock the potential of their marketing, sales and services software. We do this by asking the right questions, challenging the status quo, and caring about the impact we make. We make this happen because we're passionate about enabling organisations large and small to achieve their objectives and grow better.

We are hiring!
With a variety of roles available, we want to hear from you! Take a look at our latest vacancies…