How could you benefit from buying HubSpot through a partner agency? In this article, discover some of the benefits of buying and implementing HubSpot with a solutions partner by your side.
As decisions go, choosing a new sales and marketing automation platform is a big one. You've already recognised the phenomenal opportunities to transform the way your organisation aligns its sales and marketing activities, but don't overlook the need to plan for how you set up and implement your new technology.
Who is going to be working in the platform?
What will they be accountable for?
Where will they be accessing the technology?
When should you roll out the new launch?
How will your teams learn their way around the software?
To get to the point, there's a lot you need to define to ensure a successful rollout, and how much value you get from your new platform can depend a great deal on how you purchase it.
To help you make the right purchasing decision, we've put together this article sharing what we perceive to be the key benefits of buying HubSpot through a partner agency, based on our experiences as an Elite-tier HubSpot solutions partner with an extensive portfolio of successful rollouts under our belt.
No agenda and (almost) no bias. Just a handful of pointers in the hope that you're equipped to make the best decision for your organisation when it comes to crunch time.
Learn exactly how we help with HubSpot.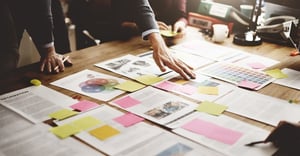 How could you benefit from buying HubSpot through a partner agency?
1. A more flexible onboarding process
Before you've even purchased HubSpot, a reputable agency will conduct an audit of your organisation's sales and marketing requirements. Their findings will enable them to suggest a plan for implementation that's tailored to your processes, so that if you have complex data requirements involving different systems, you can find ways of running them all together.
During the onboarding phase, an agency can also recommend personalised training pathways for your team, to help them up-skill throughout setup and beyond. (See point three.)
While HubSpot's onboarding process is a one-size-fits-all checklist, buying HubSpot's software through an agency can allow for greater flexibility during those crucial first steps.


2. Access to a diverse set of skills and expertise
In agency life, there's no room to hide. This means you can be confident that every person in a successful agency team contributes to a diverse set of skills, from broad areas like sales and marketing to dedicated design, content, and HubSpot-certified specialists.
By choosing to buy through an agency, you'll have direct access to these individuals, so if your organisation doesn't have the skills necessary to implement HubSpot's software, or you've identified a skill gap across your business units, you may well benefit from buying through an agency partner over HubSpot direct.


3. Personalised training recommendations
When it comes to education, the HubSpot Academy is a worldwide leader in marketing and sales training. You don't even need to buy the software to benefit. Just grab a coffee, plug in some headphones, and start learning.
But there are a lot of training courses in the Academy, and by HubSpot's own admission, they're comprehensive. Most of us just don't have the time we'd like to dedicate to our personal development, so when we do, it's doubly important that we're spending it in the right places.
This is where an agency can really offer value, directing you to the courses that will be of most benefit to your team members and enabling you to up-skill your organisation as quickly and efficiently as possible.


4. Dedicated account management support
Onboarding with an agency involves regular calls that cover both day-to-day management and more in-depth analytical tools.
Your team should receive a comprehensive walkthrough of HubSpot's new and existing features, delivered by an accredited expert. (Did you know we were one of the first partner agencies in the UK to offer HubSpot accredited training?)
You'll also have the opportunity to see live demonstrations of how tools apply to clients, including real-life campaign examples.
When it comes to using HubSpot independently, this level of support is invaluable. By learning how to monitor data on a consistent basis, you'll be able to spot and analyse trends from the word go, so your business can look forward to iterative improvements that develop over time.


Making the right choice for your requirements
Whether or not you choose to buy direct or go through an agency, it's no secret that HubSpot is recognised by many as a leading software for fuelling growth and building more meaningful relationships with your prospects.
Whatever you decide, we hope this article leaves you feeling better equipped to make an informed decision that aligns with your business goals.
To find out how HubSpot CRM could work for your business, get in touch by clicking the image below.
We are hiring!
With a variety of roles available, we want to hear from you! Take a look at our latest vacancies…