1. Research the company

A concrete understanding of the company's marketing style is vital. So before arriving at your internship, you should know which approach the company uses.
In order to identify a company's preferred marketing style, you should thoroughly read their website and articles and sign up to their mailing list to keep up to date. If they're an agency, take a look at their case studies; do they cater to a specific industry?
2. Analyse the competition

It's not only important to research the company you're interning at, you should also suss out their competition.
Read through the competition's webpages and mentally make comparisons between the company and their competition. See if you can find out why they stand out and how they set themselves apart. If possible, look at where you company ranks in comparison to others at a local, national and global scale.

3. Consider your digital footprint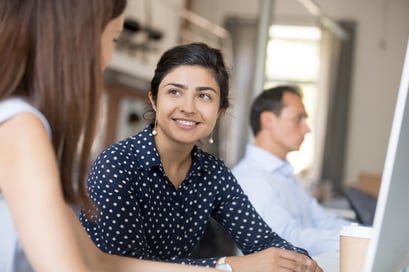 Your digital footprint is a record of how you're portrayed online, especially your interaction with others across the Internet. If you want to pursue a career in digital marketing, your digital footprint really matters, so take a look at improving it.
One of the best ways to improve your digital footprint is blogging and your blog can be about anything! Literally anything — gardening, travel, sport, cooking, fashion... if you're interested, you'll be able to get that enthusiasm across.
Regardless of the content, remember to be consistent with your posts, as nothing looks worse than a neglected blog!

4. Think about your social media presence

Social media is an important component of your digital footprint, whether this is on Twitter, Facebook or LinkedIn. Many employers may ask for your Twitter or LinkedIn during the initial application stage; with current statistics suggesting that 24% of admission officers will assess the social media presence of their applications!
t is recommended that you share content that you consider valuable to your entire network or the individuals you are looking to engage with.
Pictures on Facebook of your night out with friends? Probably better to keep those behind some good privacy settings…

5. Further qualifications?


Any additional qualifications are a bonus! In order to remain competitive, try and learn new digital skills. HubSpot offers the opportunity for individuals, like yourself, to complete an Inbound course and certification for free! This course contains a total twelve classes (four and a half hours of videos) and is recommended for anyone interested in learning more about inbound, or pursuing a career in this field.
Even if you don't have time to complete the course, the videos are well worth a watch. Regardless of whether your company has an inbound marketing strategy or an outbound one, bringing additional skills along to your internship is always a bonus!
If you share our passions, are naturally curious, and have a love of inbound, then we want to hear from you. Click the button below to explore our current vacancies.
We are hiring!
With a variety of roles available, we want to hear from you! Take a look at our latest vacancies…