We're so excited at becoming a HubSpot Diamond Partner and proud of our team for making BabelQuest a globally recognised marketing and sales enablement agency. Their individual focus on helping businesses to grow their revenue in a predictable, scalable and repeatable way is truly visible in their work every day.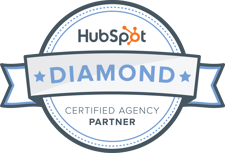 And it's great to see our clients generating leads that close, with their marketing and sales teams working together to engage buyers in more meaningful conversations. It sounds simple, but to get it right you need help to build this into your strategy, your activity, and your technology. Our team deserve all the kind words their clients are saying about them.
Eric and Becky—BabelQuest founders
'We've enjoyed a quality of thinking and execution that has been matched by a flexible, engaged 'can-do' attitude. It has been a true partnership and we recognise that our partners in BabelQuest truly share our goals for innovation and success.' Frank Nigriello, Unipart — a leading multinational provider of manufacturing, logistics and consultancy services
Building foundations of our own
Key to generating success for our clients has been putting in place foundations of our own. Since we went Platinum last April, we have concentrated on building a rock-hard core around which the business could operate more efficiently and work to generate better results for our clients. This meant redefining our values and putting in a place a team that embodied them, not just at work but in every aspect of their lives.
It's easy to gloss over words like accountability and passion, but by shaping our internal processes around them, we have built these values into our daily operations so that they reflect in the work we produce for our clients — and the way we go about approaching our work — every day.
'We've been impressed by BabelQuest's desire to understand our business model, ethos and requirements. BabelQuest has made the collaboration straightforward and fun, yet fruitful and results-oriented. We would not hesitate to warmly recommend the team for their professional, caring and insightful approach to helping us with our marketing needs. In short, BabelQuest has made a superlative effort to understand our business needs better than any previous supplier, marketing or otherwise. We are very pleased with their work, but even more so with their approach, which will make them a long-term partner for us.' Jason Holloway, Bridgeway Security Solutions — an information security provider focusing on mobility, cloud security and security intelligence
Investment in learning — but not on our clients' time
The ability to consistently generate leads that close does not come without learning—but not on our clients' time. To facilitate this, we make sure every member of the team is given half a day each week to brush up on best practice or expand their skill set.
As a result, two of our HubSpot consultants are well on the way to becoming top-20 experts globally. Here's how that investment in learning translates into leads that close for our clients:


We have two world-leading HubSpot Certified Trainers (and growing!), allowing us to provide high-quality, actionable workshops with great results and feedback. Need help with HubSpot?
We are a fully certified agency, holding all of HubSpot's 17 available certifications for agencies (watch this space for some fully certified individuals, too—there's currently a bit of an internal race to the finish line!)
We run one of the longest standing Oxford HubSpot User Groups with quarterly events sharing best practice and giving people the chance to meet others interested in inbound and HubSpot
The team go to HubSpot's INBOUND conference every year to make sure they can bring back the latest news for marketing, sales, and HubSpot
We share and maintain an active Insights community for solo marketers and small teams looking to share ideas and learn best practices
We were chosen to be part of Hubspot's Key Account Growth programme and sit on the HubSpot Partner Advisory Council
Gem and Izzy, two of our HubSpot Consultants regularly run webinars to help you get to grips with specific topics and provide best practice for implementing tactics relating to those.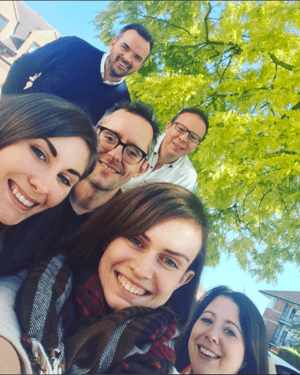 If you ever get stuck on something sales or marketing related, know that you can always give one of our HubSpot Consultants a shout and they'll be more than happy to offer you some advice — we've even had requests for downloads of their brains! (Sadly we could not comply — we need those.)
'Rebecca and her team have been patient and amazing in helping us create an automated marketing program. I would highly recommend and trust BabelQuest for any complex marketing automation in an Enterprise environment. They understand our complexities and they have helped us build a 12-month campaign that we are rolling out across Europe to drive software subscription renewals for our partners.' Jeni Taylor, Tech Data — the world's largest IT distributor, no. 107 on the FORTUNE 500
Generating leads that close
Our business is built on prospects approaching us because their sales and marketing activities aren't aligned and they could do with some help. And the way we see it, this is what it really comes down to: helping businesses to diagnose the rivalry between sales and marketing and bring together two traditionally disparate business units to generate repeatable, scalable revenue growth.
HubSpot have made significant investments in bringing their marketing magic to the world of sales, and it's been a very exciting time developing and delivering the services to help our clients make the most of all that technological development. We predict that this will continue to be a key area for growth over the coming months and years.
'BabelQuest were one of the first UK agencies to proactively explore and execute on the market for sales enablement services. They have since excelled in the space driving measurable results and providing additional value for their clients. It is great to see them achieve HubSpot Diamond status as one of our premier partners in the UK.' Aidan O'Leary — Senior Sales Manager, HubSpot International Partner Program
'BabelQuest have been a great team to work with from day one with massive growth in results in Sales Enablement and Sales & Marketing Alignment for their clients. They are now the highest-ranked HubSpot Partner outside of the US, and no.1 in the UK.' Olivia Kirwan—HubSpot Channel Account Manager
(Check us out on the HubSpot Partner Directory)
'THRILLED to welcome BabelQuest to the elite group of Global Diamond Partners. Not only are they one of HubSpot's highest-rated partners globally, but they are always on the look-out for better ways to help their customers grow; they find the time to actively contribute to leadership HubSpot groups such as Partner Advisory Council and the Key Accounts Growth programme, they focus on constant self-up-skilling by completing all certifications; they attend on-site training courses in Dublin and business events in Boston, and after all that they find the time to host one of the best attended and most unique UK HUGs. BabelQuest are a pleasure to work with.' Sharen Murnaghan — HubSpot Global Key Account Growth Programme
We're over the moon that HubSpot has recognised our achievements with Diamond status, but really it's our clients we're thanking, because a relationship with BabelQuest is just that: a relationship, a partnership, equally accountable, trusting in our long-term strategies and our ability to deliver on them, and with a shared passion for your company's growth.
So if we're Diamond, that means you're Diamond too. Congratulations, thank you, and here's to many more years of shared partnerships together. Cheers!
Not getting the results you need from your HubSpot portal to hit your goals and generate leads that close? Click the image below to request your free portal audit.
We are hiring!
With a variety of roles available, we want to hear from you! Take a look at our latest vacancies…