Read time: 5 minutes
If you're looking to build a business case for inbound, you'll need buy-in from the person(s) in charge. Find out how 'the three-sale sale' approach could help.
Hands up if you've ever had what you're sure is a good idea—but no one else can see it. Sound familiar?
Let's get more specific: hands up if you know an inbound marketing strategy could transform your marketing operations—but you can't seem to convince the MD.
It's common for marketing managers to 'get' the merits of switching to an inbound approach. You know the lingo, the landscape is familiar, and you're accountable for the success of the company's marketing—incentives don't come much bigger than that.
But you need buy-in from the person in charge, and translating those merits into a language they speak isn't always easy. So how can you accomplish this?
In work as in life, communication is key. With this in mind, we like to recommend a tried-and-tested sales framework called 'the three-sale sale'.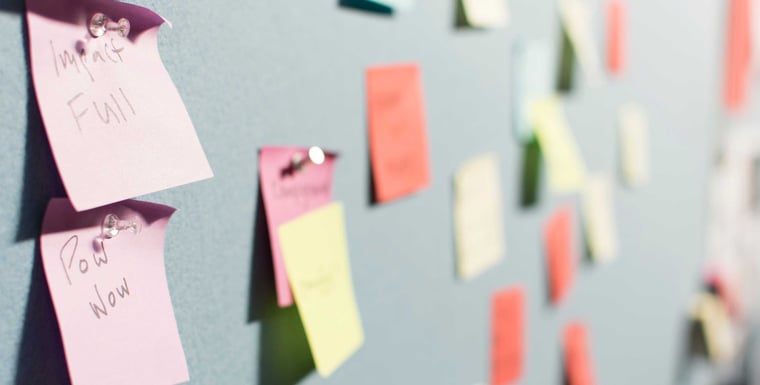 Build a business case for inbound using 'the three-sale sale'
Catchy, I know. But by all accounts, it works a treat.
One of the biggest hurdles you face when sitting down to build a business proposal can be knowing where to start. Using this sales framework breaks down the task of framing—and starting—your business case for inbound into three key areas. Use them as a template to structure your own argument.
1. Why change?
Why should the business consider changing from its existing marketing approach? What's wrong with what is happening at the moment? And how do these challenges or hurdles translate into the business owner's language?
Once you've got basic agreement that there should be a change...
2. To what solution?
This is where you can start to talk about inbound and the buyer's journey. What is the solution to the problem? Why is it the right solution? How does it solve the problems identified in the first step?
3. How and with whom?
Once you've secured internal buy-in, you need to consider how you are going to make the switch. When this involves talking with agencies, another important question is with whom. Help the board or MD see a clear roadmap that shows how it will work and why the proposed partner agency is instrumental.
If you can get the powers that be to agree on all three—you're winning!
Questions make the world go round. Be sure you're asking the right ones.
Making a solid case
While the above provides an effective skeleton for framing and structuring your argument, it really is just that: the bare bones, so to speak. The meatier you can make your argument, the more human it becomes—and the more persuasive.
Think emotion. Think consequences. And think of their implications. If you can communicate these, you're sure to set hearts—and minds—racing.
Emotional drivers are things we typically use in our persona work, but it makes sense to think about them here too. What are the emotional drivers/levers for the people you are presenting to? What do they care about?
Consequences and implications describe in very real terms what might happen if they keep going as they are. What would it look like if, for example, a sustained inbound campaign around a particular event led to 10 extra sales within a month of the event? What would be the effect if this happened for every event in every territory? How would this impact the individuals in the room—a new car? A holiday? That promotion?
Need a hand building a business case for inbound?
Whether you're struggling to pin down exactly why your current marketing approach isn't working or you'd like assistance describing the buyer's journey, we're always just a phone call away.
Chris and Eric know inbound inside out. They also love the opportunity to talk to marketing managers about the daily challenges and hurdles they face. (No, really. Fix yourself a large coffee first.)
Most importantly, we're used to having conversations with both marketing managers and business owners. This means we're ideally positioned to advise you on what your MD cares about most (hint: it's rarely just profit) and how to win them over.
About the Author
Tom Brown
I'm a content marketer who loves language, storytelling, and lizards.