As marketers, we're a diverse bunch, but whichever industry you're in and whoever you're targeting, most of us share at least one thing in common: we want a bigger database.
A bigger database means more data to build your marketing campaigns around and more prospect to close into new customers. Email is a vital component of content distribution and inbound marketing strategies, making it possible for you to reach, engage, and strike up meaningful conversations with your database, at scale yet on a personal level, wherever they are in their buyer's journey.
So where does the idea of growing your database organically come into this?


Why organic growth produces the best contacts

With the size of your database being the subject of discussion, it's unsurprising that some of you buy lists to bulk out your number of contacts. But there's also the less-often addressed argument for the quality of the contacts in your database.
It doesn't matter if your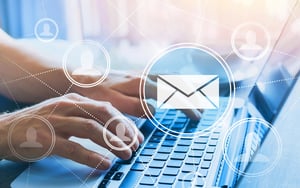 contacts are ready to buy — most of them won't be — but it does matter that there's at least the chance they'll become a customer one day. A bought list doesn't guarantee this. In fact, many of the contacts in the list will have no knowledge of (or interest in) your services at all.
A contact produced organically — someone who has chosen to subscribe to your database and opted in to receive your newsletters, offers, and other valuable content, is much more invested. They're also much more valuable. They're just a little bit harder to come by.
So how can you organically grow your database to ensure a predictable, repeatable stream of new subscribers, more customers, and potential advocates hanging on your every email?


8 valuable techniques to organically grow your email database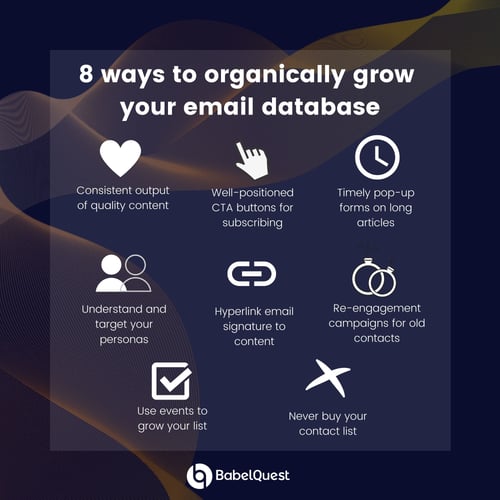 1. Create a consistent output-quality content your target buyers love

One of the most overlooked ways of building up your database is ensuring you're creating insightful, well-researched content worth reading. This applies to both your blog posts/articles and the premium content you gate on your site behind a form.
"Engaging articles are a persuasive force when it comes to encouraging your regular readers to subscribe for real-time email updates when new articles are posted", reveals Tom Brown, our head of content, "while gated content such as relevant guides, videos, or case studies can also compel a reader to exchange their contact details for the valuable content only a few clicks away."
Whether you're promising an email alert with every new article or a monthly newsletter, be clear on the benefits your visitors will receive by subscribing to your emails, and make sure the content you present resonates well with audiences.
Ultimately, to develop an email database, you have to start with good content and a strong reason for them to give you their email address. Gem Latimer, Inbound Strategist, BabelQuest
2. Specific CTA buttons
Add well-positioned CTA buttons (social sharing and email) on your blog to make it easier for your readers to subscribe. Most websites or blogs have a 'subscribe' or 'sign up' section or button; what some marketers tend to forget is that this part needs to be valuable enough for visitors to interact with it. What can you do to fix this?
Rather than just saying, 'Sign up to the blog', you could change your CTA text to 'Be the first to know when we publish our latest thoughts on the industry' or 'Keep up to date with the latest HubSpot developments to help your business grow.' It's important to make your message specific and to clearly communicate the value you're promising so the reader is excited to sign up and receive your emails.
3. Pop-up forms
You can use pop-up forms in HubSpot and set them to appear when a visitor scrolls halfway through an article. These pop-up forms can also be placed in the centre of the screen on exit intent. If someone exits a browser or leaves your site, a friendly pop-up form will show up. The message should be interesting and valuable to increase retention. For example, the pop-up form could say, 'Before you go, do you want to keep up to date on the key elements of inbound marketing?'
Additionally, wherever you have special offers or promotions, it's always a good idea to add a tick box asking users whether they'd like to hear from you again. Just because a visitor downloaded a guide, it doesn't mean they want to engage with you again.
4. Understand your personas
Your database should be filled with quality contacts, not random or irrelevant ones. This is where you need to target and understand your personas and know their pain points. With valuable content, you can convince them to sign up to your emails and prove that in doing so you can help fix those pain points.
Target each subscription and cater to the recipient's specific interests to increase click-throughs and lockdown fresh contacts for your email database. Their subscription shouldn't be nondescript. It must have meaning behind it.
As you're building a strong database, you should only be emailing the people interested in what you have to offer. Gem
5. Hyperlink email signatures
Hyperlinking your email signatures with any recent articles or informative guides gives prospects another way to access the different resources you're publishing. It is also recommended to encourage as many people in your business as possible to adopt this practice.
Create a CTA specifically for your email signature using the header image (or other suitable imagery from the content) and overlaying text encouraging the reader to click through to your latest article or downloadable offer.
As a top tip, generate tracking links and get full visibility over how many people are engaging with email signatures. Use this data to see which CTAs are performing best or even which person from your team gets higher click-throughs. Gem
6. Don't buy your contact list
We touched on this at the beginning, but we can't stress it enough: buying contacts is bad practice when it comes to growing a strong email database. If someone hasn't actively signed up to receive your emails, they will be harder to engage because you don't know who they are. For the same reason, they will less likely be willing to interact with your emails. Buying an email list could also ruin your reputation as a distinguished business and harm your email deliverability.
It is best practice to ask contacts for their explicit consent before sending them emails. Remember: you should only be emailing the people interested in what you have to offer.
7. Use events and conferences to grow your database
At events and conferences, have an iPad ready with a subscription landing page. While conversing with someone, you can sign them up if they're interested in hearing more from you. In doing so, that person could then immediately receive a useful guide or articles relevant to the very event they're currently attending. Voila!
Can you honestly say you remember all the different stands you swing by when you're at events? If people subscribe at the event, they'll get an email straight away with some useful articles. By the time they get back to their desk at work, they'll see that email and remember you. It's a good way to start that conversation, keep people engaged, and get them into your database. Gem
TOP TIP: To avoid overriding contacts, remember to turn off cookies on the subscription landing page when people are signing up on iPads at an event.
8. Re-engagement campaigns
When focusing on growing your database, don't overlook the value in re-engaging lapsed contacts. Re-engagement campaigns are an effective way of reaching out to the people in your database who haven't interacted with their email subscription in a while. This could mean that they haven't opened their email or visited your website in the last few months.
After figuring out the criteria for the people who aren't engaging, build a list of contacts from your database. You could then send a series of emails (5 max), which over time drip-feeds them content. Remind them of what they've missed and what's new with your content and website. If the contact continues to ignore the emails and chooses not to engage, at this point you should decide whether that person is still worth having in your database. Review and delete contacts from the email database as you see fit. It isn't good practice to continue emailing someone who's lost interest.


Bringing value to the table
As part of your wider inbound strategy, it's important to remember to give people a strong reason for providing you with their email address. Show them the value your content brings to the table. How does it solve their pain points? How is it relevant to their needs? Following these best practices and techniques to organically boost your email database is a great step in the right direction toward bringing in quality contacts interested in your brand.
Growing your database is one thing — to see the full value from your data and use it to improve your marketing results, download our free ebook, 'From Data to Insight to Action: A Practical Guide on How to Use Data to Drive Marketing Decisions and Engage Prospects'.
We are hiring!
With a variety of roles available, we want to hear from you! Take a look at our latest vacancies…