Instagram probably isn't the first social media platform that springs to mind when you think of B2B. How could challenging this line of thought help you to grow your traffic and increase your leads?

There's a lot more to Instagram than selfies and filters. Interestingly, the biggest slice of the Instagram market is the under 30s, with 59% of active US users falling into this segment. Three out of every four teens also use the platform. We love what we grow up with, suggesting there could be much more Instagrowth to come.
As those same teenagers leave education and hit the job market, what does this mean for your B2B marketing strategy's social activity and how could adopting instagram for your inbound marketing strategy help you to solve the business challenges facing B2B organisations today?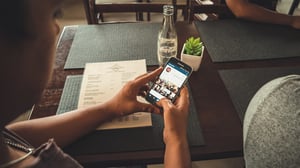 Looking closer at the social media account activity
At time of writing in the UK, almost eight out of every ten of adults has at least one social profile. But having a social media account is different to actively using your social media account. Social platforms often talk about growth using the amount of new users each month as a growth metric. That's great, but how many of those users are actually engaged?
If users aren't active and you're using those growth figures to inform your overarching social media strategy, then your tactics may well fall short.


Instagram and B2B marketing
You might have discounted Instagram as not having much impact on a successful B2B campaign, never mind long-term business growth. Actually, despite LinkedIn having the largest B2B audience, it's Instagram that reportedly boasts the most engagement (remember that active users are the important ones).
"B2B brands allegedly get 20 times more engagement on Instagram than on LinkedIn."
One way you can leverage the platform is to give an insight into your business' core values, a behind the scenes of how things are run. It can also be useful for getting the right hires as you're showing them exactly what you as a business are all about.


B2B Instagram examples


B2B Instagram example #1: HubSpot
HubSpot is a good example of an effective B2B Instagram account with sneak peeks of their event sets and employee videos. They also encourage user-generated content through the hashtag #HubSpotting to build the relationship with their customers.
Some businesses feature CEO quotes, which gives an inclusivity feel, going a long way through the 'noise' of social media.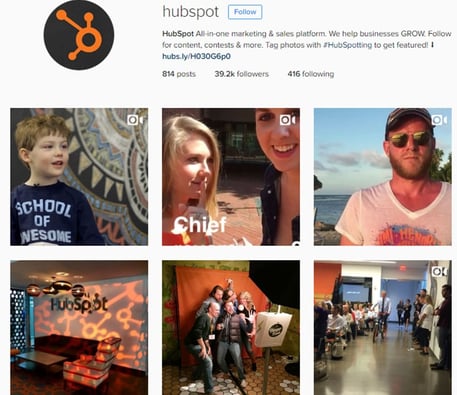 Or you can create infographics that make key parts of your business or industry into more manageable consumer chunks.
Related read: What HubSpot's ROI 2021 Report Means for Your Future B2B Business Strategy


B2B Instagram example #2: Citrix
Citrix is another great example of a B2B Instagram. It entertains followers, going for a soft sell, quietly demonstrating why they're an industry leader. The mixture of content keeps it fresh, with users frequently appearing to go back for more.
An Instagram account is a huge opportunity to build your brand awareness and talk directly to your audience in a space where they're more willing and open to engaging. And by linking it to your customer personas, i.e. softly answering their pain points, you will find yourself with a very powerful storytelling tool.


Instagram algorithms are now looking at user engagement
Instagram has recently changed its algorithms, making it easier for users to see how their video content is doing in terms of real engagement. Previously, users would have to actively click like on video content. Whether or not this meant they genuinely liked the content (or had bothered to watch it) is a different story. The metrics have changed in response to the 40% increase in the last six months of users watching videos on the platform.
"Instagram now shows the video views first, so it's much clearer to see how much reach your video has actually had."
This is fantastic as you can immediately see how much impact your video content is having. And it's great for long term analysis too. You can go back to videos to see if the content is being watched a month later by looking at the number of views. In blogging terms, older blogs can help generate more leads, so content dependent this could also work for videos.
Similarly to Facebook, the first three seconds are counted as a video view. Users can still like the video, but the likes are not immediately visible making it a secondary option, giving you the best of both.
You might also be interested in: 5 Reasons to Use a B2B Marketing Podcast


What's your B2B social media focus?
Remember social media is a channel for your business to interact with its target market. This means actually responding to them. Humans love human interaction. Here's how to make that happen:
Search for your business as well as its products/services and respond to those talking about it online. Liking or re-posting user posts on Instagram can go a long way in building relationships as you are actively communicating with them
Cast a bigger net and look for those talking around the industry more generally and get involved in those conversations. This can position you as a thought leader, raising awareness and help you build a credible platform
Try live updates (we love real time experiences). This perspective of your business makes people feel involved and part of the action
Provide value. This can be by making users life easier by answering their questions then and there, rather than redirecting them to a web page. Or it can be providing a different take on a subject that has been rehashed the same way
When optimising your social media, you'll need to decide on what your focus is and whether your actions are helping any potential customers move forward in your conversion process. This will depend on what your main goals for social media are, which may differ across the platforms you are using. Instagram, for instance, is a great way to raise awareness. Each business is different so take a look at your buyer's journey and at what stages social media is most effective.


Developing your B2B Instagram marketing strategy
By automatically ignoring growing social channels such as Instagram, you could be missing out on huge revenue growth opportunities. Your business' social media profiles can be amongst the top search engine results for your business. And users will click on them to find out more about your company, get a feel for your unique value proposition, and understand what you offer.
If you haven't already jumped on the Instagram train, it's probably a good time to get on board, given that its growth doesn't seem to be slowing down anytime soon. Make sure you've narrowed down what your focus will be on the platform and commit to your strategy. And remember, social media is for socialising. This means interacting with your users and industry, not merely broadcasting.
Related reads:
Discover how to use social to drive the success of your marketing strategy and generate repeatable, scalable revenue growth for your business. Download our free, 80-page ebook below.
We are hiring!
With a variety of roles available, we want to hear from you! Take a look at our latest vacancies…