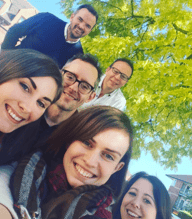 It's the oldest story in the world: who am I?
This is what our culture helps us to simultaneously define and communicate, and it's key to attracting and retaining awesome people with a shared vision and purpose; in short, the people who we really want to be working in our business.
Our culture is defined by five core values: inquisitiveness, accountability, transparency, openness, and passion. As individuals and as a team, we live and breathe these values. And when one of them slips or needs a little TLC, we dedicate time to that, too.
Discover four reasons why passion can drive business growth.


Our culture: an open book
1. Be inquisitive


Each element of our culture is important, but being inquisitive is one of our most valued attributes. We look for people who will question how things are done, people who'll strive to find better approaches and seek ways to do things better. This helps us, it helps our clients, and it helps our business.
We're eager for knowledge. We're intellectually curious, we ask question, and we strive to find better ways to do things.
Learn how to be a better marketer via curiosity.
2. Be accountable


Every one of us is accountable for the tasks we're set, the goals we're working towards, and our behaviour on and offline. Our delivery team isn't micromanaged and our writers have creative freedom to tell the stories and build out the content they need to drive a campaign forwards.
This doesn't mean we're not here for each other when we need support. When tasks overlap or different skillsets are required and someone raises their hand, the right people are always first in line to share their time or expertise.
3. Be transparent


This is crucial to the meaningful relationships we strive to build with our clients as well as the relationships within our business. Transparency means putting your hand up when something isn't working. It means reporting accurately and honestly. It means reaching out if your workload is growing and you're near capacity. All of this fosters trust.
4. Be open-minded
Transparency doesn't mean much if the space in which you're practising it isn't open to your honesty. Our open-mindedness makes us receptive and considerate of each other and our clients, so that when ideas, or writing, or issues are shared, we are ready and willing to receive them.
5. Be passionate




None of this means very much if we aren't inherently passionate about what we do. Passion fuels continuous learning and the attitude to better ourselves. It's the spark that lights at the start of each day. And it spreads as quickly and hungrily as this extended fire analogy.
When people are passionate about what they do, that passion tends to translate into bigger and better results for our clients. This is one of our greatest strengths as an inbound agency, because while many internal teams can learn their way around the methodology, they're rarely passionate about it in the way that we are, highlighting a fundamental benefit of using an agency for inbound marketing.
For examples of our values, find out more about us.
Who are you?


Next time you consider a role with a company, review them for a cultural fit. If a company has a clear culture and vision then they should be delighted to share and demonstrate that culture.
Ask for examples of when they've demonstrated or practised their core values.
If they offer flexible working, ask them how one of the team manages their workload and internal communications when working remotely.
Ask if you can spend some time with one of their team or look how they're communicating over social media.
Connect on LinkedIn with employees (or ex-employees) and ask them whether they'd recommend working in the business. What is the best and worst thing about working there?
If our culture is a nod to the oldest story in the world, then we're an open book. Browse our current vacancies for a role that suits you, then get in touch with me or anyone else from the team to find out what it's actually like working here.
We are hiring!
With a variety of roles available, we want to hear from you! Take a look at our latest vacancies…