There are lots of reason why your B2B marketing strategy might not be performing as you need it to, but often they can all be traced back to core, underlying issues – the real challenge you need to solve.
I was chatting with a prospect recently whose B2B inbound marketing strategy just wasn't working. Sound familiar?
He had all the tools (HubSpot Marketing PRO is in place), it was all configured correctly, the site design was clean, offers were relevant, CTAs were direct, and forms weren't not too onerous — but nothing was happening.
To rub salt in the wound, the sales team was engaged and more than capable of picking up a conversation with leads. Those leads just weren't coming.
A few questions later, we'd identified the problem, and it's one that we see consistently when we talk to people who've invested in inbound sales and marketing without outside help. Their target persona (if you don't know what one of these is, then you've definitely got an issue to resolve—stop everything and read this) is the CTO.
Successful B2B campaigns take a lot of work, and they don't happen overnight. Why was this prospect's approach doomed to fail and how can you avoid making a similar mistake?
Talking to the right B2B buyers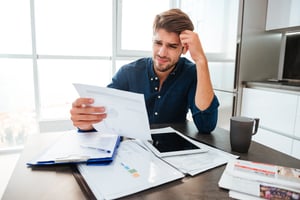 Let me tell you now: chief technology officers rarely download marketing offers.
They're a strange bunch who have strange conversations, and lots of people who don't understand the world of the CTO want to talk to them. So how do you get them into the top of your funnel?
The answer is: you don't. At least not with a website offer aimed at a stranger.
CTOs (in fact pretty much all of the c-suite) will start their search for help elsewhere. Once they've convinced themselves they don't know how to do something (and this may take a long time) they'll ask their team, their colleagues, their network, existing suppliers, maybe a new vendor — all way before they'll do a Google search and visit a website they've never heard of before and happily hand over their contact details.
Instead of asking "how do we get them to download our offer?" ask "where did the ones we are already selling to come from?"
Learn more about the information challenge facing B2B leaders and how to solve it.


So, you're creating great content, blogging, optimising pages and your B2B marketing strategy still isn't working?
On occasion, even the best inbound marketers can — with the best will, knowledge and talent in the world — implement their inbound marketing strategy on a website and see absolutely no results.
One such example was another prospect of ours. Just why were they struggling so much, when inbound was working so well for so many of their peers and competitors?


Why wouldn't their inbound marketing strategy work?
After some digging, the first major issue we found was that their website wasn't mobile responsive. Google's mobile-friendly algorithm (or 'Mobilegeddon' to some) launched in April of last year, causing the visibility of non-responsive websites to plummet. The traffic data supported this, and getting the site mobile-friendly became priority one.
Responsive adjustments made and Googlebot happy and we kept a keen eye on the site's analytics to see what kind of impact this would make.
The short answer was: "we hadn't."
Baffled and frustrated, we dove deeper into why the site seemed to be so loathed by Google's algorithm. A smattering of SEO blog posts pointed towards poor backlinks perhaps being responsible. So we fired up MOZ's Open Site Explorer tool, to scour the web for any links pointing toward the site.
Sure enough, the results showed pages of poor quality directories with huge spam-scores and blog comments with links surreptitiously embedded in their content. With the culprits positively identified, we took to Google Webmaster Tools to disavow all but the most genuine and authoritative backlinks.
Confident we'd pulled the proverbial thorn from the website's paw, we waited with bated breath for the next SERP report.
Nothing. Googlebot still hated us.
Dejected, we continued work on the site's responsiveness when we stumbled on something strange. In order to work on the mobile responsive changes in relative safety, we'd copied the whole website onto a development server. During which, we noticed a handful of large and unusual files buried in the backend.


At some point, the site had been hacked
Originating from Russian IP addresses, the big and weird files and been placed to facilitate the addition of spam URLs. The links referenced pornography and Viagra sales (amongst other questionable content), and had been tactically hidden from view — but not before being indexed by Google.
Recognising the massively spammy links as part of the site, Google's algorithm would continue to penalise us until every trace of the hack's URLs had been removed. So that's exactly what we did.
Files deleted, site clean, we waited again. And boy did we see some changes.
Tracked keywords were skyrocketing up the rankings, with jumps of up to 40 places apiece! And since then, the site's visibility has continued to slowly climb upwards.
It's said that a few months worth of spam, bad backlinks and just plain bad SEO on a website will take at least the same amount of time again to fix. But while progress is slow, we're now working from a solid foundation.
The moral of the story here is that it's ultimately pointless implementing inbound marketing work on a poor platform. Before you even consider blogging, creating content, and pushing your best material out onto the web, fix your website first.
Like the biblical tale of the of the man who built his house on sand, if you're not working from a solid foundation, you're just asking for your hard work to be washed away.
Related reads:


Developing a B2B marketing strategy that works
So where do you look when developing a B2B marketing strategy that actually performs? Get back inside the box and see what you've got already. In the majority of cases, your best customers came in from an introduction. Usually, because they were looking for help from one of the sources listed above.
If you're in B2B, and in particular the IT channel, it's not strangers who are buying from you. It's referrals from your vendors, it's introductions from your existing customers, it's other teams within your existing customers, it's people you know who move jobs.
Does this mean that inbound marketing won't work for you? Well, if you're aiming at the wrong place (strangers), it won't. Aim it at the right place, and it will work really well.
Think of it like this, should you be forever filling a leaky funnel that requires constant effort to attract strangers (who won't buy from you anyway), or is there a better way?
Don't miss: 5 Reasons to Use Podcasts in Your B2B Marketing Strategy


Keeping your B2B sales and marketing machine running
Here's an idea you will have no doubt seen before, 'customer-centric', 'lifecycle-marketing' or some other guff, but think of it now as a flywheel. (That's the part of an engine that's designed to keep it running smoothly.)
Your flywheel needs your marketing, sales and service to be in balance. All of your communications with the outside world are marketing, they are also sales, they are also service. If they are not coherent and working together, you look chaotic and your flywheel won't be spinning smoothly.
In the same way that your marketing should be feeding your sales pipeline, it's your services that should be feeding your marketing.
What do your customers, your suppliers, and your network think about your services?
What do they say?
What do they think the value you add is?


The changing shape of B2B marketing strategies
If I'm a potential buyer, I want to know what it's going to be like being your customer. I don't care so much about your obvious marketing tactics to move me down the funnel. I'm happy to talk to sales if they can help me to become a happy customer of yours (not just close a deal).
On the subject of modern B2B marketing strategies, the growing importance of customer service for B2B can't be overstated. If you manage to give me great service, I'm going to tell others. If everyone who buys from you is known to you or your network, stop pointing your marketing at strangers and focus on spinning up your flywheel instead.
Still stuck or need some inspiration? Know someone else who needs help? In the timeless words of the Four Tops, 'Reach out... I'll be there.'
Discover exactly how to fix your B2B marketing strategy and generate leads that close by downloading our 80-page ebook below.


We are hiring!
With a variety of roles available, we want to hear from you! Take a look at our latest vacancies…