CMS Memberships is a feature that allows you to restrict access to certain content on your website. It's unique to HubSpot's Enterprise package and represents a big step-up from simple password protection for a page (available in other HubSpot packages). The capability it offers within HubSpot will open up opportunities for existing users. If you've discounted HubSpot in the past because of a lack of membership features, it's time to take another look!
First released in 2018, CMS Memberships is a powerful tool that has had some interesting new developments recently. Instead of limiting access with one password for an entire site, it lets you create and restrict particular areas to particular HubSpot lists.
Possible uses could be creating employee-only areas, paid or private content, partner areas, or if you've been looking for private knowledge base software. The tool also makes HubSpot a real contender for events companies and online education platforms.
Read on to learn how to use CMS Memberships to offer your customers exclusive content and an even better experience. This article explains how to apply it and some useful tips to remember.


What does the HubSpot CMS Memberships tool do?
CMS Memberships lets you apply password permissions at page, blog and article level. It's available in CMS Enterprise.
You might be looking to create a private blog for customers, or you might have another need to restrict access (e.g. creating an employee area with policies and information for your company). You can also use this to share information with particular groups.
If you're interested in restricting access to content in your CRM itself, Enterprise offers a way to do this via Content Partitioning. Find out how it helps you protect and organise content assets in this article.
Say your company sells electronics: you could create a blog just for your customers with useful product content, like unboxing instructions or tip sheets. If you run events, you could have different content areas for guests attending different conferences.
Instead of having one password to password-protect an entire site, the HubSpot CMS Memberships functionality enables you to invite every user on the list to create their own unique password and username. They can then log in to pages you've marked as private.


How do you apply CMS memberships?
CMS Memberships is a very easy tool to use, especially if you're already familiar with HubSpot and HubSpot lists.
If you want to see what private content a contact has access to, that's easy too. Simply go into their contact record to see a list.
The CMS Memberships tool will only work on a subdomain that you own. There's an explanation of what that means here.


How to set content to private: pages
To set permissions, go to the list of website pages and landing pages in your HubSpot account. Choose a page, click 'More' and then 'Control audience access'. Choose the option 'Private - registration required'. Then select the checkboxes beside the lists of contacts you want to give access to.
In this example, you can see how we've used this on the BabelQuest site. We're very committed to creating a positive culture that shows we value our team; here, we've created a restricted access page so the team can choose flexible benefits and find out other internal news.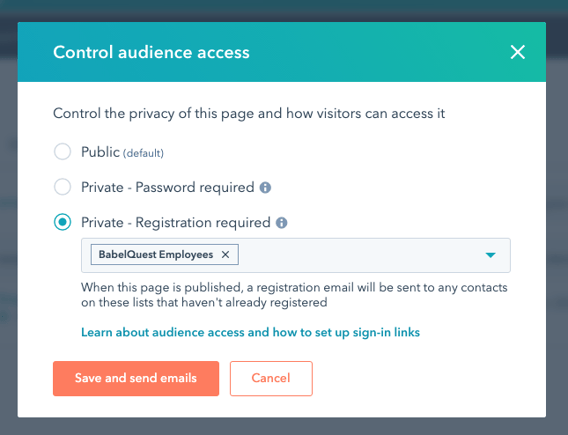 What happens next? Well, when you click 'Save and send' this means that an email will be sent to anyone on the chosen list. This will tell them they can register and to choose a username and password.
If you add someone to the list, they'll also receive the registration email. Once they've logged in, they'll get a cookie so they won't get another prompt to do this.
Another way to do this whole process is to use the pages dashboard, rather than the page editor. You'll find 'Control Audience access' under the 'More' dropdown.
It's also possible to apply this setting in bulk. Click the checkboxes beside the page names and then 'Control audience access'.


For your knowledge base:
If you've been looking for private knowledge base software, then it might be worth looking into whether HubSpot Enterprise could empower your business.
Go to Service, then Knowledge Base in your HubSpot account.
To find 'Control Audience Access', go to the Articles tab, Edit, and the Settings tab.
As above (for pages), you can control access from the articles dashboard and also apply to a bulk selection.


For blogs:
In your HubSpot blog settings, choose the Control Audience Access section. You'll see a box to tick, marked 'This is a private blog – registration required'. You can then select your lists of recipients as above. (Users must have publishing access to use this feature).
You can also add your existing blog subscribers with the subscription list selection feature.


Our top tips for using CMS Memberships
When you're using this tool, here are a couple of things to look out for:


Be careful with your settings, double check your list selection
It's worth being aware that, once you click 'save and send', the list recipients will receive the registration email. If you don't want to email several hundred people on an unrelated list, make sure you've set everything up correctly. It's quite easy to click the wrong box!


Customise your messaging
It's possible to customise the templates for your registration emails and registration pages, so we'd suggest doing so. The 'default' registration email does include copy supplied by HubSpot, but it's well worth rewriting this to suit your audience and brand.
It used to be that, even if you had three restricted content areas, each portal only offered one registration email. Therefore, you'd need to compose the wording to fit your content, since each of your content areas could contain something different. Happily, a recent update means you can now change the emails and have variations.


HubSpot CMS Memberships isn't the same as encryption
It's not a good idea to use this tool to hide sensitive information as it isn't encrypted. However, passwords are stored securely in HubSpot according to industry standards. Users have to be logged in to view protected content, and it won't be crawled by search engines.
Note that passwords can't be accessed from the HubSpot UI; users won't be able to look up a contact's password for protected content.


How could you use HubSpot's enterprise CMS software?
This handy feature means you can offer a more tailored content selection for your contacts or customers. The real question is, what will you do with it?
It's a feature that hasn't been so easily available before, yet the capability it offers could change how you offer content. Whether that means premium blogs, employee benefits or extra content for particular partners, that's up to you!
If you need help getting more out of your HubSpot account or you're looking for better ways to use content, feel free to reach out to us.
We are hiring!
With a variety of roles available, we want to hear from you! Take a look at our latest vacancies…