In April 2020, B2B Marketing awarded BabelQuest the Silver Award in 'Best Use of Sales Enablement in MarTech' for our partnership with IT network provider LAN3.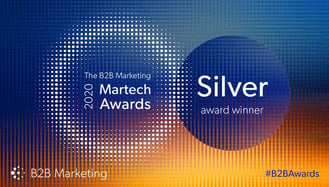 B2B Marketing recognises agencies that "transform the landscape and possibilities of B2B marketing through tech".
Today, you don't need to look far for examples of just how transformative technology can be.
Software success stories are all around us. In the B2B space, technology's ability to disrupt a market and enable businesses to hit their goals is something you've seen us employ from year one to drive our clients' growth.
As far back as 2010, we rolled out a series of pioneering projects revolutionising how brands communicate with their customers, from a first-of-its-kind B2B campaign tracking customer behaviour across multiple platforms and vendors to a responsive CRM integration and SMS campaign that meets the new demand for omnichannel experiences.
At the time, the success of these projects saw us awarded R&D tax credits and the LEA funding we needed to first begin helping people with their marketing.
"This latest award from B2B Marketing reflects just how impactful innovative martech can be on an organisation's sales process and bottom line, when applied in the right way."
Combining a frictionless sales enablement strategy, innovative use of sales tools and video software, and tailored support for the team and individual members, the campaign for which we received this award enabled LAN3 to generate 45 x ROI in just six weeks and smash its end-of-year target.
Read on to discover what approach we took and how you could benefit from the same.


Starting with the end-goal
Approaching year-end, anyone working in sales will have one thing on their mind: hitting – and even exceeding – their annual revenue goal. With eight weeks to go, how could LAN3 maximise its revenue generated?
With a three-month sales cycle and LAN3's preference to conduct sales meetings in person, our head of revenue Eric Murphy quickly narrowed the scope to re-engaging existing customers. Working closely with Martin, they identified a suitable product offer, a list of relevant customers, and a goal: if they could close 75 deals, they would exceed their target.
When it comes to running a successful sales campaign, devising your strategy and approach is a vital component, and oftentimes, one that's missed. Your strategy stage provides the perfect opportunity to gather your team, and assess key questions and considerations:
Who are your targeted buyers and what are their pain points?
What offers will you be presenting to solve these challenges?
Will these offers enable you and the team to reach the sales target?
How can your existing technology be enhanced to support your campaign?
What resources will the team need, and how can encourage internal buy-in?
Is your strategy flexible should you need to adapt to new goals or customer demands?
Cultivating great relationships with prospects and customers can be challenging, and having meaningful conversations that lead to commercial outcomes even more so. Once they had identified 300 target customers who would benefit from greater service and support, it was time to address the team's method for reaching out to — and engaging — them.


Enhancing sales tactics with tech
With only six weeks to close new deals, the sales team's speed and efficiency were imperative to us hitting our goal. But they were primarily a field sales team, accustomed to visiting clients in person and building relationships face to face. Factoring in how much time this would take and how long the team spent on the road revealed this wasn't an option.
To get around this, we brought in our sales enablement consultant Chris Grant, who introduced the team to video conferencing software Vidyard, and how it could be used with HubSpot.
If you typically meet with your customers in-person, removing face-to-face contact may seem like a step backwards. But digital engagement doesn't have to lack a personalised touch.
By eliminating impersonal sales calls, your customers receive the personalised, human approach they're looking for. Better still, your team needn't sacrifice technology to do just that. With tools such as Vidyard, your team can record personalised videos, quickly and efficiently, for your customer communication. For LAN3, this was a game changer.
"When you speak to someone for the first time after they've watched your video, they act like they already know you. That's a game changer." Scott Daly, Business Development Manager, LAN3
Meeting a demanding deadline or keeping track of tasks and actions amidst competing priorities require more sophisticated solutions. Assessing the tech the team were currently using, Chris advised that LAN3 upgrade to HubSpot Sales Hub Professional. Features such as task queues kept the team on track, including push notifications reminding them to complete actions.
Additionally, a bespoke nurture sequence ensured customers received the relevant communication and reminders, without the time-consuming email admin. These monitored customers' engagement and interactions, reacting automatically so no opportunity was missed.
Another huge benefit to these tools? Cost. By providing your teams with the resources they need to have meaningful conversations with their customers and streamline their time, expense claims will decrease while productivity will increase. Employee and customer satisfaction? That's a win-win.
Already using Vidyard? Check out our best practices and pro tips.


Using technology to drive long-term change
With our support, the team didn't just hit their goal, they exceeded it. An incredible 55 new opportunities were generated in just a 6-week period, with 37 of these closing new deals.
When we think about technology transforming the landscape and possibilities of B2B marketing through tech, of course short-term wins are important. But it's in the long term that you can truly see the impact that technology and those transformations have.
Yes, ROI was 45 times that of campaign spend, but just as crucially, the sales team was equipped with a wealth of new skills and tools to leverage when closing deals in the future.
"For me, the win was seeing how quickly and easily the sales team took to the new technology. Each week we introduced an additional layer and were able to observe instantaneous gains in productivity and impact, as well as anecdotal evidence from talking to the sales team." Chris Grant, Sales Enablement Consultant, BabelQuest
The benefits of the campaign didn't stop there. In fact, the team secured a pipeline for longer-term business that they could pursue once the campaign had come to an end. This is what we mean when we talk about making a real impact on our clients' organisations, driving change that enables them to hit their objectives and grow better year after year.
With the right tools and support, you can achieve the same.
If revenue is on your mind right now, read how you can set up your field sales team to use video in one week or click the image below to view LAN3's complete case study.
We are hiring!
With a variety of roles available, we want to hear from you! Take a look at our latest vacancies…