Keep up-to-date with all of HubSpot's 2023 product updates here. Each month, we'll update this blog with the showstopper and small-but-mighty updates you need to hear about to unlock to potential of your HubSpot portal.
November 2023:
Update of the month
[Beta] Associate records of the same object type and view the relationship.
E.g, you can associate a parent related to a child for education customers, associate related deals where one is for software and one is for services, associate a company and their partners
For the Sales team
For the Marketing team
[Live] Collaborate with your team, share feedback, comment ideas by using the sidebar in the social tool and lists

[Beta] Edit your marketing emails on the move with the latest mobile update

[Live] Organise your CTAs more efficiently with saved views and gallery mode

[Live] Schedule the first comment on your Instagram post and get round the limited text in the body of the post

[Beta] The blog post generator is now live and it shows you the predicted monthly search volume and difficulty to rank from SEMrush

[Live] Keep on top of your GDPR by adding modules to the subscription preferences page so contacts can request to download or delete data
Small but mighty
[Live] For files and assets you can now upload, preview, save, download, share and move to trash on mobile

[Beta] Undo or redo changes in workflows so you don't have to start from scratch if you made a mistake

[Beta] There is now custom properties to help organise lists, we've even written a hack on this one already

[Live] A new and improved overview of users and new user properties will help you keep your portal secure and tidy

[Live] Set your own custom ID for imports to efficiently and easily upload new contacts
October 2023:
Sales Hub
[Live] Scheduling calls within playbooks is now available. Include a button and allow users to schedule a meeting without leaving the playbook.

[Live] Don't stop there, you can now also create a record (think creating a deal if the call surfaces an opportunity, or a ticket if an account management check-in flags an issue) from within a playbook in the same way.

[Beta]

In the prospecting workspace

you can now jump right into a focused view for reviewing new leads and enroll them in a sequence.

[Beta] Lead pipeline automation is in and it means leads can now move to the correct stage automatically, depending on activity. Eg. if a rep makes a call or sends an email, the lead will be moved to "Attempted" automatically.

[Beta] You can now configure default reminder intervals, send reminders for meetings booked through the CRM, and send reminders for meetings booked through the proposed times feature in Meetings!
Reporting
[Live] The new Data Privacy dashboard is a good starting point to track and better manage contacts in your accounts, and address privacy risks

[Beta] Gauge visualisations in custom report builder are here to make it easy to understand how your data is performing compared to defined ranges

[Beta]

Formula fields

can now be created in the custom report builder, allowing you to perform calculations on your existing data and create new reporting fields without leaving the editor.
Automation
[Live] New commerce workflow templates are available for commerce automation use cases.

[Beta] Random split branches are now a thing! You can use workflows to randomly split enrolled records for experiments.

[Beta] Conditional property logic is here to ensure your portal doesn't contain missing or incomplete data
Small But Mighty
[Live] From the content management dashboard, you can now bulk change the domain of pages.
[Live] The ability to log emails to HubSpot custom objects from within your email platform has long been awaited, and now it's here!
[Beta] Want to ensure all reports/workflows have a description? Just use AI!

[Beta] Freezing the first column of index pages doesn't seem like a big deal, but it is. E.g now you can view a host of contact data and freeze the email address so you know who it relates to at a glance.
September 2023:
Relaunching Sales Hub
[Beta] The prospecting workspace is giving your sales team a home within HubSpot, the first place they go to, and then return to throughout a day to keep track of where they are and what they need to do next

[Beta] Tracking leads in HubSpot just got easier with the lead management tool giving you a clear view of their current status, last activity and next steps

[Private Beta] AI Forecasting and Forecasting Accuracy is coming to help increase the reliability and effectiveness of your forecasting

[Beta] Form routing direct to meeting scheduling pages, based on what a contact has entered in a form removes behind the scenes routing and reduces the steps to getting them booked in

You can now see insights on pipeline health when managing Deals
AI
With all the recent products under Content Assistant (see our Behind the Hub overview here) it wasn't surprising that AI was the word on everyone's lips this year, with lots of very exciting things coming very soon. AI tools currently in beta:
Subject line generator

Website and landing page builders - get started, fast

Title and meta description generator

Image generator

Ads copy and variant generator

Report descriptions - summarise reports for users to follow them more easily

Workflow descriptions - leave a paper trail with a description of important workflow so you can refer back to the what and why

Report Creation - say what you need, and then have something to work from
Big things are coming for Service Hub
[Beta]

Conversation summaries

- need to understand the ins and outs of a back-and-forth with a client? Ask HubSpot to create a summary of the conversation (excluding internal comments)

[Alpha] GPT-powered AI chatbot is in the early stages...

join the waitlist

to be the first to get access to it here

[Private Beta] A brand new help-desk is in the works, to improve your group inbox and ticketing, so keep an eye out for updates on that

Custom goals can now be added for the service team
Other recent Small But Mighty updates
June 2023:
CTA Spotlight
The new CTA tool has been in beta for a while, but they're officially starting the sunsetting process for the legacy tool so it's time to shine a light on the great new functionality.
No more building your CTA image in an external tool like Canva, you can now build it directly in HubSpot. You can even add a form directly into the visual, all done via drag and drop! Sort the alignment, add padding, specify image loading speed... every granular detail is editable all within HubSpot.
Even better, you can now add these new CTAs into marketing emails! Unlike their legacy counterparts these new CTAs are HTML-based so you won't have any rendering issues in emails, opening up the possibilities even further than the standard buttons which many use now.
For the Marketers out there
You can now use

Google enhanced conversions

to send hashed first-party conversion data from your website to Google in a privacy-safe way.

Filter Page Views by UTM Parameters in Lists

[Public Beta]

Create Instagram Reels in HubSpot

Content approvals is now live for landing pages and blog posts - it automatically sets super admins as approvers but you can also select specific users in user settings.

The campaign template library now offers 10 new HubSpot templates Pro+ and can be found in the campaign template library by navigating to 'Campaigns' > 'Create campaign' > 'Start from template'.
Gamechangers for Sales
[Public Beta] Deal Lists - we're all so used to making contact and company lists and now our wishes have come true with the same functionality for deals! Opt into the beta in the product updates area of your portal to get access.


The prospects tool is being renamed to Website Visits - just a name change for now, but worth mentioning in case you wonder where it went!



Coloured object tags

(deals and tickets) can now be viewed on the record page, used in workflows and reports making them even more useful.
Other Favourites
[Public Beta] Log Emails to Custom Objects from Gmail & O365

[Public Beta] Log Emails to the CRM Retroactively - being able to log an email that's already been sent. No more explanation needed, just a great update.

You can now copy an action from one workflow and paste it in another workflow in your portal, saving you time when building your automation.

Find notes easily by searching for the note content in the global search bar.

A published quote that had selected "Include a written signature" can be marked as signed rather than being forever pending signature.

The call object can now be used to make single object reports

Support for Global Privacy Control

- informs the website of preferences ahead of time, if they have them set.
June 2023:
More goal-related updates
Tracking your goals in HubSpot seems to be going from strength to strength at the moment, I'm excited to see what's next! This month...
You can now create goal-based workflows, great for automatically sending internal comms or setting actions based on status

Create custom goals for custom objects, not just the standard ones

[Beta] - create ad goals within the ads tool to assess your campaigns more effectively
Calculated property improvements
A few public beta's specifically for calculated properties this month, making it easier to get exactly what you need:
Build your own specific calculation with the new Advanced Formula Builder
Format the presentation of your calculations, whether that needs to be a percentage, a currency value or even a specifically formatted number
Rounding values within your for custom calculated properties to the nearest whole number or decimal place is now possible
Turn on the beta for your portal (search for the bold text above in the betas area within product updates in your portal) and then access the functionality in the set-up of the calculated property.
Require line item association during deal creation
Say goodbye to deals that have been created but with no clear steer on what is actually going to be sold. You can now make the line item association mandatory when creating a deal which should help to keep your data clean and help with that all important reporting.
Other Improvements
[Beta] Within the data quality formatting issues tool in Ops Hub, you can now see AI-powered location formatting suggestions for contacts and companies. Address details not adding up? You'll know about it and be able to fix it.

Customise header and footer on the deal board to show the key metrics you need, where you want them.

Track individual budget and spend items on campaigns

You can now use Instagram @mentions in the social monitoring tool, something you've been able to do forever with Twitter.
May 2023:
(Beta) Prospecting Workspace
With this great update your prospecting experience is consolidated into one manageable view and we couldn't be more excited. This will become your Sales home in HubSpot, giving a clear overview of tasks due, status of sequences and schedule for the day.
The new prospecting workspace can be accessed in HubSpot's top nav under Sales > Prospecting once you've opted the portal in to the beta. You will need a Sales seat to see it.
(Beta) Embedded types in the 'Pop-up CTAs' Tool
Once you've turned the beta on, in the navigation bar, go to Marketing Hub > CTAs. Under the CTAs nav item you will now be able to find both your old (Legacy) CTAs as well as the new CTAs app. You can switch between the two apps by selecting the app on the drop-down.
There are a range of templates to give you some inspiration or you can start from scratch, choosing from a great selection of formats including a sticky banner to display key announcements, embedded, pop-up and slide-in.
Book Meetings on Behalf of Other Users
Such a useful update, I can't wait to get using this. If your whole team has got their calendar connected, you can now access a team member's calendar and book meetings on their behalf. Go to "schedule a meeting" on a contact record and you'll now see "host" on the left hand side where you can select who you're booking the meeting for.
Other Improvements
(Beta) Add

Conditional Logic to the 'Create Record' Form

- if you've got fields that only apply to certain records, you can add conditional fields. This will streamline your create record form and reduce any unnecessary noise.

Coloured

Ticket Tags

- these were introduced for deals a few months ago but now they're here for tickets giving you ways to highlight certain types of tickets on your pipeline view.

Service Playbook Templates - two new playbook templates have been added, one for a business review and another for customer onboarding which are well worth a look to get you started.

'OR' Filtering on Index Pages - it's been such a frustration for years only being able to use "and" logic to filter records on index pages but no more, you can now add "or", too.

(Beta) Dashboard Sharing for Non-HubSpot Users - a few years ago it was locked down so you could only share a dashboard with a user, but now you can get round this, opening up your reporting possibilities with stakeholders.
April 2023:
Multiple Knowledge Bases
The one that got the BabelQuest Slack channel lighting up this month - Service Enterprise now lets you have multiple knowledge bases, each using a different domain if you like!
A few use cases:
- One for internal processes, one for external product frequently asked questions
- One for each key product line
- One for each different brand or business unit
Goals
The options and flexibility for goals just keep expanding. Sales/Service Pro and Enterprise customers can now set team goals to view alongside individual ones (note that they don't roll up into the team goal).
This is on top of the option to create custom goals, meaning you can keep track of a range of things from reps' call volume and meetings to revenue targets.
Note: Goals has moved to the HubSpot global top navigation, you can now access it from within the 'Reports' tab!
Other Improvements
Improvements to playbooks for Sales and Service include advanced playbook recommendations (i

n the playbooks editor, go to the "Settings" tab. Under "Recommendation Settings" select an object and click "Create rule") and required questions.

HubSpot have added meetings to the options for customer journey analytics to give that extra detail on what activities are working best for you.
Beta - Create views and filter by properties to make it easier to find the list you need amongst the masses. You can also see recently deleted lists.
Use the "Clean Up" feature top right in workflows to see how to optimise your logic to make it more streamlined. No more unnecessarily complex setups! (The button will only be clickable if there are recommendations to be made)
The data quality command centre keeps getting better - they have now added deal and ticket property insights as well as adding workflows as a report.

Set task due dates to count business days in workflows.

You can now rename your default account business unit so it doesn't need to match your account name - a game changer for some.



March 2023:
Deal tags
I have to give this one its own section because we've been wanting this for such a long time (and have built many a workaround). You can now add colour-coded deal tags to workflows. Check out this video from my colleague Chris to see it in action: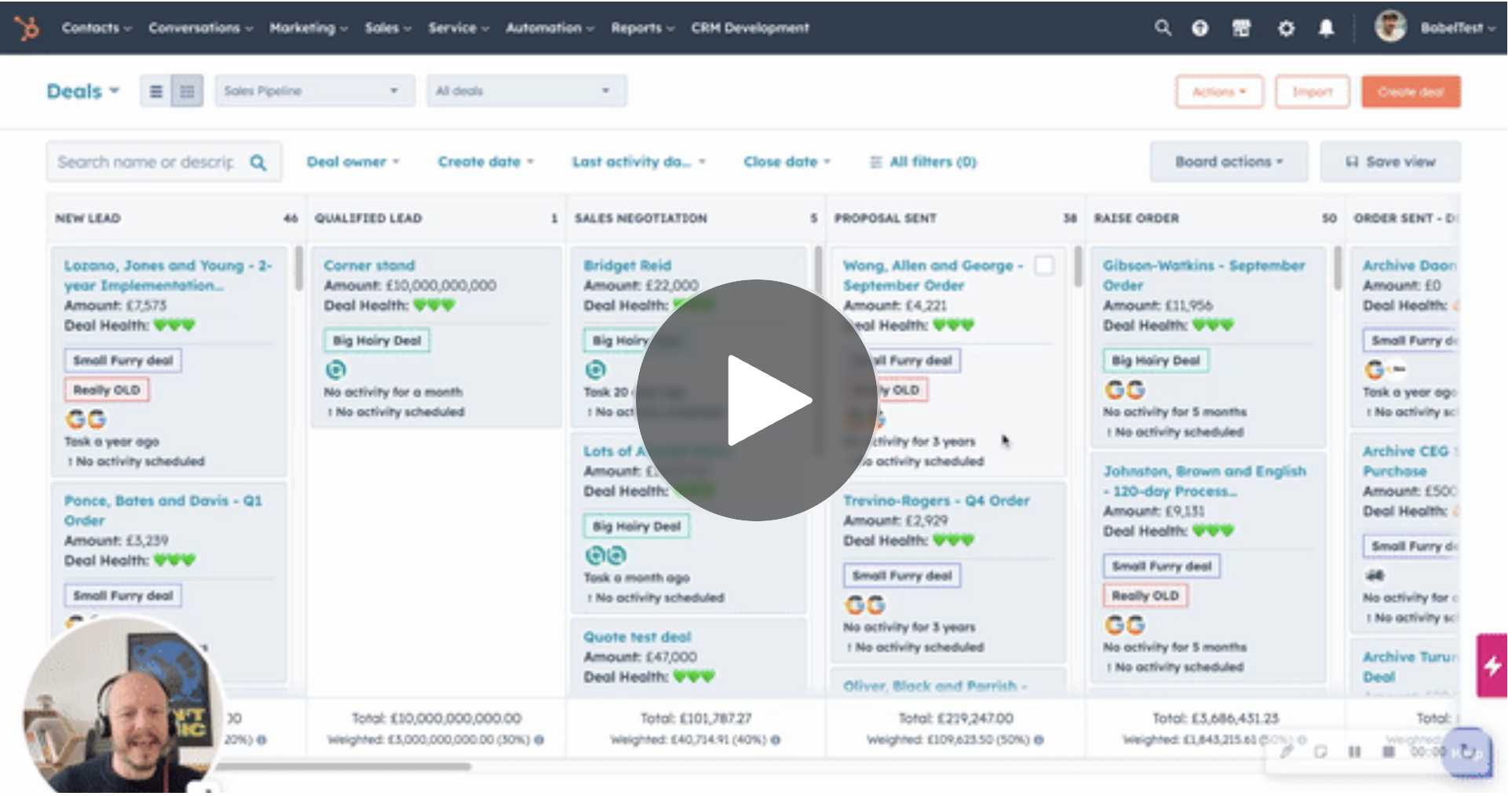 There's also an article on this here.
Comments
I've mentioned it before, but the addition of commenting into the various HubSpot tools (workflows and marketing emails just two examples I see used daily) is a fantastic way to align teams and improve processes for getting things live. A couple of updates this month make this even better:
Resolvable comments (Beta) - you can now tick off a comment once it's sorted, decluttering your view and making it obvious when there are still outstanding items. Don't worry, you can still select to see the comments that have been resolved, it doesn't disappear altogether unless you delete it.

Improvements to comment notification emails (Beta) - these notifications now give you more context on where the comment is, and what was said previously in the thread to make it quicker and easier to reply.
Campaign properties
You can now create custom properties in marketing campaigns (currently in beta). This is huge, and will make campaigns far more useful. You might want to add fields for things like:
Target region
Campaign status
Budget breakdown (for example, rather than a single overall budget you might break it down by paid ad budget, events, etc.)
Product or service
These properties can then be used in views, filters, exports and reporting.
If you want more info and a bit of a demo, you can see Kyle Jepson's video here.
Other improvements
Accidentally deleted a product? You can now restore deleted products!
Bring HubSpot into Zoho CRM with a new embed (much like the one which has existed for a long time for Salesforce) to show timeline information where you sales team live the most.
You can create a random sample of a list - great for testing how a workflow or campaign might affect a group of contacts.

Inside any list, click "Actions" > "Random Sample".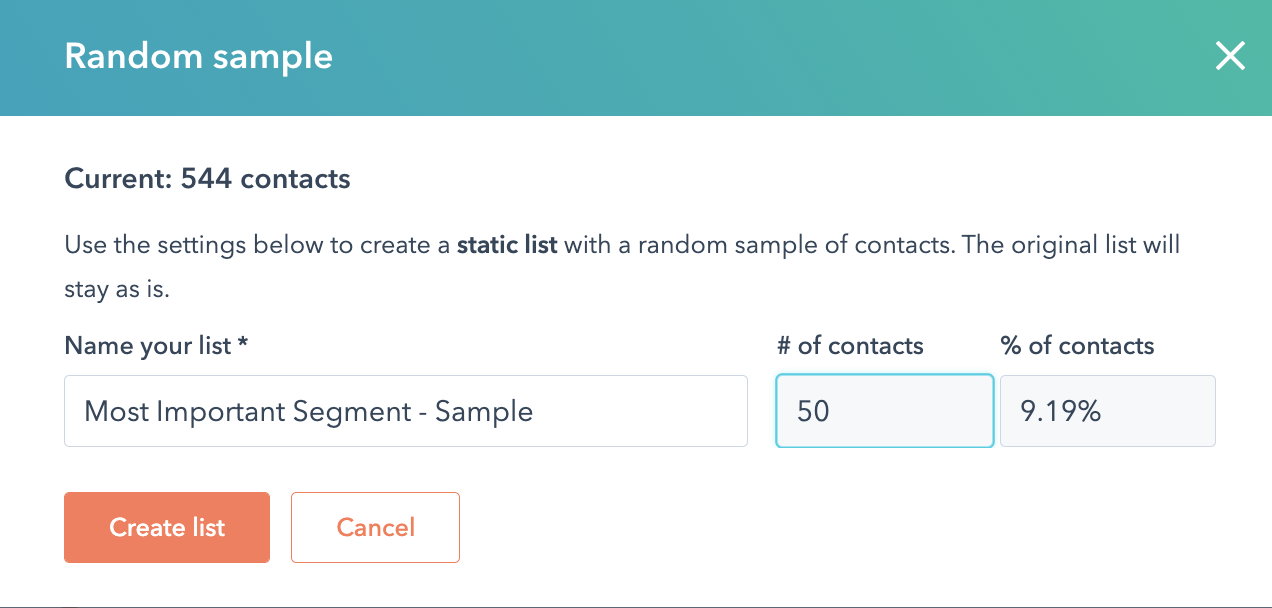 February 2023:
Boosting Your Administrator Toolbox
Head to settings > account defaults > security for your new security center! A really nice checklist which gives you a live view and score for top security areas in your portal. Things like how many users have 2FA set up, too many super admins, too many inactive users... such a useful overview. Find more information here.
Enterprise hubs can now access a beta for a centralised user audit log - really useful for troubleshooting issues and monitoring activity.
Presets is an Enterprise feature which just keeps growing - you can really give your users a head start by setting preferences (like their signature or notification preferences) for whole teams so they don't need to do it individually. Check out the details here.

Got files in your file manager which should only be viewed by certain people? You can now set limits on files to really improve governance within the portal.
Productivity Hacks
Sometimes it's the simple things that make you want to shout about HubSpot updates from the roof tops, right?
Now in beta - receiving calls in HubSpot. Check out the details here.
If you've connected your calendar, you can now see your availability in a visual calendar format when you click "schedule a meeting" on a record. This avoids you clicking between your calendar and HubSpot and will generally save you loads of time.
So simple, but you can now clone products - imagine the time you'll save.

If you've got Sales or Service Hub and use Zoom for calling HubSpot AI will associate matching meeting and call records.

Tasks in a sequence have previously been one size fits all, but you can now add personalisation tokens to your sequences tasks, giving your sales and service reps more relevant information within the task itself, so they can get on with actioning it rather than hunting for more detail.
Other Improvements
If you're using the Marketing Events object to capture event data from third party tools like Eventbrite, and you have Marketing Enterprise you can now

add these to campaigns giving you a fuller picture of campaign performance.
If you haven't got stuck into the recommendations tool for your SEO improvements yet, do. This has been around for a while but with a new beta you can now

scan your website for broken external links,

too.
HubDB just got way

more accessible with a

new form-based editor for HubDB rows

in beta giving you a preview of how the row will look as a dynamically generated page. A really nice way of visualising the content.

Invoice one-way sync

has arrived, giving you the ability to see and use invoice details from your third party accounting software in HubSpot.
January 2023:
Reporting upgrades
You could always filter your dashboards by team or pipeline or a few other metrics, but this possibilities just exploded. HubSpot are rolling out new filters to all portals which means you can filter to your heart's desire, based on data sources used in those reports. This should mean less dashboard duplication as you can have a core dashboard and just filter it to get what you need. Learn more here.

Ever been in the middle of building a report, but stumble across a few similarly named properties and not know which one to use? Quick actions in the report builder mean that now you can get an overview of how much the property is used, where and its description all from within the builder, making you more efficient.
Bespoke for your business
HubSpot continues to make it easy for businesses to get the platform working right in their own way:
If you've set a fiscal year in your portal, your goals and forecasts will now align with that, matching it up with your timelines.

You can now customise "create record" forms based on pipeline, so if you've got 2 teams, using different pipelines for Deals for example, they can now specify different fields that need to be completed when creating a Deal. This is such a great change for portals being used by a range of teams in different ways, I've been hoping for this update for ages.

Come to do your reporting and realised that half your Deals don't have an associated contact, meaning your report is useless? That's just one common frustration that is solved by the new ability to set required associations as part of record creation. Game. Changer.

Up to now, if you wanted to use an import to update or de-dupe records you had to use the record ID - not anymore! In fantastic news you can now use custom unique IDs for deals, tickets, and custom objects. Got another system assigning an ID, or equipment with set codes? No problem, set up a custom property to be a unique value then use that as the unique ID in your import.
Small but mighty updates
Lists - not only can you now change an active list to a static one (great for when you want to close off enrolment and freeze membership in time) but you can now get far better visibility over performance. See how the list has changed over the past 7 days to track your list growth.

You can now review "at risk" workflows, dismissing or resolving risks and keeping track of them to ensure your workflows are running smoothly. Great for admins looking at portals with a heavy reliance on automation.

I've always found it so frustrating that if your import has errors you have to download an Excel file and wrap your head around its output to sort them. Thankfully, you can now get that inside HubSpot itself, so you can check and resolve errors quicker.

Got rules set on custom properties in your portal (e.g. Don't allow special characters? Import can now validate against those rules, triggering an error if your value doesn't match the rule.
Take control of your HubSpot portal
You've got HubSpot - but it isn't doing what you need it to, and you have no idea where to start to fix it.