When considered as part of B2B digital transformation, your marketing function offers your organisation the opportunity to reach new audiences, unlock revenue streams and transform customer experiences.
Most of us are familiar with the Western stereotype of the overlooked middle child. As the theory goes, a parent's first child will always be that, while the youngest sibling goes on to receive more than their fair share of parental love and attention. The middle child? They're the one in the corner, looking enviously on while brother and sister stand in the limelight.
While I don't buy into these generalisations myself (my younger brother might disagree with me…), I do think it makes for an interesting way of looking at how a B2B organisation's marketing fits into its digital transformation strategy. That is to say, often it doesn't.
As the challenges facing B2B organisations grow, why is Marketing often neglected in digital transformations? What are businesses missing out on by not bringing Marketing into the conversation and how can they transform their marketing function in tandem with business operations to unlock new revenue channels?

Marketing: the middle child in B2B digital transformations?
For organisations going through digital transformations, the primary focus tends to be on internal processes and operations. In the parallel I'm drawing, these focus areas are your eldest child — business critical, top-priority concerns, often the reason behind the pressing need for digital transformation in the first place.
Taking the last 24 months as an example, the sudden need for organisations to enable remote working in response to government work-from-home initiatives accelerated many companies' digital transformations out of necessity. Teams made up of office-based staff needed to adopt new systems and processes that would support business continuity by enabling their people to continue working from home, and they needed to do it overnight.
When respondents were asked why their organisations hadn't implemented these changes before the global health crisis, just over half said that they weren't a top business priority.
"According to a McKinsey Global Survey of executives, their companies have accelerated the digitization of their customer and supply-chain interactions and of their internal operations by three to four years." McKinsey & Company, 'How COVID-19 has pushed companies over the technology tipping point—and transformed business forever'
At the other end of the spectrum, you have the desired outcomes from the digital transformation. Goals, business objectives, new functionalities or expanded capabilities across the team — the youngest child is new and exciting and you can see why the organisation focuses on it. (The organisation will do whatever it takes to get there.)
But marketing doesn't fit neatly into these categories. If anything, many organisations reported cutting marketing spend when the global health crisis struck, and because marketing rarely has a seat at the digital transformation table, it doesn't benefit in the same way that wider operations do from the transformation journey — the middle child indeed.
Businesses that do overlook marketing will still achieve their desired outcomes at the end of a successful transformation, but they're missing a trick, a competitive advantage, and a means of future-proofing campaign successes (and revenue) against future disruption.


Why marketing should lead your B2B digital transformation strategy
To truly appreciate why marketing should lead your digital transformation, it's worth reminding ourselves what we mean by digital transformation in the first place.
Broadly speaking, digital transformation is the adoption of digital technologies to improve business processes and optimise the customer experience. As its name suggests, technology typically plays a key role, but digital transformation also speaks to a cultural shift — a better way of operating internally and looking after customers.
This journey will look different for every company, but it's easy to see why marketing isn't usually the driving force behind such a project. What's wrong with this picture?
Don't miss: Is This Why Your B2B Marketing Strategy Isn't Working?


Marketing your transformation
A digital transformation journey is a marked effort on the part of an organisation to grow better. In some cases, such as the sudden shift in the way we all work, it's a journey made out of necessity, but more often than not it is a choice, an optional investment, a decision to look in the mirror and wonder at how we could improve the way things are done. In either case, it's a sign of forward-thinking leadership and accountability: the business is only as good, and the service is only as great, as the people, processes and cultures enabling them.
As marketers, our brains will already be lighting up with opportunities, announcements, stories that we can share with our prospects and customers to build relationships.
What do new platforms and processes mean for your customers?
How does the value you deliver change?
Why was it so important to update or evolve your culture?
What we're talking about here is marketing the digital transformation, telling its story and following its journey in your content and across your marketing channels to expand your reach, drive up engagement, and highlight the work you are doing to improve operations.
At first glance, this kind of company-focused content might seem self-indulgent, overtly promotional, or misaligned with your buyer personas' interests. A timely press release might well be appropriate when certain project milestones are hit, but generally speaking, well-written, customer-focused content can still provide buckets of value to your audience.
That new platform or process might help you to operate in a way that makes your customers' lives so much simpler. Show them how!
Your value proposition might have changed, directly impacting the way you service your customers and broadening/improving the value they get from working with you.
People buy from, and become invested in, companies that share their core values. If your culture has shifted to better align with theirs, they'll want to know how and why.


Transforming your marketing
As well as marketing the company's digital transformation, Marketing is a prime candidate for benefiting from the transformation journey. The martech ecosystem has never been busier, giving companies of all sizes options when it comes to selecting marketing solutions that best fit their needs.
For organisations willing to bring Marketing into the digital transformation conversation, a wealth of operational benefits are within their grasp:
The ability to reach a growing digital audience (more on this below).
The ability to segment audiences and deliver more targeted, cost-effective marketing.
The ability to personalise marketing outreach, driving up engagement and ROI.
The ability to lead within your market or industry, building brand awareness and credibility.
The ability to serve your customers better, driving up referral business and revenue.
Customers today expect a seamless buying experience that extends well beyond their initial purchase point. Integrating the organisation's marketing function into its digital transformation is the first step towards delivering marketing communications that support Sales and Service with tangible revenue attribution and data on the whole buyer's journey.
And it's not just businesses that have been forced to adapt in response to the global pandemic. Existing trends towards eCommerce and the digitisation of customer interactions have also accelerated, driven by many of the same factors driving businesses online. (Stay-at-home regulations, public health concerns, restrictions to travel etc.)
Within digital, a wealth of new revenue channels exist for organisations to tap into. Tomorrow's customers are online today. Is your B2B inbound marketing strategy there to meet them?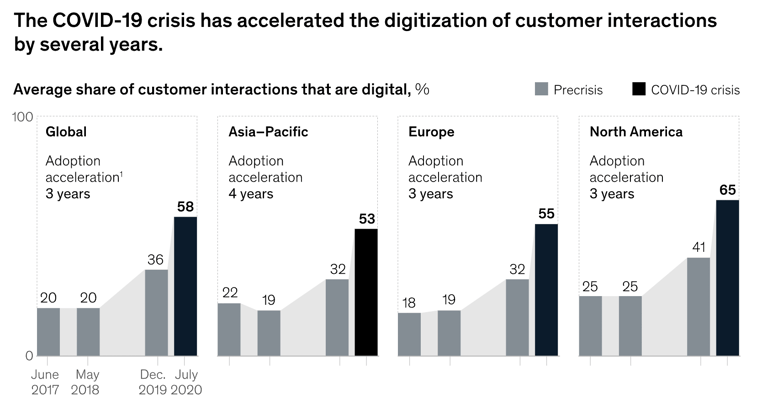 Source: McKinsey & Company, 'How COVID-19 has pushed companies over the technology tipping point—and transformed business forever'

Related read: What HubSpot's ROI 2021 Report Means For Your Future B2B Business Strategy


How to transform your B2B marketing operations
Where should an organisation start when selecting a new marketing technology platform?
There's a lot more to consider than whether or not a platform solution is in budget. The ecosystem is vast but this can also make choosing a solution for your business challenging. How do you know you are investing in the right technology for your needs?
As a rule of thumb, consider the following:
What systems do you currently use (or are planning on using, as part of your digital transformation strategy) across the business? When researching marketing technology solutions, consider how well these integrate together.
What are your current and future marketing needs? This includes the tactical functionality your marketing team requires but also its broader marketing strategy (for example,

inbound marketing vs outbound marketing

). Identifying these now will help you to choose a solution that meets and future-proofs your marketing capabilities.
Do you need a marketing technology partner

to help you unlock the full potential of the software and your marketing function? A solution might promise the world but successfully rolling it out and integrating it with your existing systems is another matter entirely. A solutions partner will help you to get the most out of your chosen software, reducing the time to value and maximising the impact of your investment.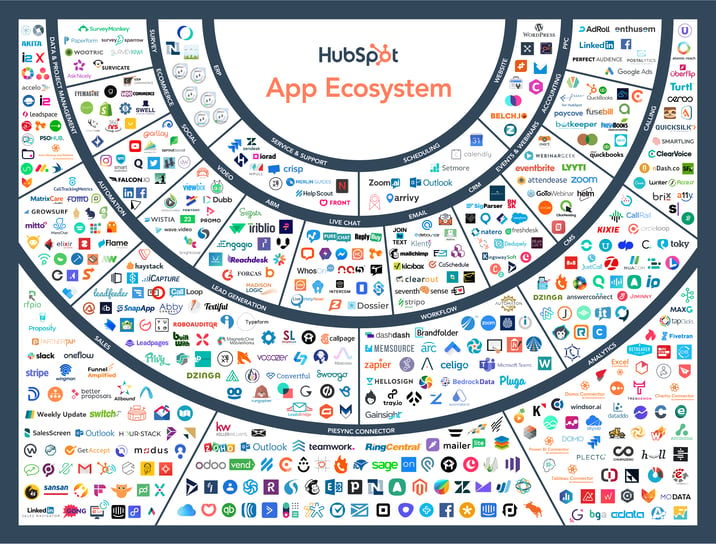 Is Marketing integrated into your digital transformation strategy?
Don't leave Marketing in the corner while the rest of the business races forwards. Yes, business priorities will always come first, and it's important to focus on the goals of the transformation journey, if only to incentivise the wider business and keep the project moving. But the middle child has a lot to offer, too.
As the belief goes, they're sociable. Independent. More open to taking risks and embracing new ideas. Or they might be none of these things if, like me, you prefer to judge a person based on their own unique qualities, not a stereotype. The point is, we're here, wearing our party hats, waving our hands for attention.
Bigger audiences, new revenue channels, greater customer feedback, better data and improved service: pull out a chair and see how your organisation could benefit from inviting Marketing onto its digital transformation journey.
Read next:
To talk to us about how Marketing fits into your digital transformation, get in touch today.
We are hiring!
With a variety of roles available, we want to hear from you! Take a look at our latest vacancies…