Discover why more and more marketing leaders are using inbound marketing to increase brand awareness and how you could adapt your marketing strategy to achieve the same.
The importance of brand awareness isn't always apparent. In the boardroom, it's often overshadowed by more commercial metrics with tangible value. For that very reason, many companies will not report on brand awareness at all, much less track and measure it.
But growth platform HubSpot's annual Not Another State of Marketing report suggests that sentiment is shifting. In its 2021 report, based on responses from over 1,500 marketing leaders around the globe, 'increasing brand awareness' was cited as the top-third marketing priority for the year ahead. As a marketing goal, it came in top at #1, narrowly surpassing 'sales' and beating out 'lead generation' and 'increasing revenue' by some margin.
"'Increasing brand awareness' was cited as the top-third marketing priority for the year ahead." 'Not Another State of Marketing report', HubSpot
Why now? What has changed over the last 12 months to make so many marketing leaders turn their inbound marketing to increase brand awareness? Finally, what steps can you take to achieve the same and increase brand awareness within your own organisation?

What is brand awareness? A definition
When we're talking about brand awareness here, we're referring to your organisation's position within its core market. Brand awareness includes brand recognition — the likelihood that consumers (B2C or B2B) recognise an organisation's brand, products or services.
For this reason, brand awareness is important when launching new products or taking a new offering to market. A high level of brand recognition, particularly amongst an organisation's target market, will help those products or services to gain traction and move sales.
More generally, brand awareness is also important as an indicator of how well-known a company is. Companies with effective brand awareness strategies will be amongst the first to mind when a buyer is ready to research or make their next purchase, but they can also be perceived as an industry authority, particularly if they have increased their brand awareness using an educational blog, frequent thought leadership or similar inbound marketing tactics.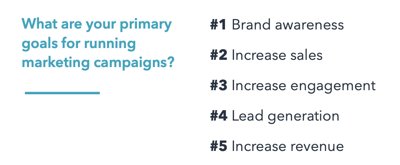 So we can see why brand awareness is important, but we can also see why it doesn't always feature as a board-room talking point. Why might this be changing and what could be driving so many marketing leaders to prioritise brand awareness in their 2022 strategies?
1. Buyer habits are changing

It's well documented by now how digital adoption across sectors skyrocketed within weeks of the first national lockdown coming into effect. As McKinsey & Company reported in its podcast on the evolving consumer:
Over the course of just 15 days, virtual appointments multiplied by ten.
In five months, Disney+ built a subscription base that had taken Netflix seven years to achieve.
Remote working, learning, and shopping likewise surged.
"The ongoing COVID-19 crisis has altered how, when, and where we shop and what we buy. Digital has become more important than ever [and] brand loyalty has been shaken", it reports.
These trends offer brands a greater opportunity to raise brand awareness across expanded markets or buyer personas who may not previously have been reachable online. Even prospects who are not actively searching for specific products or solutions can be served with valuable content through targeted marketing campaigns, while shaken brand loyalty opens new doors for companies to disrupt repeat purchases and build new relationships.
2. A more competitive landscape
"Reliance on digital was growing before the pandemic began", MicKinsey & Company continues, "and a meaningful amount of this online penetration is expected to persist after the pandemic is over." With new buying habits presenting opportunities for brands to disrupt the market and no sign of the digital habits consumers have learned changing, it's unsurprising that so many companies have pivoted their strategies over the last two years in favour of digital.
From digital marketing, PPC promotions and new content initiatives to social media strategies and a general shift towards digital transformation, online competition has never been greater, requiring a heightened focus on brand awareness to cut through the noise, reach new audiences and tap into the commercial opportunities associated with going digital.
3. A growing demand for brand authenticity
According to HubSpot's Not Another State of Marketing report, customer experience was the #1 driver of growth in 2021. Aligning with the decrease in brand loyalty observed by McKinsey & Company, this makes customer service and the experience that brands offer their prospects and customers a top business priority going into 2022 and beyond.
Brand awareness on its own cannot solve this challenge, which requires a joined up strategy incorporating marketing, sales and service functions to work in tandem, around the customer. But brand awareness is a fantastic goal through which organisations can begin building new relationships with customers, communicating core values and establishing trust. Customers increasingly want to buy from companies they align with and can relate to. An inbound approach centred around brand awareness and delivering value achieves this.
"2021 is the year of growing brand authenticity and optimizing for the customer or prospect experience, building relationships rather than prioritizing sales or traditional marketing campaigns." Yamini Rangan, Chief Customer Officer, HubSpot
And as for using inbound marketing to increase brand awareness...
As digital transformation continues to accelerate and traditional, outbound marketing tactics become less effective in reaching prospects and generating leads, pivoting the strategy to focus on — or at least incorporate — brand awareness will pay dividends in driving long-term, sustainable growth and delivering a return. The simplest way of actioning this shift is through inbound marketing, which promotes quality, valuable content tailored towards your buyer personas and their needs and fuels valuable future referral traffic.
"While inbound marketing has been around for years, 27% of marketers say they will leverage it for the first time in 2022, while 11% of marketers say it will be their biggest investment in the next year." 'The Marketing Trends of 2022', HubSpot
In short, brand awareness has shifted from a soft marketing goal to a strategic priority. Its growing emphasis means that companies looking to drive growth in 2022 and beyond will need to adapt their marketing strategies to expand their reach and stay competitive. How well is your brand recognised by its target buyers — and what are you doing to raise awareness?
We are hiring!
With a variety of roles available, we want to hear from you! Take a look at our latest vacancies…