With over 3.96 billion users, social media is a powerful tool in any marketer's arsenal. Discover how you can use it to attract new customers and stand out from the crowd.
For the most part, social media isn't where people go to buy things. This is especially true if you're in the B2B space. The clue's in the name: our preferred social media platforms are where we go to be social.
And yet, social media is a key part of inbound marketing. In fact, your buyers' preferred social platforms can be some of the best places to find and reach them. In some cases, I've used organic social distribution to attract new customers worth millions of pounds for our clients — and so could you. In this article, I'll show you how.
How to attract new customers on social media (click to jump)
Planning your social strategy
Choose the right platform
Most of us simply don't have the budget to be everywhere at once. And when we're constantly challenged with proving the return on our investments, that's rarely a good idea anyway. But it does leave you with a question: which platform(s) should you use?
You want to be wherever your customers are. Do they use one platform exclusively or a variety of different platforms for different reasons? You need to find out where they spend their time when they're online. The best way to do that is by creating buyer personas.
Social media personas make your audience real
There are lots of different ways to approach buyer personas and unless you're working from a template, no two frameworks are going to look alike. Whenever we undertake Inbound Strategy Planning with a new client, personas are one of the first things we define. If you're managing all your marketing in-house, try creating one on your own. (This article will help.)
In case you're not clear on what a persona is, think of it as a semi-fictional representation of your target customer. A buyer persona isn't a real customer, but to keep it accurate, the insights you use to bring them to life should be true to life and grounded in data.
Social media personas are important because they reveal exactly where your customers are hanging out online. With a watertight persona at your fingertips, you can select the most opportune platform, confident that your decision is sound and that you're setting yourself up for the best chance of success.
Identify high-intent keywords
With your platform(s) selected, you can start diving more deeply into how your prospects use it and what they are searching for there. This will help you to make more informed decisions about your social strategy and how that platform fits into it. For each social platform chosen:
use the audience data to get invaluable insight into the demographic of your audience as well as their interests
leverage the search functionality directly to find posts around specific keywords, hashtags, and phrases
use these results as a basis for your keyword research, backed up by a third-party tool such as SEMrush
Remember — you can tell a lot about a person's intent from the kinds of keywords they're searching. This is important when we're talking about attracting customers on social media, as opposed to just raising your brand awareness and boosting reach. Of the terms and phrases you surface, which might suggest the person searching for them is more ready to buy? Think of these as 'transactional' or 'commercial' keywords, because the person searching them is further down their buying journey and is more ready to talk. Once you know which keywords are popular, you can create a plan to rank or appear for them.
Could you be attracting more customers than you think? Discover how to track dark social and reveal invisible social visitors to your website.
Listen to what the platform is telling you
We call this social listening, and you can use it to get a better idea of how the platform itself operates as well as how your prospects are using it. CRM platform HubSpot defines social listening as
"...the monitoring of your brand's social media channels for any customer feedback and direct mentions of your brand or discussions regarding specific keywords, topics, competitors, or industries, followed by an analysis to gain insights and act on those opportunities."
Essentially, you can build on your initial keyword research by monitoring the social platform for hot topics and trends. Building these into your strategy shows your customers that you're an expert in your field, that you're always willing to offer advice, and that you're on-trend.
Avoid: Try not to listen to too many different channels. Keep it simple so you don't miss anything.
Do: You can use HubSpot's monitoring tool to create different streams for competitor monitoring, keyword monitoring and brand monitoring.
Align customer service early
Your prospects are going to have questions, particularly if they're in the B2B space where buying cycles are long and trust is everything. When they do, your social media channels are some of the first places they'll turn to. Bringing customer service into the fold earlier can be an effective way of building that trust and nurturing a social prospect into a customer.
"According to Zendesk, 69% of customers believe that a fast resolution of their problem is vital to good service."
Social care isn't a 'nice to have' anymore. Today, it's an essential part of the lead generation puzzle. With a brand's reputation being held completely in the eyes of your customers, it's important you don't neglect negative comments or complaints.
Top tip: Encourage your existing customers to write reviews on social media so that social prospects have confidence in — and insight into — your company.
Technology that talks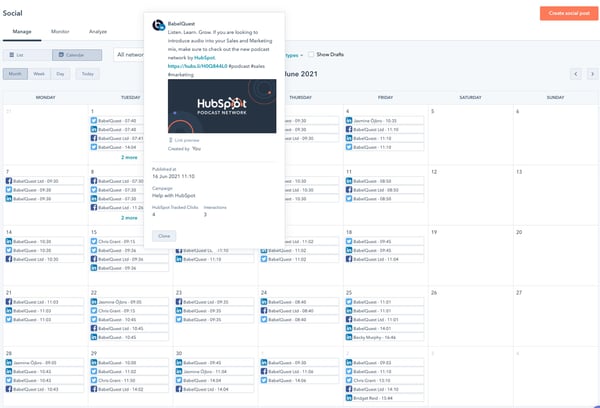 The social media tool in HubSpot that allows you to schedule social media posts for several popular platforms from both company and personal accounts.
An important consideration when planning your social media strategy is whether or not you'll use automation.
There are many benefits of scheduling and publishing posts using social media technology. Social automation allows you to schedule your posts in advance, so you'll free up more time to interact with your followers, start conversations and build relationships. We leverage HubSpot to achieve all this for our clients because it makes distributing posts through their influencers and thought leaders effortless. By scheduling posts from VFE's key stakeholders, for example, I was able to maintain a consistent output of authoritative social posts from their personal accounts without taking up any of their valuable time. Prospects generated from social in this way led directly to £2million worth of revenue for the business in 2020 alone.
"The consistency of the delivery was vital for building up the team's already strong reputation within their network. But without HubSpot's automation capabilities and its ability to sync with their accounts, maintaining that output of social content wouldn't have been possible."
HubSpot also made proving the social ROI easy. Because it integrates seamlessly with HubSpot's free CRM, which the client also uses, VFE's leadership team could clearly see which new customers had been attracted through social. At a departmental level, their marketing manager enjoyed similar reporting benefits. Making sure you're hitting key benchmarks such as engagement and impressions can be tricky without the right tools in place. A social media report can help to prove the value of your social marketing efforts.
While there are a variety of social media platforms with reporting capabilities available, I usually recommend HubSpot because their customisable reports allow you to:
use only the statistics and data points that matter to you
change the time frame (weekly, monthly, quarterly, yearly, campaign start to end)
easily prove progress and demonstrate growth over time
Discover 5 quick tips for social media scheduling with HubSpot.
Creating content that converts
Define your social content strategy
With the broad strokes of your social media strategy in place, you can start to get a little bit more granular about what kind of social content you're going to create (or repurpose!) and how you're going to share it. Start by thinking about:
frequency and volume

— how often should you post, which days should you post, and what time should you post?

topics —

what should you be posting about?

content

— does your audience engage better with videos over images? How can you make more sales-driven, product-focused posts read naturally? Who within your organisation is best placed to share thought-leadership content?
Remember — we're looking to attract customers with social media, not just raise awareness of your brand, so the kind of social content you share and any social copy you write needs to keep that goalpost in mind. As a general rule, this means you're going to want some bottom-of-the-funnel content going out to attract prospects who are closer to purchasing, and you're going to want posts that convert well, generating new leads for your sales team.
"If your business sells products, how can you post about them in a way that will capture your audience's attention without coming across as a hard sell?" adds Dr Thomas Brown, our principal copywriter. "In a similar vein, service-based industries might want to look at sharing more customer testimonials and opinion pieces from their thought leaders, clearly communicating their expertise and building real authority with new prospects over social."
Related read: Social Media Optimisation: How to Make Every Tweet, Post and Update Perform.
Set up your social profiles
Step one is about getting your house in order. Before you can begin posting about all the amazing content you have, you need to showcase your brand accurately. This includes:
setting up your branded page to include a compelling 'About us'
adding an attractive, branded banner image to your page
following appropriate thought leaders in your industry to generate engagement
ensuring consistency across platforms in messaging and brand
You can see Deloitte as an example of how to do all of the above. Despite being on different platforms, you feel confident that you're seeing the same consistent company. By adopting this approach, your customers will feel comfortable and start to recognise your brand. Trust builds loyalty.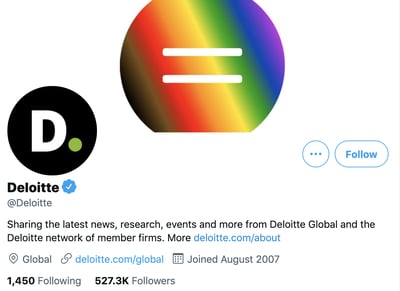 Deloitte social profile as seen on Twitter

Deloitte social profile as seen on LinkedIn
Strike the right tone
More so than anywhere else, the content you create for social media has to strike the right tone. Social media platforms are inherently social, after all. They're where your audience comes to chat, to connect, to communicate with friends, family and, just sometimes, even brands. Your social copy needs to ride that wave or it's going to push people away.
When thinking about striking the right tone, there are two key areas that I recommend you look at: your brand values and your brand's personality (better known as voice).
Let's take a look at each.
What values does your brand live by?
Taken seriously, your brand's values should inform everything your company does — from the way it hires and its work ethic to the core behaviours it looks for in its team. Over social, they have obvious applications in terms of raising brand awareness, but they can also be guiding stars for bottom-of-the-funnel prospects looking to buy from like-minded partners.
I won't go into what brand values are or how to define them — Tom covers that in detail here — but it's worth taking a moment to consider how you might communicate your values over social media. One effective way is to align your social calendar with on-brand stories/events.
From Mental Health Awareness Week to Pride month, there are plenty of ways for businesses passionate about issues such as these to engage with their social prospects.
Costa Coffee case study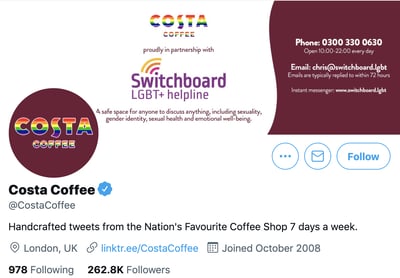 Earlier this year, Costa Coffee changed its social media logos to show that it stands with the LGBTQ+ community during Pride. While many other businesses can be said to have done the same, Costa Coffee has made the decision to keep its logo even though Pride month has finished as a way of showing its audience that this cause matters to it. Moments like this build brand loyalty amongst your social media audiences and can differentiate your company from the competition when it matters most.
Avoid: The danger some organisations face is trying to capitalise on awareness days that don't have a strong connection to their brand. Customers can see through this type of marketing and there can be disastrous repercussions to your reputation.
Do: Engage with awareness days that have a link to your company's mission, rather than jumping on a bandwagon. Utilise hashtags, videos and images to increase visibility and make sure you pin the post to the top of your profile for maximum exposure.
How does your brand sound?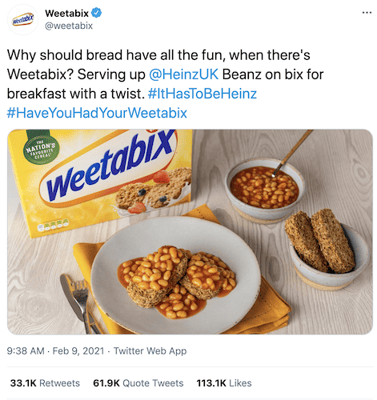 If you're creating written content of any kind, then your brand has a voice. This is the same 'voice' you might associate with your brand's 'tone of voice', and you can think of it as your brand's personality. Getting your personality across to your social audience is important, particularly if you want to cut through the noise and attract new customers, but managing that successfully, while staying business professional, can be a challenge.
Don't have an in-house copywriter? Discover how to write simple yet effective tone of voice guidelines for your business.
The pitfall that many organisations fall into when trying to show their personality is a lack of authenticity. Don't force your message, try and stay true to who you are as a business.
Conversely, a consistent voice audible across all your social media posts will sound familiar to your audience. They'll learn to recognise you, to trust you and, if they especially enjoy your brand's 'personality', to look out for you when they're scrolling their feed.
And when they click through to your website or download your offer, they'll already have strong relationships with your voice, making your advice and anything else you have to say that bit more credible and persuasive.
Top tip: If you're not sure what your brand's personality is or, as is commonly the case, it has multiple personality disorder depending on who's writing the post, you might find this exercise useful.
Imagine your brand is at a dinner party with your competitors. Everyone is sitting around the table, eating and chatting. Now imagine a character for each of the guests. Is your brand the loud person at the centre of attention? Are they the quick person, with a witty reply and a gift for wordplay? Perhaps they're the joker of the group, making everyone else laugh?
Envisioning your brand this way can help you to understand how to define your brand's voice and how to communicate when writing your social copy.
Cutting through the noise
Boost reach with internal buy-in
Getting internal buy-in can be difficult for any avenue of marketing, but it's so important if you want your social media marketing strategy to be successful.
The support of your team is vital because it allows you to
hack the algorithm to ensure maximum engagement — this includes getting your team to like, comment and share your post as soon as it's posted. Platforms like LinkedIn prioritise posts with high engagement within the first hour and are more likely to continue to show your post to a wider audience throughout the day and week
use employee networks to share your incredible content to as many people as possible — the more employees who share the post, the more people are likely to see it and the more likely you are to reach those amongst your audience with a higher intent to purchase
post your message from individuals — by sharing your content directly from employee accounts, you're not just increasing the likelihood of your message being seen, but you're also building up your employees' personal brands and credibility
When looking for buy-in, I recommend involving a range of individuals from across the business. This will give your posts a broader reach and help you to identify high performers across the team — those colleagues who attract the most customers on social media.
Social media case study
Generating 200 new contacts via social media in two months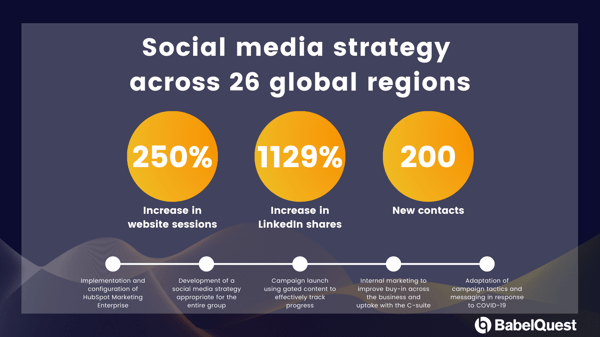 We leveraged this exact approach when we worked with global IT solutions and managed services provider Logicalis on a campaign around their annual CIO survey back in 2019.
The client needed us to deliver a social media strategy that was consistent across the entire Logicalis group while agile enough to meet the requirements of all stakeholders in the regions and business functions. In the first few months of working together, we developed a social media strategy around this objective, aligned with a custom HubSpot configuration, to help them deliver on this goal.
"Working with BabelQuest and implementing HubSpot has been instrumental in achieving our business objectives and transforming our approach to social media and lead generation. We're excited to see how we'll continue to develop our digital strategy together and adapt to today's ever-shifting environment and challenges." Panos Anagnostopoulos, Group Marketing Manager, Logicalis
To find out more about how we set up the social campaign and the results we produced, read the case study.
Be where your audience is
Reactivity in the form of social care is great — but do you want to know how to go one step further? I recommend being proactive by engaging in social media groups.
More and more businesses are utilising Facebook and LinkedIn groups to attract higher quality leads in a personalised way. And the secret? Making them closed to the public.
Creating and nurturing a group like this can be an effective way of managing your audience to understand who is a more casual follower and who is seriously invested in your product or industry. Prospects who choose to involve themselves in your groups are likely to be more committed and form stronger relationships with your brand — both qualities that make for loyal, long-term customers.
Avoid: A pushy sales approach that tries to sell your products in groups that aren't relevant.
Do: Engage on forums and discussion boards that are on a topic loosely associated with your business to generate engagement.
Read this article from Buffer on why LinkedIn groups can be great for businesses (and how to create a successful one).
Test your social media strategy
As with any marketing strategy, there will be parts of your new social media plan that deliver the results you're looking for and parts that don't. The secret is to learn from your results to optimise performance and maximise your return on your marketing investment (ROMI).
You're generating clicks, you're achieving sessions to your website and you're starting a conversation with your social prospects — how could you switch up your plan to deliver more of the activity that is generating results and reduce spend to the activity that isn't?
Avoid: Try to always keep innovating. The danger of settling into a routine is that you will flatline and your leads will drop off.
Do: Instead, you should routinely audit your social media accounts looking for improvement. This includes testing dates (weekends vs weekdays), times (morning vs evening), visuals (images vs video) and messaging (questions vs statements).
What's your social saying about you?
Social media has many use cases, and these shouldn't be overlooked. Thought leadership, brand awareness, traffic generation, product/service updates, and company news all play an important role in modern social media strategies. But today's marketers increasingly need to prove the ROI of their activities to justify their spend and prove the impact they're making.
Gearing your social media strategy towards attracting customers might seem like a subtle distinction but it's an important one. Viewed through this lens, and with the technology at our fingertips to prove attribution, you can look beyond vanity metrics to the results that matter.
As a marketing agency at heart, we know this better than most. There's no hiding when we deliver our marketing services; we absolutely have to be able to demonstrate the results we're driving and the impact we're making, be that on our clients' bottom lines or the way their internal marketing teams are perceived by the wider business. If you're not sure about anything I've shared here or you'd like to talk to us about how we can help you to implement a social media strategy using HubSpot to attract new customers, just let me know.
In the meantime, I hope you have fun implementing some of the advice I've shared and elevating your own social media profiles so that they really speak to the people your business needs to grow.
For expert marketing support from our award-winning Client Delivery Team, get in touch today.
We are hiring!
With a variety of roles available, we want to hear from you! Take a look at our latest vacancies…