Your most valuable customers are the ones who stay with you, so it only makes sense that your organisation works just as hard to retain them as it does to close them in the first place.
As salespeople, we're typically targeted on new logos. Existing customers are either handed off to the service team or left to their own devices until a few weeks from renewal. It's often a jarring customer experience.
You know the story: the buying phase is filled with sales interactions: meetings, emails, video calls, trials, and evaluations. Then radio silence for 11 months before the salesperson turns up again with the renewal quote.
But the cost of acquiring a new customer is actually much higher than keeping an existing one. So why don't we work as hard to keep our customers as we do to sign them up in the first place? Simple: because sales is a target-driven, time-bound exercise.
"It's a very human thing to prioritise the sale that might close this week over the check-in call with a customer that's not due to renew for another nine months."
This is where HubSpot Sales Hub comes in. All the tools that you're using to help you bring in those new logos can also be used to help you keep your customers happy, upsell them, and get an early warning if they're about to churn.
In this article, we'll look at eight HubSpot sales tools you can use to take the hard work out of sales and service, helping you to keep your customers happy and your renewals smooth.

1. The sales pipeline
How do you track your customer lifecycle? If you have HubSpot Sales Hub, you're no longer restricted to a single sales pipeline. Consider building a renewal pipeline to track where your existing customers are in their cycle.
Build the pipeline to show the key points in the customer's journey with you. In the example below, I've built the deal stages to represent a series of quarterly reviews followed by a renewal discussion: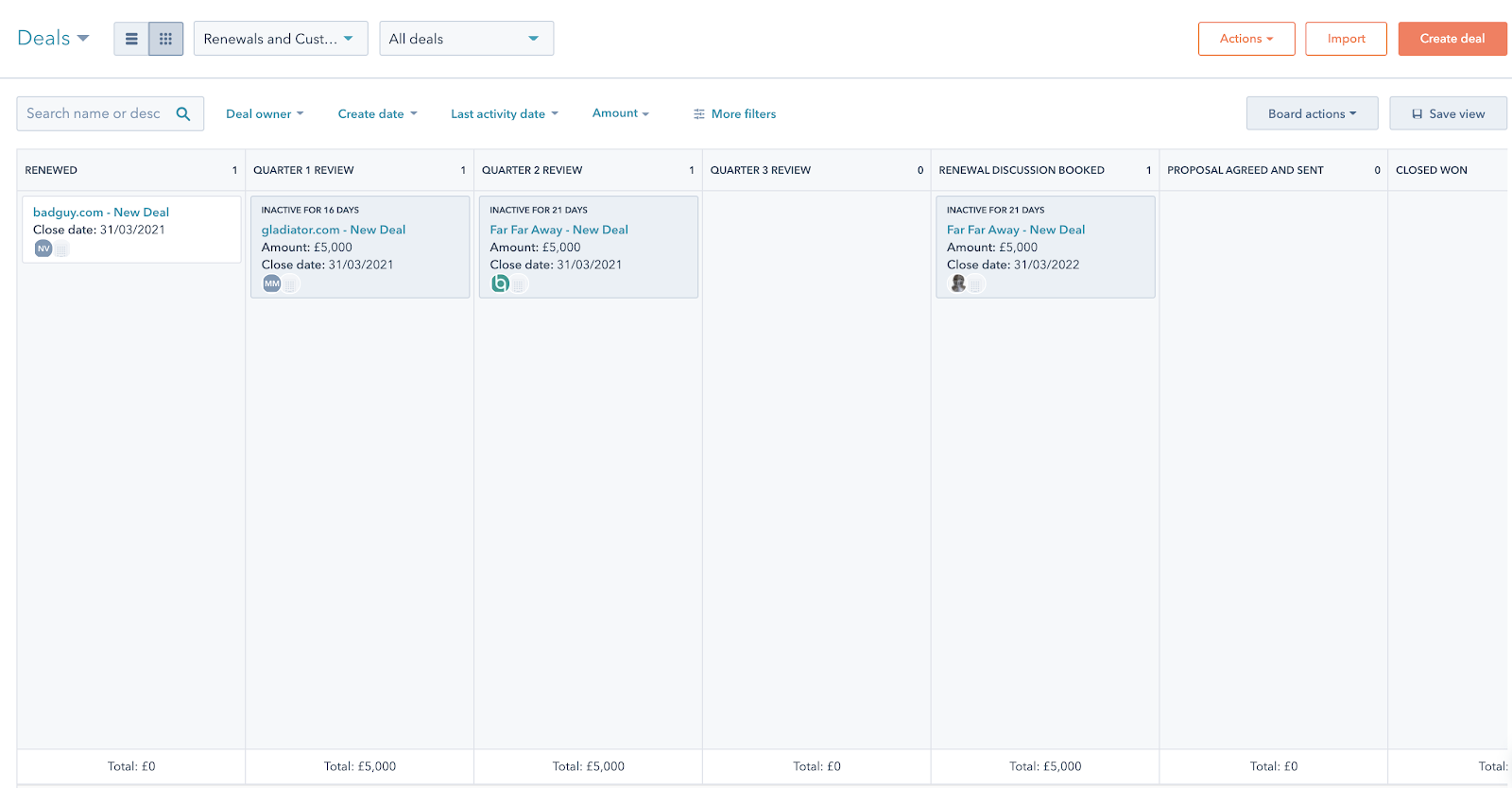 2. HubSpot's sales automation
If your sales team is primarily focused on new logos and hitting their quota, consider adding automation to your renewals pipeline. Sensible use of the sales automation features can really take the burden away from your sales team.
Simple automation could include creating a new deal in the renewals pipeline when a deal closes in your new business pipeline. You can then use workflows to move the deal through the pipeline and trigger tasks for your sales team, such as conducting a quarterly review call or setting up a renewal discussion. The possibilities are endless here
To learn how to close more deals and sell better, download our sales enablement ebook.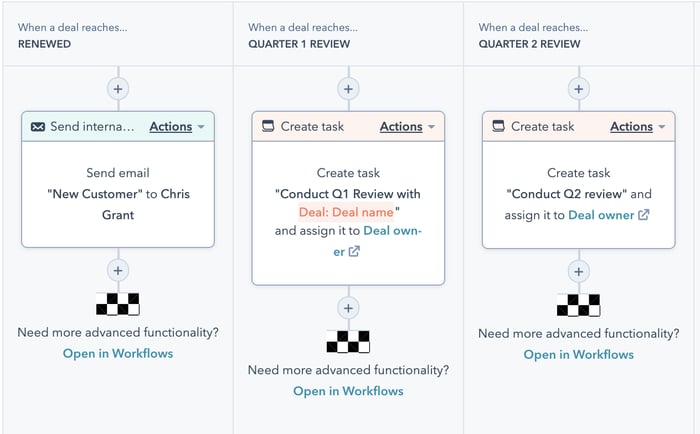 3. Tasks and the 'Today' view
HubSpot's ecosystem of tasks, combined with the new "Today" view, make it really easy for your team to see what they have coming up and ensure they never miss the chance to check in with a customer. You can even create a specific task queue for account management that makes it really easy for a salesperson to blitz through the quarterly check-ins without hours of additional admin.

4. Email templates
If you have set up your renewal pipeline and automation to trigger tasks, consider taking it a step further and arming your team with pre-written email templates to make the renewals process even easier.

With handy templates, your team's admin time goes down and they can be confident they're using effective, tried-and-tested email copy with every renewal email they send. You'll probably sleep a little easier too, knowing that your team is communicating consistently.

Check out these 23 customer service email templates to get you started.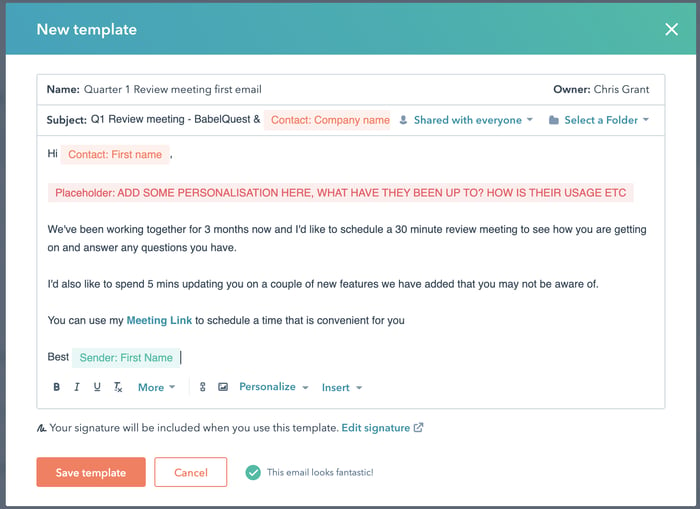 5. Sales playbooks (HubSpot Sales Enterprise only)
HubSpot's playbook functionality allows you to map out a structured call for your team to follow. They can also add the answers to important questions and notes based on the key data points you want to capture. From a service point of view, you can use the playbook to help your team guide your customers through the questions that might expose upsell or referral opportunities.
Discover how to create playbooks in HubSpot.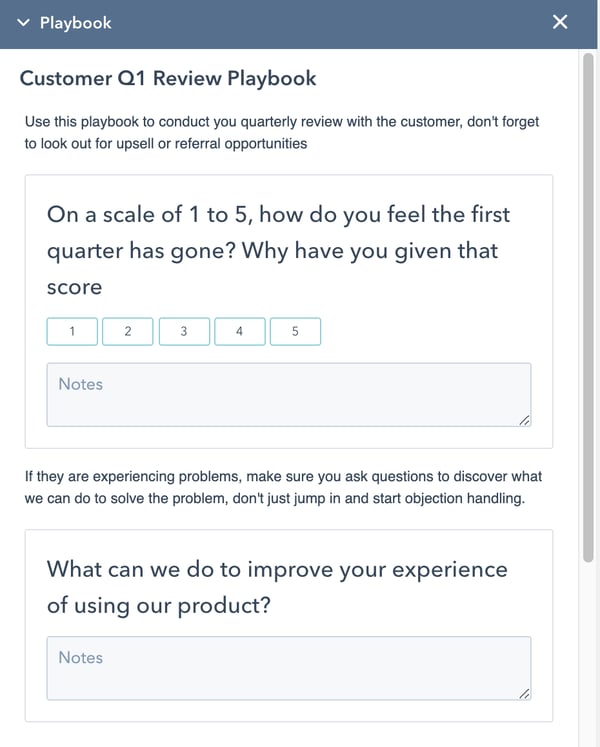 6. Custom properties
Sales Hub also gives you access to custom properties. This makes it possible for you to track the specific data points you want to report on. Imagine being able to quickly see which customers are in danger of churning and take measures to not only identify why but actually help them?

To make the process even easier, you can also use these properties to trigger automation. If, for example, a customer brings up issues in the Q2 review, the salesperson can simply set a custom property as "Not Happy" and your automation could escalate the problem to the right person.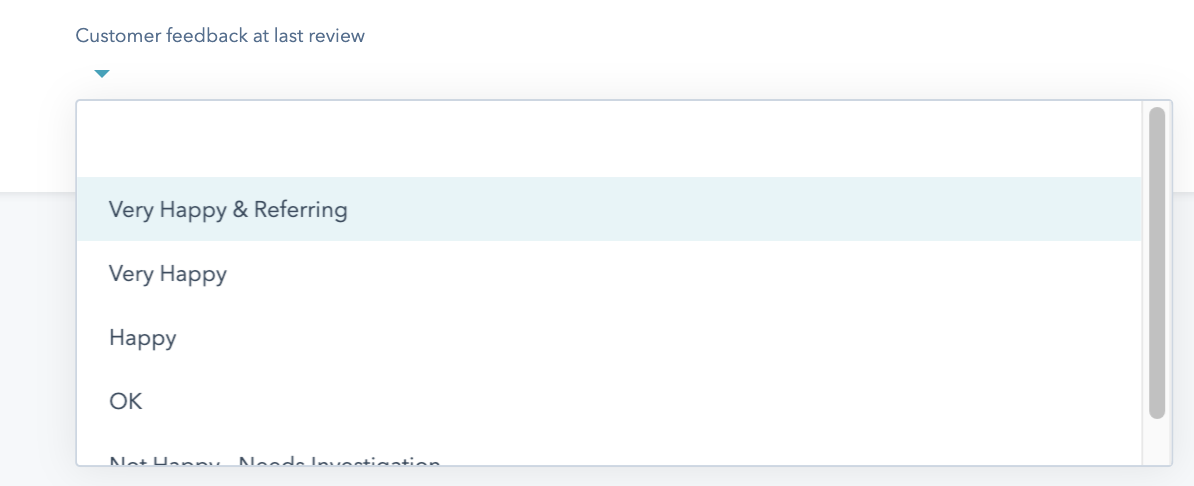 7. HubSpot Sales Videos
Sometimes it's hard to get hold of your customers. After all, many of them will be expecting you to try to sell to them and may ignore your calls and emails. If that's the case, HubSpot Sales Hub also gives you access to one-to-one video. This can be incredibly powerful for upsells or renewals (see how one IT provider used it to generate 55 opportunities and close 37 deals during a six-week campaign).
Instead of spending a week hammering away at the phone, your team could record a video detailing any updates and add a meeting link for the customer to book their review call.
Related read: 6 ways personalised video will level up your sales team.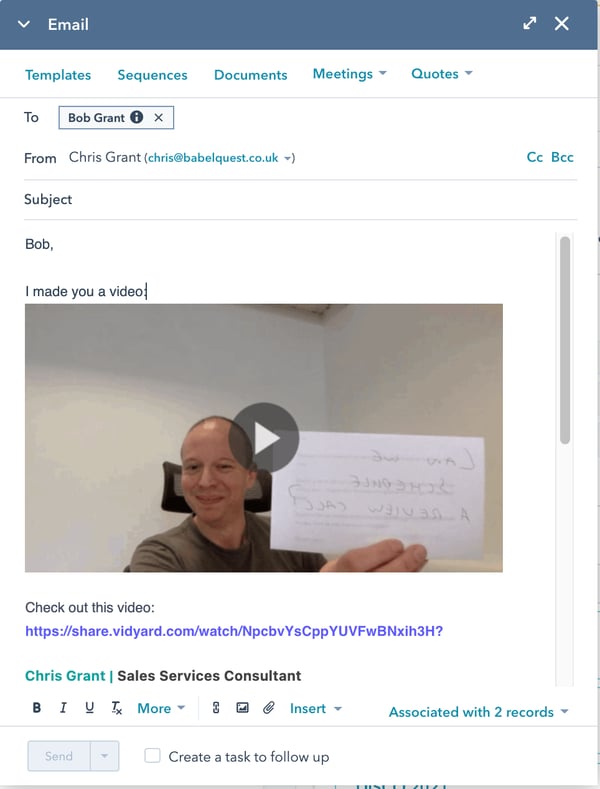 8. Reporting
The final piece of the puzzle is using the comprehensive reporting powers of HubSpot to create a dashboard that allows you to track all your customers through the term of their contact with you:
Are the sales team keeping in regular touch with customers?
Does the customer interact with your marketing at all?
Are the support tickets customers raise being dealt with satisfactorily?
How many customers are at Q1 review?
How many customers are Very Happy?
Who is at risk of churn?
What factors contribute to a successful renewal?
All these questions can be answered if you have the right data points in place.
Intrigued by HubSpot's reporting capabilities? Read 5 Use Cases for HubSpot's Multi-Touch Revenue Attribution Reporting.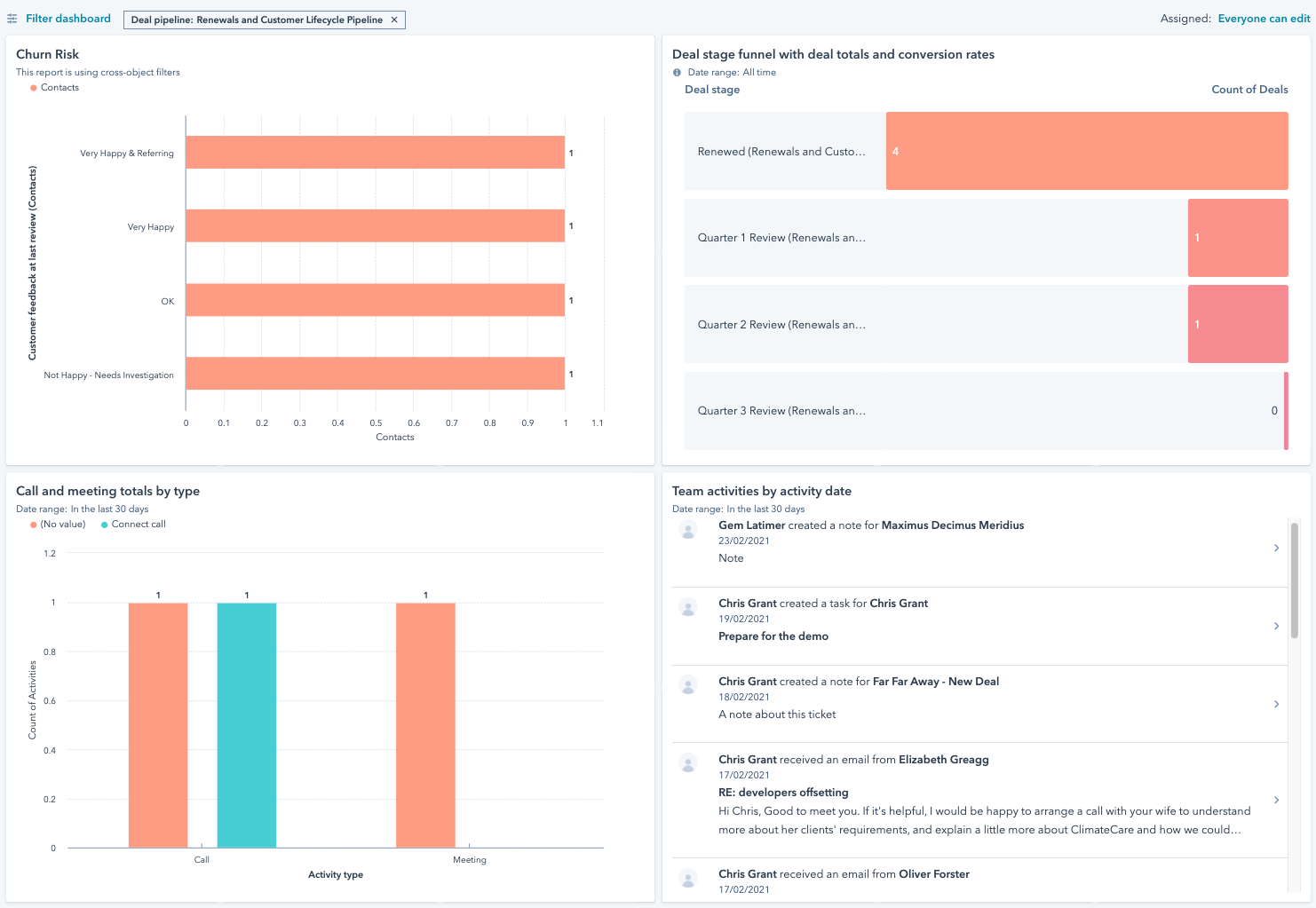 Unlocking the potential of HubSpot's sales tools to drive your renewals
Successfully implementing this type of approach will depend on a few factors being in place.
Are your customers' contact records set up correctly, with the relevant properties populated?
Is the report itself configured to continue tracking lifecycle stages once prospects have closed into customers?
nd are the processes in place for the sales or service teams to follow up with customers when the system flags that they should be contacted?
BabelQuest is a top-tier HubSpot Solutions Partner with extensive experience helping B2B businesses unlock the full potential of the HubSpot platform. Whether your challenge is around data management, the configuration of the HubSpot software or sales strategy, our Expert Practices team can help you to adapt your setup to meet the needs of your business and your customers.
We offer comprehensive training courses, enabling you to take the management of your HubSpot software in-house. Alternatively, we can deliver monthly support in the form of our HubSpot Support Service, giving you access to our world-renowned experts and Certified trainers.
Related read: BabelQuest becomes an Elite-level HubSpot Solutions Partner.
It's easy to assume that the applications of a sales report expire once a sale is made. But by putting the customer first and setting up your reports to help you better boost their lifetime experience with your company, you can unlock potential that extends well beyond that of a customer signing/buying.
Your customers benefit, your bottom line will benefit and you'll be getting the most out of your HubSpot investment, too.
To find out how your business could benefit from unlocking the full potential of the HubSpot platform using automation, click the image below and download our automation blueprints.
We are hiring!
With a variety of roles available, we want to hear from you! Take a look at our latest vacancies…