Currently, over 150 HUGs meet worldwide to discuss the HubSpot platform and learn together. The Oxford HUG is just one of only 13 groups in the UK, and we're proud to say that we were one of the first groups to set up in the country!HUGs usually meet on a quarterly basis to share ideas and best practices around inbound marketing strategies and the HubSpot marketing and sales platforms. We've learned so many HubSpot hacks on our journey to become an Elite HubSpot solutions partner and we're chomping at the bit to share them with you.
The main aim of the Oxford HUG is to bring together marketers and business owners in Oxfordshire who have an interest in inbound marketing.
Members of the HUG do not necessarily need to have purchased the HubSpot platform to attend. The presentations often cover a wide range of topics, including the latest developments in the inbound movement, best practices, and how you can use the free version of the HubSpot marketing software to improve your marketing and/or sales processes.
'Thanks for putting on an excellent HUG! Really the best I've been to. I found it really useful, with a great quality of speakers and presentations.' Peter Lewis, Magic Cat
Need help with HubSpot? Discover how our world-leading, HubSpot-accredited trainers can help.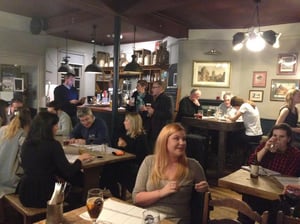 What topics are covered at the HUG?
Our HUG is hosted in St Aldates Tavern in the city centre. It's a great pub venue with an intimate feel, which is just perfect for our friendly and informal meet-ups.
As mentioned above, we cover a wide range of different topics at the Oxford HUG. Typically there will be three presentations during the evening, with breaks for drinks and networking.
Here's the line-up for the May HUG:


Topics Over Keywords — SEO in 2017
Aidan Cassidy, Inbound Consultant, HubSpot
SEO is constantly changing. As Google push forward in their quest to build the perfect search engine, we explore the latest trends in search, and content marketing, and discuss how you can build authority, drive organic traffic, and own your space online.


5 Ways to Keep the Time Vampires at Bay
Dave Heywood, Digital Marketing Manager, LNP China
A practical look at our approach to doing the things that matter.


Lead Qualification Tips
Eric Murphy, Inbound Strategist, BabelQuest
Your salespeople don't just want leads, they want lead that close. But what does that really mean? How do the best inbound salespeople qualify leads as opportunities? With top tips, fresh from his recent Sales Skills Bootcamp at HubSpot with Dave Weinhaus and Dan Tyre, Eric will fill your head with exciting possibilities!
For more information, and to register, simply click the button:
You can access all of these presentations and more on the Oxford HUG website.


HubSpot user success stories
During this HUG, we had two great success stories from HubSpot customers. These case studies really go down well as everyone can take something away to try in their own businesses. It's always exciting to see how well companies are doing with their inbound marketing efforts.
We also aim to include an interactive workshop, which focuses on a specific tool in HubSpot, how a company website could be improved or a new way of looking at a marketing or sales strategy.
At our February HUG, Gem demonstrated how HubSpot lead flows could be used to boost conversions. We then asked everyone to think about how a lead flow might work on their websites.
The workshop was a great way to get people thinking about new and existing content offers, and once they had completed their worksheet, they had a ready-made lead flow that they could implement as soon as they got in to the office the next day.
"The Oxford HUG is a delight. A small group of like-minded marketers gather together, share and learn from best practice, and drink free beer. In a sharing economy where marketers see themselves as collaborators, not competitors, this is a fantastic way to spend an evening. I get a lot out of it every single time I attend. You will too." Gina Balarin, Founder and CEO, Verballistics


What's in it for me?
There are several benefits of joining the Oxford HUG, which include:
Growth — learn from your peers about the best practices in Inbound marketing, as well as past experiences you can apply to help your own business grow.
Networking — you have the opportunity to meet other members of the Inbound community to develop relationships and build your reputation.
Sharing — share your success stories and knowledge with others by presenting to the group to help enable Inbound success in the community.
Learning — learn new marketing tips and tricks to improve your marketing efforts as well as voicing any questions you may have about inbound and/or HubSpot to gain an understanding of how to best push your business forward.
As a member of the HUG, you can really benefit from the support of an extended community, which enables great ideas to be shared and discussed so that everyone grows together.
The drawbacks? — perhaps spending two hours of your time once every three months down the pub with a like-minded group of inbound marketers (although we think this is much more of a benefit).


Can anyone join?
Anyone is welcome to join a HUG, whether you are a HubSpot user or not. At the Oxford HUG we welcome anyone with an interest in Inbound marketing from business owners to marketers in all industries.
Join our LinkedIn group or our NEW Facebook group to find out more about the Oxford HUG and become part of the Oxford Inbound marketing community, or reserve your seat at our next meet-up here.
NOTE: This post was originally published in January 2016 but has been updated for accuracy and relevance.
Image Source: Chris Potter
We are hiring!
With a variety of roles available, we want to hear from you! Take a look at our latest vacancies…