I've Made These 9 Disastrous Content Marketing Mistakes (So You Don't Have To)
By Callum Hornigold |August 13 2021
I have a confession.
In the early stages of my marketing career I was an idiot. An absolute twonk.
I bumbled and blagged my way through the first half of my marketing career and failed more times than you could imagine.
And let's be honest…
…you have too at some point. (It's a human condition.)
However, the difference between a good marketer and a great marketer is the ability to learn from your mistakes and evolve. Or even better, learn from other people's mistakes and evolve.
Here are some of the biggest content mistakes I've made in my 11-year marketing career. I learnt the hard way, but I'm sharing these with you so you don't have to.
1. Being reactive rather than proactive with your blogging strategy and SEO
If you find yourself saying, "What shall we write about this week," then your blogging strategy is lacking.
During my formative years in marketing, I would come up with blog ideas as and when.
But without planning and structure, I was wasting my time.
A bunch of disparate blog topics (even if they're relevant to your audience) will have little benefit to your SERPs rankings.
The solution is to be proactive.
Create a 'content compass'. Plan the next three months. Think about the topic you want to own. Use a tool such as SEMrush to research popular search terms surrounding this topic.
Create a list of blogs based around this topic and optimise each blog around a specific search term.
Tie it all together by creating an in-depth pillar page on the topic, then hyperlink all your blogs towards this pillar page.
This will signify to Google's algorithm that this is an authoritative piece of content and…
…hey presto, it will rank higher in the search engine rankings.
I utilised this specific strategy to rank number two (yup, so close) on the first page of Google for the popular search term, 'trade marketing'.
Our website traffic grew by 1800% in six months and the leads poured in.
I am not special. If I can do it, so can you.
2. Not getting laser focused with your buyer personas
I have another dirty secret.
I have used the word "ultimate" in my content titles many times during my career. Nowadays, it's such an overused word and it makes me cringe every time I see it.
It seems everything is ultimate; 'The Ultimate SEO Ebook", 'The Ultimate Cheat Sheet For Busy Marketers', 'The Ultimate Guide to Tying Your Shoelaces'.
Stop using these throwaway words. If there are 5000 'Ultimate Guides' out there, yours is not the ultimate.
Instead, focus on your buyer personas (the semi-fictional characters you're targeting based on real people).
Swap out these buzzwords for targeted keywords based on your audience.
For example, instead of 'The Ultimate Guide To Pharmaceutical Sales in 2021', try 'The Sales Director's Guide To Pharmaceutical Sales In 2021', or, '10 Big Changes To The Role Of The Pharmaceutical Sales Director in 2021'.
You should always have your audience in mind when creating your content.
You should also know exactly which buyer persona you're targeting.
Be laser focused.
Create content that directly speaks to your audience for higher conversion rates.
3. Creating content for the sake of content
Want to know the WORST mistake I've made in my marketing career?
Back when I was at a trade marketing agency, I had high hopes for a guide titled, 'How To Create the Perfect Product Video'.
I spent hours and hours interviewing the agency's MD and video specialists, then days writing the guide.
I ploughed hundreds into ads, thinking this was going to be the big one. The ultimate (urgh) lead magnet. The piece de resistance. The big chunky Charlie.
It was beautifully crafted, going into masses of detail, and guess what…
…tumbleweed, crickets, the sound of a single cough in a crowded room.
Nobody downloaded it. Zilch. Nada. Naff all.
Why?
Because busy marketers don't want to read a guide on all the intricacies of creating a beautiful video.
They simply want to know that they can trust the agency to create them a beautiful video while they complete the other 20,000 tasks on their list.
They want to delegate. They want an easy life and peace of mind.
What was said in a 3000-word guide that took 20 minutes to read could have been said in a one-minute example vid; "You guys know what you're doing. I'll trust you to crack on with it."
Don't get me wrong.
I'm not hating on long-form content — it's my bread and butter yo — but it has to be the right content for the right offer, product, or service.
4. Writing unnecessarily long blog posts, titles and subheadings because you like the sound of your own voice and think everyone will read it because you're a good writer and have a journalism degree and you deserve respect and adoration
(Ahem) I'll make this one quick.
As a Journalism graduate and a linguistic purist, I love writing. But there's always a danger of bathing in your own literary self-indulgence.
Sadly, nobody cares or has the time for your colourful pros.
Say it in less words. Try the Hemingway Editor.
Get to the point.
Done.
5. Going through the motions on social media
Social media takes time and it's easy to fall into the trap of scheduling the same type of content each month. I've certainly done it when under pressure to get stuff out.
However, social media is NOT a place to simply publish your blogs.
Your feeds should be an exotic menagerie of different types of content, otherwise it'll go as stale as stilton.
Think short, quirky videos. Think testimonials. Think timely memes. Think polls. Think content offers. Think case studies. Think competitions and prizes. Think user generated content.
Above all else, think novelty.
Have a social brainstorm at the beginning of each month with your team. No ideas are too ridiculous to begin with. Go all out and reign yourself in later — that's how the most creative ideas come!
Be both proactive and reactive with planning and posting. Schedule your posts for the month, but always be social monitoring and on the lookout for the next potential meme that could make you go viral.
Here's a prime example of being reactive to current events on social media, from our very own Chris Van Praag. Chris posts all about the benefits of Hubspot and Vidyard using fun and quirky videos. He also has a solid beard.
The point is, don't rest on your laurels. Stay creative with social media.
6. Not working smart
You don't know what you don't know.
If I'd have known early on in my career that I could automate all these content tasks, I'd have saved myself HOURS each day.
Here's a list of things you could automate using Hubspot:
Marketing emails
Social media publishing
Sales follow-up emails
Marketing and sales reports
Task scheduling


7. Not having a strict content promotion schedule
It doesn't matter how good your content is, unless you know how to promote it you ain't got a chance in hell of getting any traction.
I've made the mistake of creating some stellar content in my time, only to see it fall straight into the abyss because I didn't seed it properly.
The best way to avoid this mistake is to create a content promotion checklist. Here's an example of how you can promote your blog:
Publish blog
Promote on business social channels
Share on your personal LinkedIn
Message internal team to like and share social posts
Email your subscribers
Share in personal messages with your LinkedIn network (extra points if they have a large and dedicated following)
Submit to social bookmarking sites (e.g. Growth Hacker, Stumbleupon, Reddit)
Syndicate to other sites such as Medium and LinkedIn (if you wrote the content, why not create an article on the LinkedIn platform)
Post on any relevant forums and groups your a member of
Get your team to post on any relevant forums and groups
Post on Q&A sites such as Quora
Potential paid promotion on LinkedIn
Repurpose (videos, infographics, slides, social media graphics)
Ensure your content hyperlinks back to your pillar page if it is around the same topic (see point 1)
Chill for a bit, you've worked hard
8. Hanging around in the wrong places
As the old adage goes, it's not what you know, it's who you know.
This also applies to content.
I'm a working class lad from Grimsby, so I had about as much cultural capital as a spoon.
I've spent too much time posting panda pics on LinkedIn (coupled with some tenuous motivational business quote) when I should have been grinding it out in marketing groups, commenting, and making actual senior marketing connections.
I should have utilised these connections for collaborative opportunities, quotes and guest blogs.
These connections will then promote these blogs. Their connections will comment. I would then comment on their comments and invite them to collaborate.
If people spent as much time on LinkedIn properly networking in groups as they did humble bragging then they would see their stock skyrocket.
9. Going after the wrong buyer personas
Think about this for a moment:
The person using your product/service isn't necessarily the person buying it.
You can create incredible content for babies but it doesn't mean they're going to throw money at you for nappies.
The same goes for your buyer personas.
Unless you're creating content for C-level execs, chances are your buyer persona will need approval for your product/service.
You should have a good idea of who they are before you start writing your content.
For example, imagine you're creating a 3000-word buyers guide but you know they're going to need approval from their MD.
If you've ever interacted, interviewed, collaborated (or even dated) an MD or CEO, you'll know they're often Red types.
They're fast, direct, and ballsy. They are perturbed by prolixity and vitriolic to verbiage. They don't have time for fluff and want information presented to them quickly and succinctly.
Therefore, if you're creating content that will need approval from the upper echelons, include something that summarises the content that can be quickly shared and consumed.
This could be a matrix, or a one page cheat sheet.
Anything that helps them build an internal business case.
And don't make the mistake of creating content for people who aren't high enough in the pecking order to pull the purse strings.
At the very least, your buyer personas needs to be one step removed from the budget holder. Otherwise, your sales team will be pulling their hair out trying to work their way up the ladder of stakeholders.
I once made the mistake of targeting trade marketing manager level, but in truth they had little autonomy and it was the CMOs who gave approval to cough up the cash.
We had lots of MQLs but hardly any of them converted because we weren't reaching the right people.
I lost a lot of sleep over that mistake.
I like sleep.
A conclusion of sorts
If you've made it this far, thanks for sticking around, homie.
Hopefully this will have helped you avoid some of the biggest content mistakes I've made.
The irony is this blog itself has made a number of mistakes it has listed (how meta).
It was probably too long and too self-indulgent. But let's be honest, you only skimmed and read the subheadings that interested you anyway, didn't you?
Note: ALWAYS split your content up with subheadings!
Cheers.
About the Author
Callum Hornigold is an Inbound Marketer at BabelQuest, an Elite-tier UK HubSpot Solutions Partner.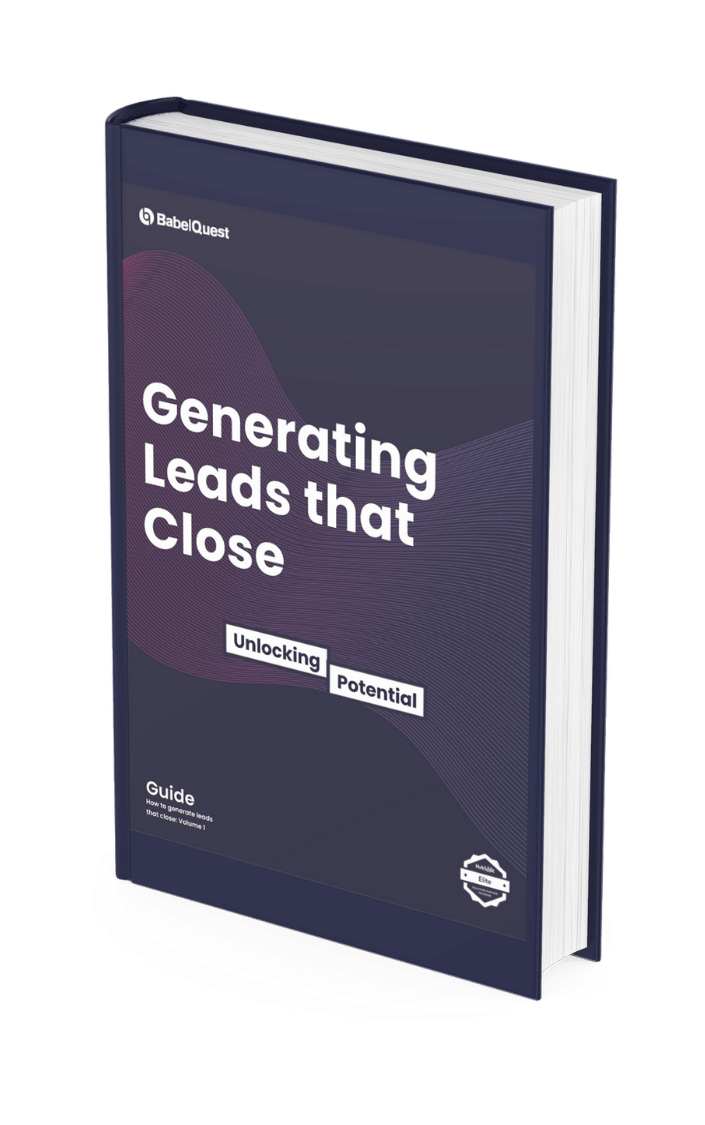 How to Generate Leads That Close
Learn how to generate better quality leads that turn into revenue.