Sending a constant flow of high performing emails is every marketer's dream. Take a look at our four tips on how HubSpot could help you give every email you send the best chance at fulfilling that dream.
Email is still one of the best ways to contact your database, whether you are sending out a monthly newsletter, updates, or nurturing. Knowing how to speak to the people you are targeting and hitting the nail on the head every time could lead you to madness or witchcraft.
Don't worry, these four tips and tricks will keep you from crafting spells on a full moon.
What's the time, Mr. Wolf?
Everyone needs a work best friend, and SeventhSense is mine. SeventhSense works by finding the perfect delivery window for every contact. It's simple to use but highly effective in increasing opens. Integrating seamlessly with HubSpot, this app has all the tools to help you get to know your database more.
When it comes to emails, the delivery window is very important, but this can vary from contact to contact. While one person might check their emails at 7 a.m, night owls might be checking at 11 p.m. This means that sending your emails at the same time won't suit everyone, reducing your chances of success.
There are several ways to go about it after adding the step to your workflow, but we recommend setting your delivery window to a day, which means you have a whole 24 hours to deliver to your contacts at the right time.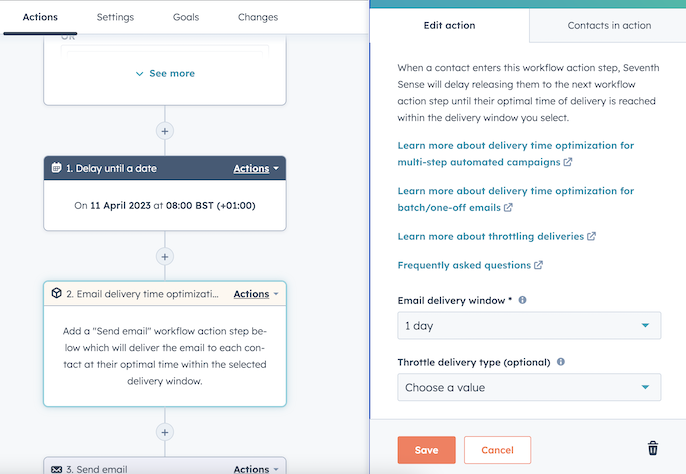 This handy tool also has the capability to help you filter through unengaged contacts and those with a high bounce rate.
Work smart, not hard.
One of my favourite features in HubSpot has got to be smart content. With its many uses, this tool really isn't given enough credit. After last year's Inbound talk on how to 'get smart with smart content' it has been my mission to find as many creative ways to utilise it as possible. I'll focus on using it in emails, but of course, smart content is also a feature on landing pages and website pages in HubSpot, too.
In HubSpot's Marketing Email Tool, there are smart subject lines and smart modules. In this blog, I'll just look at modules. There are two big benefits of smart modules; they can be used to cut down on the number of emails you need to create, or they can help you test different text/content, which in turn will help you optimize content that's better suited to your database by creating something that catches their eye.
We're all busy, and creating multiple emails with slight variations to the same list can be time consuming and confusing. We send marketing emails to people who have applied for jobs which link to a PDF job description for the specific role they have applied for. If we had 10 different roles open at a time, we'd have to crate 10 different emails. But, with smart content, I can create one email and change the content depending on the role the contact has applied for using a smart module.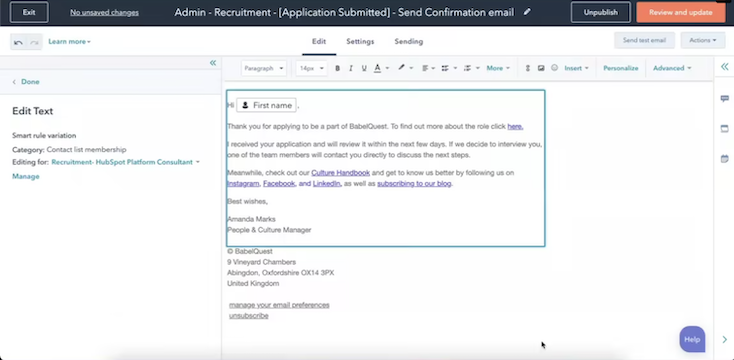 Another great use case for smart modules is in nurture emails. You could create smart rules based on contact interactions, interest areas, and geography. Basically, if you can create a list for something, then it can be used for a smart module!
Want to create your own smart email? Take a look at our HubSpot Hack.
Want to know what's best? Then test!
There are three key things to know about testing emails in HubSpot. Standard A/B functionality, testing subject lines, and testing smart content.
Standard A/B testing is aimed more at changing a few things, such as text, images, etc, But each module has to remain the same format, so you can't change a rich text module you had on test A to an image CTA.
Testing subject lines is a great way to find out what will entice your database to open. There are a few things you can try with subject lines, such as adding in personalisation, playing with the wording, or using emojis. It's amazing how a change of tone or a smiley face can sometimes be all you need to increase that open rate.
If you're using smart content, you can still test which variations are more effective, but it is a little bit more complicated than the things you can test mentioned above. You'll need to create something called a 'split cohort workflow' input your emails, and wait for the results to see what worked and what didn't.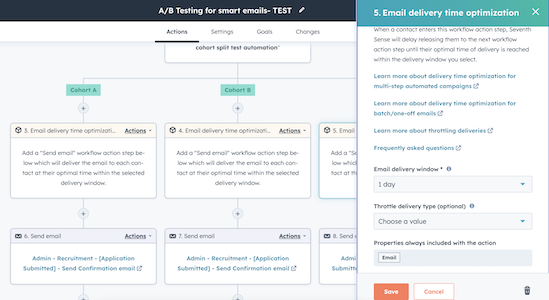 Not sure on how to set up a split cohort workflow? Don't worry, we have you covered with our simple hack.
Let's get personal
Personalisation is a great way to make your contacts feel special and help solidify a relationship. According to HubSpot statistics, 20% of marketers saw an improvement in engagement with personalised emails, and 99% of them stated that personalisation helped advance customer relationships, inevitably leading to more sales. With those stats, I think it's worth adding some tokens to your next email!
There are various tokens you can add to an email in HubSpot that can help engage your contacts more. There are some standard ones that you should be using in most emails, like first name and company name - and some that are a little more creative:
Company size
Industry
Interest area
Meeting links (we've got a Hack on how to set this up here, and another one on how you could use this to set up the B2B version of the abandoned cart email)
Last time they've visited your website
Contact owner
Honestly…the list goes on!
Don't fall into the trap of just using tokens in the email body, either. We frequently use personalisation in our subject lines, and A/B test the results. By adding personalisation to subject lines, you can greatly improve your open rates. Adobe noted in September 2022 that "emails with personalised subject lines have an open rate that's more than 20% higher than those with generic or static subject lines." plus many other benefits, such as increased revenue, engagement, and a notable difference in customer relationships.
Some personalisation tokens do require a little more thought, especially if they aren't default fields. Take the interest area token for example. You have to create that as a custom property, then work out how you will populate it (we use campaign influence for this, coupled with a workflow to update the field). Sometimes, these custom ones get a little complicated (this hack really had us scratching our heads), but trust me when I say that a little effort really does go a long way in making your contacts feel appreciated and valued (and thinking of new tokens to use can transform a simple campaign!)..
Want to add your own dynamic meeting link to emails? Try it out for yourself!
The final takeaway
Perfect emails don't create themselves, as much as we would like to snap our fingers and poof, a great email, it just doesn't happen. They take time, thought, and plenty of testing to understand what it is your database really wants to hear from you.
Hopefully, with the tips in this blog, you have taken the first steps to finding out what makes your contacts click; the rest is up to you to read between the lines when reporting on your emails. Using HubSpot's email health and analyse you have all the information you need to make decisions on how your emails will look and feel going forward. Look at your open rates, your CTR, and where exactly your contacts are clicking.
Wondering which areas of your HubSpot portal need some TLC? Book a HubSpot health check today.
HubSpot Health Check
You've got HubSpot - but it isn't doing what you need it to, and you have no idea where to start to fix it.