The best CRMs are much more than digital address books. Discover how the HubSpot CRM system can help your organisation to grow.
For businesses looking forward after a challenging 2020, HubSpot CRM Suite offers a broad set of integrated functionalities, giving organisations of all sizes the infrastructure they need to fully adapt their operations — for around £1,000/month.
Relatively speaking, that's only what you might pay for a decent spec Range Rover on monthly finance. And for that, you get a world-leading marketing, sales and service platform all integrated together around an easy-to-use CRM.
Furthermore, like everybody's favourite 4x4, HubSpot CRM Suite comes with all the capabilities you need to navigate off-road — because there's nothing familiar about the current landscape, and if 2020 has taught us anything, it's that you never know when the next sharp turn is coming.
"It's dependable. It can be customised to suit your specific business requirements. And it's easy to handle, built so that anyone from marketers to the customer services team can access the data they need and unlock the platform's full potential quickly and intuitively."
If the last twelve months have been challenging and your digital transformation is foot-to-the-floor as a result, HubSpot CRM Suite could be the foundation you need to set up or scale your operations for tremendous value for money.
Read on to find out more about what HubSpot CRM Suite includes, its costs, and how the HubSpot CRM system can help your organisation to grow.


What is HubSpot CRM Suite?
CRM platform HubSpot offers marketing, sales and service software that helps today's businesses to grow better.
HubSpot's software comes in the form of 'hubs', each integrated seamlessly with the free CRM offering at its core. Customers typically invest in one or more of the hubs, depending on which functionalities they're interested in accessing.
But many customers, recognising the numerous benefits in having a single, integrated platform that serves all these functions as one, invest in all of the core hubs, joining the dots between marketing, sales, services and bringing all their customer data into one place (the HubSpot CRM).
HubSpot CRM Suite can be thought of as a package that bundles together its core Marketing, Sales and Service Hubs into one cost-effective suite, so the customer gets all of them for the best possible value.
You're probably thinking, "what's the catch?"
There are a couple of reasons why a business might only decide to invest in one or two hubs (or go with another platform altogether).
What are they, and how does HubSpot CRM Suite put them to bed?


Common objections to HubSpot CRM Suite
In our experience as an Elite HubSpot Solutions Partner helping businesses to unlock the full potential of the HubSpot platform every day, one of the main reasons why new and existing HubSpot users don't go all-in with HubSpot CRM Suite is down to the legacy technology already embedded in their operations.
Is that the best reason for not investing in an additional cost-effective hub that will integrate fully with the rest of your customer-facing functions and allow for uninhibited data sharing, attribution and reporting? No, not really, but we can see why the thought of switching to and rolling out a new platform might be considered a hurdle by some. Let's break it down.


#1: There's no point in us investing in the whole Suite because for service we use Zendesk, or for sales I use Salesforce.
Those systems may well have served your organisation very well up until now, but the prospect of a full integrated customer-facing platform is too good to pass up. We see this first-hand whenever we run a personalised demo with a prospect and they experience for themselves how insightful it is having all a contact's marketing, sales and service (ticketing) interactions in a single, easy-to-navigate timeline. No more jumping between Salesforce, Zendesk and the CRM to access valuable contact data — it's all there in HubSpot.
Your technology has to support the customer across their journey at every interaction.
The HubSpot Integrations Ecosystem is vast, so whichever systems you're using, you'll likely be able to hook up with your hubs in some shape or form. But this approach is no substitute for a fully integrated HubSpot application.
A poorly implemented integration risks damaging the customer experience — both yours as HubSpot customers, as well as your customers' experiences when your digital operations aren't aligned.
Aside from the obvious benefit of being able to create and track vital data trails and all the reporting functionality that comes off the back of that, a fully integrated platform offers users a professional experience. What does this mean?
This means no hassle of having to log in and out between platforms.
It means being able to depend on the system to perform to the highest standards, at all times.
It means working on a platform that is supported by its developers with frequent updates and upgrades.
It means being able to access support from an internationally acclaimed customer service team through the channels of your choice.
It means being a part of a community of users and Solutions partners who are constantly feeding their own user experiences back to HubSpot, creating a living feedback system that continually pushes product development in the direction you need it to follow.


#2: I only need one hub right now, so there's no reason why I'd invest in the whole HubSpot CRM Suite.
This is where HubSpot CRM Suite's value really comes into play.
If you're already using one hub, say Marketing Hub, and you're making the step to invest in your sales operations, don't just invest in Sales Hub. Going for HubSpot CRM Suite will give you access to Service Hub as well as Sales Hub for a negligibly higher cost and so much more functionality.
The price difference is tiny and you will gain access to a wide array of tools and features that you can use to better serve your customers, future-proof your operations and scale your business better.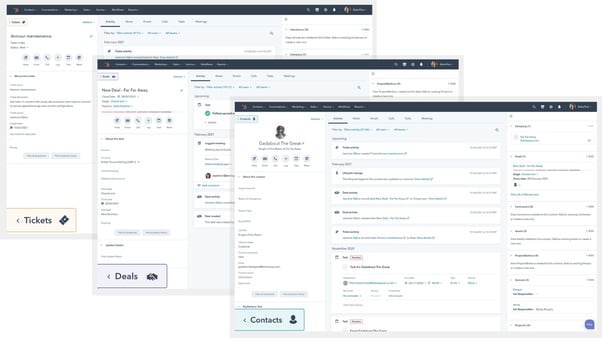 How much does HubSpot CRM Suite cost?
The million-dollar question! Except it really isn't.
Like all its hubs, HubSpot offers CRM Suite in a variety of tiers: Starter CRM Suite, Professional CRM Suite, and Enterprise CRM Suite.
You can check out all three tiers and their features here, but in our experience, Starter CRM Suite is most suited to start-ups and small businesses dipping their toes into HubSpot for the first time.
Enterprise CRM Suite delivers the best value to large organisations with advanced needs, typically blue-collar businesses and companies with international reach, where its comprehensive range of features and highest-tiered products will help you to drive growth.
Professional CRM Suite strikes a perfect note in the mid-market range where high-growth SMEs will benefit from a fantastic array of marketing, sales and service tools and a high-powered CRM to give a single view of its customers and the ability to scale better.


The price of HubSpot CRM Suite
Whichever tier you choose, HubSpot CRM Suite gives you access to a 25% discount on the price you would pay if you bought all three hubs separately, offering incredible value to businesses of all sizes, wherever they are in their journey to scale.

Not sure which tier of HubSpot CRM Suite is right for you? Give us a call and let us help you find the right level of platform based on your needs.


How the HubSpot CRM system can help your organisation grow
By choosing HubSpot's package suite, you're already getting 25% of your budget back. Where should you spend that to help you maximise the impact of your new technology investment across the organisation?
The HubSpot Partner Community is filled with agencies like ours whose sole purpose is to help you get the most value back from HubSpot.
HubSpot CRM Suite is the foundation that companies need to grow in a repeatable, predictable, scalable way. But there's a lot that goes on on top of those foundations in order to build a bigger, better company. These 'wrap-around' services extend from technical HubSpot optimisation and support with complex HubSpot implementations (our speciality!) to the bread-and-butter of growth strategies — the delivery of marketing services, sales enablement, services support and much more.
"We worked with BabelQuest on an enterprise environment for 20 schools within our group. We worked directly with Eric, Gem and Chris. We experienced excellent system design and project management throughout the entire process. Efficient team, with excellent knowledge of HubSpot. Would highly recommend." Liza Humphrey, Globeducate
For our full list of services, see here.
When we talk about helping you to unlock the full potential of the HubSpot platform and scaling your business at BabelQuest, what we're talking about is helping you to maximise all of your company's outputs — the number of customers or users you have, the number of sales you close, the total revenue you generate — faster than the inputs. That's growth.
We've got some great work under our belt. See some of the campaigns and projects we have delivered for yourself.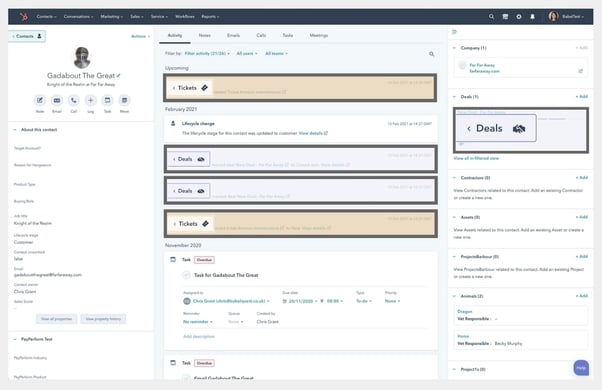 Personalised HubSpot CRM Suite demo
We get it — new software is an investment. Not just financially, but in time, effort and the resources it takes to roll it out. So it's important to feel confident about your choice.
Like any platform, you'll want to ensure it meets your business needs before you commit to it. This is especially true if you're getting access to new hubs with enhanced functionalities you might not have used before. What can they do and how can you use them to grow?
As one of only a handful of HubSpot certified trainers worldwide, we're well qualified to show you around. Book a personalised demo with us and we'll be able to show you first-hand the timeline associated with a contact and all the detail it contains — marketing interactions, sales interactions and even service (ticketing) interactions, all on one screen.
Even if all you're doing at this stage is entertaining the idea of HubSpot CRM Suite, we'd like nothing more than to offer you a test drive in the form of a personalised demo, taking the scenic route around the features and functionalities so you can make an informed decision about whether or not it's right for your organisation.
Would you like a personalised HubSpot CRM Suite demo? Click the button below to drop us a line and we'll take you for a spin at your convenience.
We are hiring!
With a variety of roles available, we want to hear from you! Take a look at our latest vacancies…