Time: the salesperson's worst enemy. Sales enablement automation can go a long way toward helping your team to save hours every week and focus their time on their most valuable activities. But how?
You're busier than ever, and no two days are the same. If only there was a way of automating all those smaller, lower value tasks throughout the day. You know the sort: those five-minute questions and repetitive actions that collectively drain hours of you and your team's operational time.
"As an individual contributor working with over 100 reps, I was receiving and having to respond to many high-frequency, low-value questions that needed a templated response," said Ben Cotton, HubSpot's principal marketing manager, Sales Enablement.
"A human doesn't necessarily need to answer those support-type questions," reasoned Ben. "If a bot could take care of those templated questions, that would free up my time for lower frequency but higher value work such as deal strategy."
Sales enablement automation provided the means. So he went ahead and built one.
Discover how sales support contributed to £270K in new business for one of the UK's leading providers of secure IT infrastructure.


Meet the sales enablement automation that saves Ben 20 hours every month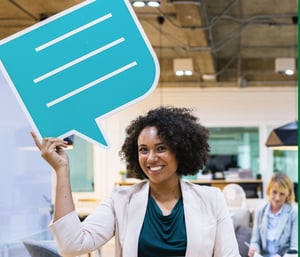 On a busy day, Ben was answering up to 50 questions from his sales reps on a case-by-case basis.
Do we have a sales deck on XYZ?
Do we have case studies in the UK on SaaS or competitive intelligence or Marketo?
Can you send me a customer reference for more information on GDPR?
You're most likely familiar with the recurring, agent-type questions to which Ben is referring; the high-volume, low-value questions that can be answered with a templated response.
If you consider that each question took around five minutes of Ben's time to address once he had regained his concentration, you begin to get an idea of exactly how time-consuming these queries were becoming. His solution was to build an FAQ bot.


Signposting the sales reps to the right answer
"Basically, I got carried away one weekend and designed a sales chatbot capable of answering around 80 of the recurring, agent-type questions that I would previously get asked over Slack."
With the chatbot in place, Ben was free to spend more time answering the low-volume, higher value consultant-type questions, when a rep needs advice, guidance, or coaching. This is the higher value work that improves sales performance and influences revenue.
"The bot answers about 500 questions a month, and it can answer those questions even faster than a human representative."
In this sense, the real value of the bot is two-fold. For the sales reps, it also means they can get the answers to their questions immediately, improving response time throughout the day, across any device, whether that's their laptop, a desktop, or their phone.
"It's working as we hoped it would," said Ben. "In fact, it was so successful that we've built a second sales chatbot to optimise a different part of the sales process."


MQL chatbot proactively picking up unworked leads
Proper sales qualification is key to better productivity and more sales. But working with a team of 100 meant it was challenging and often unrealistic for Ben to police just how quickly the sales team were picking up MQLs as they came in, never mind catch those slipping through the net.
"MQLs are super-hot and need to be followed up with quickly. So we have another bot within Slack that sends a notification to sales reps if there are unworked MQLs in their name."
A sales rep's inbox is often overwhelmed. By implementing the chatbot in Slack, where Ben's reps live and where they communicate, he ensured that its notifications were visible and that it integrated naturally with a chat interface they already knew and loved.
"When we looked to see how effective it had been, we saw that it had actually reduced unworked MQLs by half. I don't need to tell you of the value in that."
Diagnose the rivalry between your sales and marketing teams.


How to build your own sales automation chatbot
For many, the prospect of a sales chatbot and conversational marketing is an exciting one. But who does it best serve, and how would you go about the actual process of building something like this yourself?
"There are many companies that aren't quite ready to engage with sales enablement services and who could benefit from building a sales chatbot to test the water and see how quickly it has an impact," said Ben. "It would be a good way to earn credibility quickly and provide value to the sales organisation. It's a great place to start, but it needs an ongoing commitment."
On the actual process of building a chatbot, Ben assured me it was relatively straightforward. 'I don't consider myself tech-savvy', he said. "I built the FAQ chatbot using Motion AI, the company HubSpot acquired last year, and it's very similar to creating a workflow within HubSpot. If you can get your head around that, you can get to grips with this."


The direct benefits of chatbots for sales
A live chat, FAQ-type bot enables reps to find answers to their questions much more quickly
It eliminates lag between asking and finding an answer, improving response time and making teams more productive
It improves accessibility to knowledge bases like internal Wikis, improving usability
The MQL chatbot improves the speed at which sales reps engage with hot prospects and qualify leads
It minimises the amount of prospects left to go cold
It enhances sales and marketing alignment
One of the quickest wins is chat technology's ability to get new hires up to speed very fast.
"I was talking to someone this morning who was telling me that his new hires take 6-9 months to be effective," said Chris Grant, from our sales delivery team. "But actually, if you can start using bots to template key documents, link to winning sequences that will get meetings, and notify sales reps of unworked MQLs, you can speed up that process from day one."
Across every industry and every sector, people are getting excited about bots. Marketing automation is already being used to support the sales team. Recognising the revenue potential of sales bots, HubSpot built them to directly improve the performance, capacity, and return of its sales activities.
"It's another good example of how technology, specifically artificial intelligence and machine learning, can automate, eliminate, or optimise our sales processes," added Ben, "so sales reps can focus on the really high-value work and doing what they do best, which is, of course selling and having conversations with people."
To find out more about how you can improve sales productivity and close more leads, download our free sales ebook below.

We are hiring!
With a variety of roles available, we want to hear from you! Take a look at our latest vacancies…